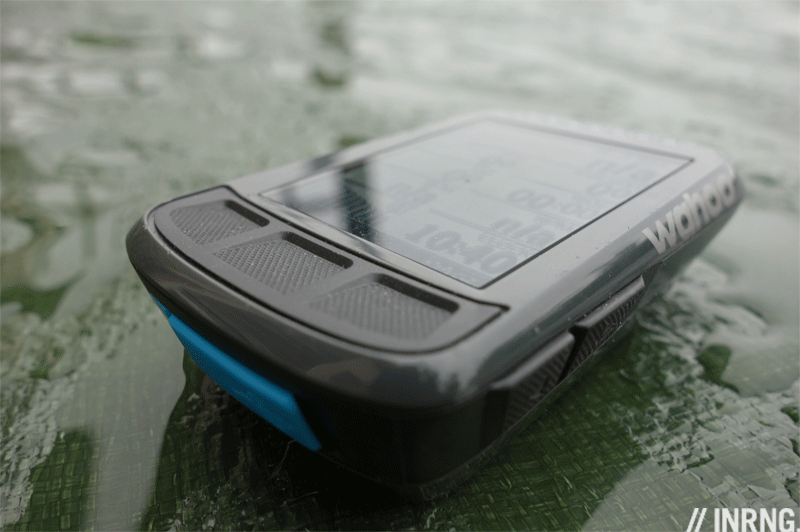 Tech reviews are rare here but having reviewed a Garmin 820 Edge GPS bike computer here partly out of disappointment here's a follow-up with a comparable device from Wahoo that has become a reliable companion on recon rides.
The Garmin got a review here partly because of excellent reviews elsewhere which jarred with my personal experience: the touch-screen was problematic and the battery life could be as little as five hours on a full charge. It lasts longer if you take steps to manage it like turning off the display but what good is a GPS bike computer that turns off the screen? It's like having a map that shouldn't be opened and it means that you can't look down to see your speed or effort on a climb without first waking the display up and when something works like this it's not worth a high rating? It was worth sharing the experience in case other readers ended up as disappointed. Partly thanks to reader comments in response to the review I bought the Wahoo Element Bolt and so here's a review after more than six month's use.
Out of the box it comes with an out-front mount, a mount for your stem or bars, some zip-ties and a micro-USB cable for charging. The out-front mount is touted as aerodynamic as it is profiled and fits flush with the device, more aesthetic than performance-enhancing and more importantly it feels secure and doesn't flex or flap. It comes with a screw to lock the device to the mount but do that and you won't be able to reach the charging port. The unit itself is about the same size as a Garmin 820 or 520 and weighs 60 grams.
The display is black and white liquid crystal, retro like an old Nokia only there's no inbuilt snake game. It keeps things simpler and the contrast is good. The controls are via buttons, one on the upper left edge for power and to access some settings, two on the lower right edge which zoom in and out on the display and three below the display. Personally the buttons work better than the Garmin 820's touch-screen: press and it responds whether you have gloves or the display is wet.
As well as the display the device can beeps alerts and there's a row of LEDs across the top of the device which can be configured to flash, eg to indicate a turn or to show whether you are above or below a pre-determined target speed or power which could be a useful training aid although I didn't use this much.
The battery life is the best thing. A four hour ride and it's typically down to 70%. After an eight hour ride – to recon the upcoming Vercors stage of the Dauphiné and back via a scenic route – it was down to 38% and without any steps to save power, eg with the map screen open a lot, an open Bluetooth connection and the Wifi wasn't turned off. If you're only into short spins this is less of a deal-breaker but if you like long rides then the Wahoo dependable especially as the longer the ride the more you are likely to want the mapping and routing.
You can pair with sensors directly from the device but the rest of the set-up is done via an app on your phone. Download the "companion app" for Android or iOS and use it to configure the different pages on the display and the data fields you want from the obvious like speed and distance to the esoteric like blood oxygen saturation as long as you have a separate sensor to supply this. The app is clever because a touch-screen phone has a bigger display and is more user-friendly rather than having to poke around on the small device however it means you have to have a phone for the set-up and to make changes. If you want to change a data field on the display mid-ride, for example to get rid of, say, temperature and replace it with the time of day you need to use the app to push setting changes out to the device on your bike. Otherwise it's intuitive. You can even set up the device to show alerts from your phone such as email and SMS. The device has a cavernous memory allowing you to upload any number of maps via the companion app, you chose country by country, eg France, Italy, even Grenada or Ecuador.
The device is rather dependent on a Wifi connection or your phone for uploads and downloads. If you're travelling and want to put a new route map onto the device you'll need to get online first with your phone and sync the Wahoo with a website where you've saved your routes like Strava or RideWithGps. As such the device feels like an intermediate link in a chain between your phone and these websites but you can equally upload plenty of routes if you're not planning to go online with for an age.
Lastly there's also what it doesn't do: fail. Six months of use this year and it hasn't crashed, frozen or stalled once whereas the Garmin 820 would crash from time to time. Not often so that it was out of the blue but just enough to make you curse "not again" as you tried to hold the power button down for ten seconds to reset it.
So far so good, any problems? You need a phone to set it up, you don't need to bring your phone during a ride but will have to use the companion app from time to time. Also in a clumsy moment it fell to the road and was quickly scuffed, the plastic could be more resilient. A colour screen would be cute but isn't necessary, the device is retro to look at in an age of smartphones but it works, a touch-screen is great on your phone but less good for a small screen bike computer. Having made this review largely in comparison to the Garmin 820 the "virtual partner" feature doesn't exist on the Wahoo and it's a fun feature for rides sometimes and Garmin has its Connect IQ ecosystem of third party apps, the Wahoo doesn't. Also if you stray from a pre-set route you've loaded on the device then it won't route you back.
The Verdict


Four out of five chainrings. This is a dependable device and recon rides for the stage previews here are made easier. There's plenty to configure for device and display and it integrates with other services and to the point of feeling different, less a stand-alone unit and more part of chain of software and hardware which offers plenty but also means it is more reliant on the accompanying app and online access than you might be used to.
Note: The device retails for €240 / US$ 249 / £200. I paid for mine.