The 2016 Tour de France had plenty of highlights but the yellow jersey contest was not a vintage edition. It's brought calls for all sorts of changes, from the Tour's route to structural changes to the sport like reducing the team size and imposing a salary cap.
The Route
The Tour's route could be tweaked but how to recompose the geography of France? 2012 had lots of time trialling and was a slumber fest, 2015 had beaucoup mountains instead and people complained too. Some say shorter stages are more exciting but they're not the guarantee of action as the Joux Plane stage shows. The old "the organises propose, the riders dispose" phrase rings true, you could draw the course on a computer simulator, a Tour de Minecraft, but in reality it's always the riders who make the race and not the route and that's before we get to variables like the weather.
Similarly the Tour can only use the terrain available, it can't always visit the north and its Paris-Roubaix cobbles… but as we saw in Paris-Nice earlier this year there are gravel tracks to exploit all over France and they're likely to appear in next year's race. This adds an element of risk and the novelty is good for TV.
More mid-mountain stages could be included but there's only so much terrain to exploit. Commercially it's awkward as places like the Massif Central, Jura and Vosges are depopulated meaning few willing host towns but it makes business sense to take a hit on the day's hosting fees for the sake of TV ratings. The real problem is that the promise of "ambush country" often doesn't deliver, the terrain might be promising but the teams don't automatically light the race up.
One boring element was the time trials. A regular ratings flop, they allowed Chris Froome to pummel his rivals. If you've read the recent The Moment The Tour de France Was Won piece you'll have seen the chart depicting the GC standings of the final top-10 riders relative to Froome. Only let's strip out those two TT stages and see what the result looks like: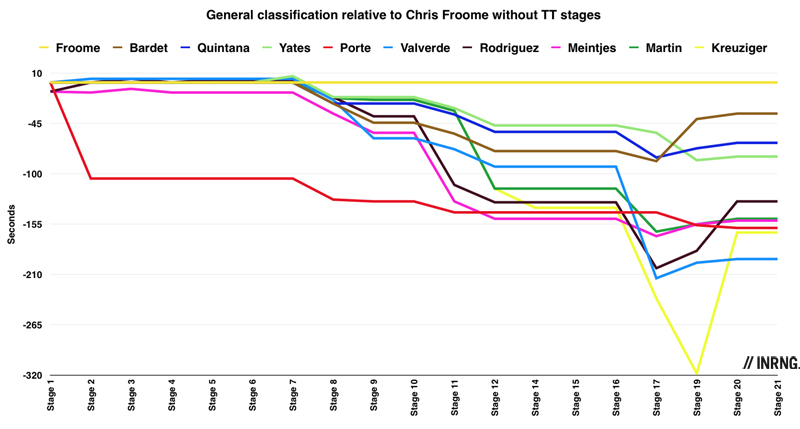 As you can see Froome wins of course but the final result is even closer with the top-10 within about three minutes and a podium with 66 seconds in it. Now before you leap to the comments this is just an exercise in subtraction rather than reality and this brings us to an obvious conclusion: move the goalposts and Team Sky simply adjust their aim. In 2015 Chris Froome let the dust gather on his TT bike and delivered knock-out blows in the mountains instead and that wasn't any more interesting.
Top teams too strong?
Which brings us to Team Sky's dominant position. Are they the problem? A modest proposal would be to ban Team Sky because without Froome, Poels and Co. the race would have been very different. Outlandish? Of course but in 1930 the Giro d'Italia paid Alfredo Binda a sum equal to the race prize not to start so that they'd have a more open contest instead of yet another Binda win. Even if it happened today how many people would say "I want to see the best riders go head-to-head".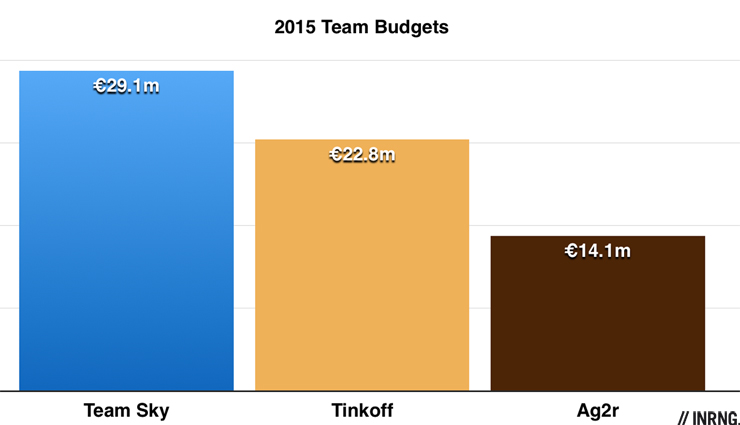 Budget is the big talking point, the Tour de France coincided with the latest release of Team Sky's accounts and their big spending allows them to recruit riders who could lead other teams. The likes of Landa, Nieve and Poels may not be able to win the Tour de France but they'd be gadflies in the mountains rather than sherpas.
Only spending doesn't necessarily correlate with the podium. Big budget teams like Astana, BMC Racing, Katusha and Tinkoff didn't have a GC podium place between them and all their millionaires. Meanwhile low spenders like Ag2r La Mondiale, Orica-BikeExchange and Lampre-Merida did just as well if not better and Dimension Data had a great Tour too.
A salary cap has been a regular suggestion in recent days. However it's not a binary matter of to cap or not to cap. Do you limit the entire wage bill of a team, for example to tell Team Sky that instead of spending €24 million on wages they must spend no more than, say, €20 million? Or €15 million? Whatever the level there will be teams on less. Then these absolute numbers vary on the ground, as explained before on here French teams have high payroll taxes so their money doesn't go as far as, say, Team Sky's Pounds or Tinkoff's Euros so parity is still hard to achieve. Plus what is salary? Top athletes earn earn salary, bonuses, image rights and endorsements. You can define "salary" to include all of these of course but it gets complicated. Similarly cap salary spending and you don't touch the spend on training camps, support staff and all of that. FDJ for example has a decent team on paper to support Thibaut Pinot – remember they've won a team time trial this year – but they had to stop spending money on Francis Mourey and cyclo-cross in order to find money for route recons and Gran Canaria training camps. By now you get the picture that a salary cap is not a yes/no matter but more a question of how, how much and who. What ever shape or size a cap will never equal the playing field but it could level it. There are arguments against it, for example cap salaries and you effectively cap the wages available in the sport, it gives team managers "rent" at the expense of the actual talent, the riders.
Team Size
Another suggestion is to reduce team size per race. The UCI already limits teams to 30 riders for the year to stop super squads with almost vast payrolls but now there are calls to cut the size of teams fielded per race. In fact these calls have been made for sometime, for example by Christian Prudhomme in 2012. To a lesser degree it happens elsewhere with eight riders instead of nine in races like Paris-Nice or the Dauphiné and other races have smaller teams. To be more meaningful it would have to be six or seven per team and the effect would be felt over the three weeks. Again it's not a binary yes/no but about the how. If teams are down to six riders would this mean 22 teams of six and a field of 132 riders or would we get a peloton of 198 riders like today only with 33 teams and so on? It could be done but team size in World Tour races is a matter for the Professional Cycling Council, a joint committee between the UCI and pro cycling stakeholders, including the teams. No big team will vote for smaller teams, it'd be like a large army offering to go into battle by leaving a battalion at home and even the smaller teams don't like it, a six rider FDJ would still be at a disadvantage to a six rider Team Sky. There could be unintended consequences here too, would a six man BMC Racing have left Greg Van Avermaet behind, would Etixx-Quicksep leave Julian Alaphilippe out, would Katusha back Joaquim Rodriguez or Alexander Kristoff? It'd mean many teams with one leader and a profound shake up to the sport that goes well-beyond composing a startlist here and there. By all means explore it but it would have big knock-on effects.
Other ideas
One caller on a French radio phone-in suggested awarding time bonuses at the top of every significant climb as an incentive to reward early moves. Wacky? Well we have time bonuses at intermediate sprints already but this feels unsatisfying, as if we're trying to rig a contest in a sport which derives a lot of its attraction from the way it crosses real terrain. Look at the mountains and points competitions where both have been tweaked and tuned over the years but this doesn't guarantee a desired outcome or a fine contest. The points competition gets tilted away from Sagan every year and he still wins it.
There's also a tech request for race radios and powermeters to go. I'm not sure this would make any difference. There are great races with and without radios. Similarly a powermeter helps with pacing but the numbers are never absolute. Ban bike computers and you don't ban the notion of riders pacing themselves on a climb; cautious riders who like to hold a tempo will not launch wild attacks simply because we've taken away their bike computer.
Conclusion
The Tour de France was enjoyable but the race for the yellow jersey lacked a contest. It's brought calls for change from smaller teams to salary caps to route changes. Only the route keeps changing and Team Sky keep winning. In the absence of a Binda-payoff people have mentioned rule changes but these are big changes to the sport and the worst thing to do would be to introduce them as a means to replay the 2016 Tour de France, by all means explore deep structural reform but this needs thought and testing. Formula 1 is a ready example of example of a sport that fidgets in the name of innovation only to confuse the public.
We can tinker with the Tour and other races but they're not algebraic formulas nor spreadsheet models. Tweaking a value here won't always achieve the desired outcome, instead the sport is full of random and stochastic elements from crosswinds to rain to crashes and chance attacks and trying to reengineer results and create contests is hard going. If things were this predictable the whole sport would be boring to watch in the first place.
There are matters the UCI and ASO cannot achieve at the stroke of a pen, you cannot legislate to keep Alberto Contador from crashing, to prevent Thibaut Pinot from getting a virus or to put Nairo Quintana and Fabio Aru in top form. Test all the measures above and what Chris Froome would still be the uncontested winner?