What's the fastest way to become a millionaire? Start as a billionaire goes the joke only plenty won't be laughing right now as stockmarkets and commodity prices crash. Several high profile team owners have seen their fortunes descend faster than Peter Sagan off the Rochette. In the first of a two-part series looking at the wealthy backers of the sport here are the billionaire and millionaire World Tour team owners and sponsors.
Think wealthy cycling tycoons and Oleg Tinkov probably comes to mind. He has announced he'll leave the sport but there's still a year to go for him and his Tinkoff team, let's hope he bought the  Euros as the Rouble has just hit an all time low against the European currency making it more expensive than ever to pay Peter Sagan's salary. As for Tinkov, he's joined the millionaire's club, normally something many would celebrate only for Tinkov it's bad news as he used to be a billionaire. The serial entrepreneur – he is not an oligarch – has seen his latest venture, Tinkoff Bank, hit hard by the Russian rouble crisis as interest rates soared, think of it as a rise in the price of raw materials for a credit card business. Now the cratered oil price means a further shock to the Russian economy which can't help consumer credit although Tinkoff Bank's stock price has stopped its slide meaning Tinkov's net wealth hasn't changed too dramatically of late. All this backstory is irrelevant if he's going but it could be part of the reason why he's leaving too.
Another Russian who is mulling an exit is the discreet Igor Makarov, the owner of the Katusha team. Not for him provocative tweets and a team in his name, he's discreet to the point where photos are hard to come by. Still he buys superyachts like you might buy bikes or cars. Now you can use a Tinkoff credit card but you cannot buy a Katusha, here is a team that has no naming rights sponsorship deal, instead it's funded by Makarov with help from various related sponsors, such as the Itera group, the gas trading company founded by Makarov which he sold to Russian oil and gas giant Rosneft for $2.9 billion (€2.1bn), all at time when the oil price was north of $100. He got out when the going was good but remains connected to the Itera group. Itera spelt backward is Areti, sponsor of the Gazprom-Rusvelo team. Makarov could stop funding teams but may stay on in other roles. He chairs the Russian federation and sits on the UCI's Management Committee and his Itera group also funds the European Cycling Union and he played a pivotal role in Pat McQuaid's ejection from the UCI. If you want more on his story, see Tinker, Tailor, Cyclist, Spy.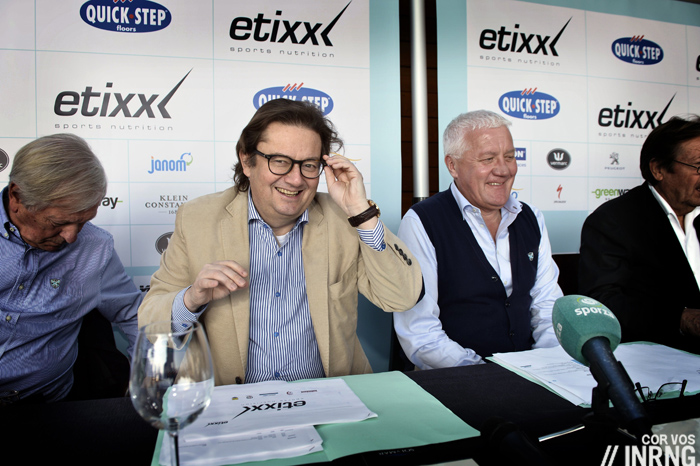 Continuing the theme of billionaires leaving is Belgium's Marc Coucke, a practitioner of the "buy low, sell high" mantra. He founded Omega Pharma which makes medical supplies like bandages and other health paraphernalia. He became a millionaire when his firm floated on the Belgian stock exchange and when the stockmarkets tumbled he bought it back cheap and waited for stockmarket values to rise whereupon he floated it again. Then he sold the firm to US business Perrigo, reportedly pocketing €1.45 billion, tax free. Apparently there's a clause in the takeover deal saying Perrigo has to keep funding the team for a couple more years. Coucke still follows cycling and did his "Couckenbak" song – a thing in Belgium – during the Tour de France but has gone football crazy. He bought into KV Oostende, a Belgian soccer club and LOSC, a French Ligue 1 team and a glance at his Twitter timeline shows endless football fandom.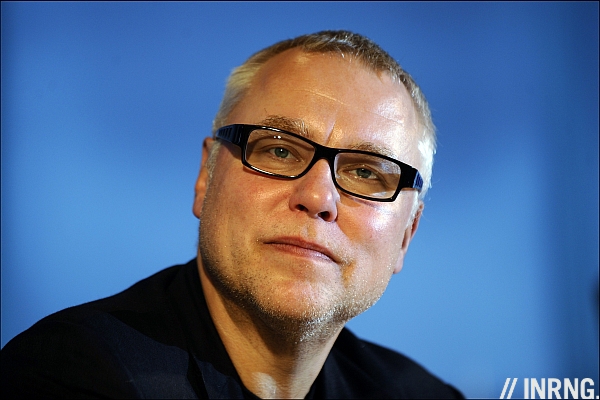 Now for the billionaire cycling team owner of which little is known. If Coucke has sponsored the OPQS team for years, Zdeněk Bakala is the one who owns it. The Czech billionaire bought the team with Dutch sidekick Bessel Kok and is a textbook capitalist who left his country with little more than a sandwich in his pocket for the USA. He went to business school then investment banking on Wall Street until the Iron Curtain fell and he opened the offices of an investment bank in Prague before going solo. According to Business New Europe, a magazine, he bought a coal mining business for €400 million, sold some its assets for €2.5 billion and then floated the remaining business on the stock market for €4.5 billion. Among other things he owns a large stake iron ore producer Ferrexpo and mining firm called New World Resources, both of which have a stock price chart that looks like the profile of a downhill time trial. Iron ore prices have collapsed given crashing steel production and if you think that's a headache, Ferrexpo has most of its operations in Ukraine. It's is just one part of his portfolio but indicative of Bakala's falling wealth which, going by the guestimation of Forbes, almost halved in 2014 and now he's a "drop off" the billionaires list, a broom wagon waiting to sweep him up. Still he remains prodigiously wealthy and is part of the Czech establishment. If he wants to drown his sorrows he owns the scenic Klein Constantia vineyard in South Africa which explains why this sponsors the Etixx-Quickstep U23 team. Bakala did get excited about the reform of the sport a while back with proposals for a total overhaul of the sport, a joint venture with the UCI where the governing body would set the rules and calendar… and Bakala would take care of the rest, funding a breakaway league in conjunction with the modestly-named Gifted Group. Has this gone away or has Bakala's idea been rebranded as Velon? He's a figure in Czech politics because of his wealth and influence and media empire but lives in Geneva and is a keen cyclist who'll ride the Cape Argus in South Africa when he's visiting the winery.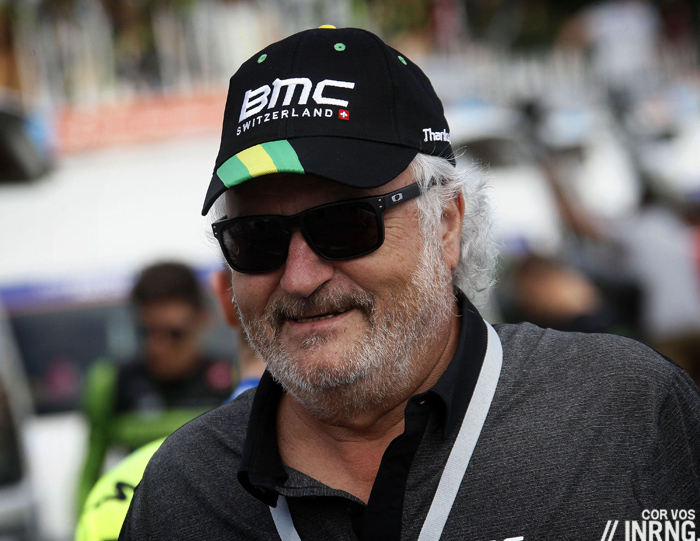 Andy Rihs of BMC Racing is a more discreet figure. His father Ernst started a hearing aid business that went from the garage to a global consumer healthcare giant called Sonova and at the time of writing it is worth about US$7.7 billion. Rihs's remaining 5% stake means a holding valued around $380 million. But he's worth much more as he owns BMC and has financial stakes in wineries, hotels and watch making, normal since the BMC factory in Grenchen is near the Breitling HQ in an area famous for its luxury timepieces. He's obviously cycling-crazy, the budget for BMC Racing is greater than the profits of the BMC bicycle company meaning the team is a personal investment. Rihs isn't in the media a lot nor tweeting like songbird but can often be spotted at the races and ready for a chat on wine or racing. He'd been thinking of an exit from the sport but has announced he'll stay on and fund the team until 2018.
Another Swiss figure who funds a team but is considering an exit is Michel Thétaz. He founded Independent Asset Management in 1995. Better known as IAM, it manages billions of Swiss Francs on behalf of its clients out of Geneva in Switzerland. Estimates of his wealth are hard to come, but in dollar terms think hundreds of millions. He's a keen cyclist but this only part-explains the sponsorship. Cycling's demographic attracts lotteries, laminate flooring and car brands like Skoda so fund manager like IAM looks out of place. More so if you look at it the other way around, Swiss financial firms typically sponsor polo, yachting or show jumping. Thétaz prides himself on IAM's independent thinking and doing things that others don't. But the team has to find a new sponsor or at least a co-sponsor to stay on the road.

Is the co-sponsor ever going to come? Orica-Greenedge is Aussie for Orica-Your Name Here but it's not proving easy to get that co-sponsor and it can't be cheap with the contracts for the Yates Brothers and Esteban Chaves coming up, and that's before the team tries to lock in Caleb Ewan. Sports fan Gerry Ryan (pictured right) can afford to bankroll the team for years, reports say he's worth AU$340 million (US$280 million). The only worry is for his son as he once quipped it was his inheritance that was being spent. Ryan started out building camper vans and caravans in 1975 and Jayco has been a big success going from eight employees to – as the auto industry pulls out of Australia – what can be counted as Australia's biggest vehicle manufacturer. But there are only so many caravans to sell and he's become super rich with the Walking With Dinosaurs show to which he owns the rights, and his media and entertainment business also stages other shows. There's more business and he's been a generous donor to other sports too as well as owning race horses.
Conclusion
The point of this isn't to gawk at wealth, it's more to briefly explore the owners of the big teams, their motivations and connections. Each story is different but there are are three themes above:
A lot of the World Tour teams are bankrolled by a billionaire shareholder, a sugardaddy who spends millions in the way you might allocate Velogames fantasy cycling credits
Another theme is dwindling wealth, whether it's the falling oil price, stockmarket upheavals or the nexus of these two events, the reported wealth of several team owners above has taken a bath although of course several names above got rich on the back of the rising prices
No new names: year after year we're seeing the same wealthy man and they're starting to say out loud they've spent enough and shuffling to the exit
They might be billionaires and millionaires but many are along for the ride, rediscovering childhood interest in cycling or zealous Mamils. That rider you see in team kit on a replica bike could be fan but they might just be a billionaire team owner
This is just the wealthiest World Tour team owners and major sponsors. Part II looks at others from sponsors to race owners and more.