After looking at the wealthy World Tour team owners last week, the people who spend their money on the sport, now a chance to look at the millionaires who make money from the sport. As ever the point isn't to gawk at wealth but to offer an introductory "follow the money" piece so you know who pulls the strings.
Christian Prudhomme is Monsieur Tour de France and sometimes seen a decisive force but power in the sport resides with the Tour's owners, not its employees. ASO, a subsidiary of the Amaury Groupe, is a family business owned and controlled by Marie-Odile Amaury who took over the reins when her husband died in 2006, the only woman in this series. Readers probably know ASO owns the Tour de France but it also runs other sports events like the Paris-Dakar rally, the French Open golf and the Paris Marathon and they've taken 100% control of the Vuelta a España too. ASO has been a cog in the wheel of a larger media empire but recently the family sold Le Parisien newspaper meaning the Tour de France and sports events have become more central to the business. The Amaury family own the firm 100% after buying out minority shareholders and Jean-Etienne Amaury (pictured) is being groomed for the top job. He trained as a software engineer and spent several years working discreetly on Bloomberg's IT systems in London before leaving to do an MBA at Stanford University and then assume a role in the family business.
If the Amaury family became rich and famous after acquiring newspaper titles and their subsidiary bike races in the post-war period, across the Alps the Bonacossa family are a wealthy clan of aristrocrats who bought into La Gazzetta Dello Sport during the 1920s alongside other activities in politics and sport. They remain the owners today even if they "rent" the paper out to RCS Media in a complicated, and apparently private, pact that includes running the Giro d'Italia but not outright ownership. But RCS is in the middle of a large reorganisation and is said to be close to making an offer to Countess Alberta Bonacossa to buy the paper outright and with it the Giro. What it means is that anyone who wants to buy the Giro has to ask both RCS and the Bonacossa family.
Wouter Vandenhaute is Mister Cobbled Classics. He's journalist and TV producer and after making his money and branched out into other activities. He's got fingers in many pies, literally with ownership of restaurants but also Humo magazine and he recently stepped down from managing SBS television. For cyclists, he owns 50% of Flanders Classics, the business that owns the Tour of Flanders and other Flemish fixtures. The other half is owned by Corelio, owner of, among other things, the Het Nieuwsblad newspaper. Vandenhaute's been snapping up races to package them under the Flanders Classic label and this concentration has allowed extra sponsor sales and other sales tactics like hospitality. If you're still smarting about the Tour of Flanders moving away from the Kapelmuur to the Oude Kwaremont and Paterberg in order to install VIP zones then here's the man to blame.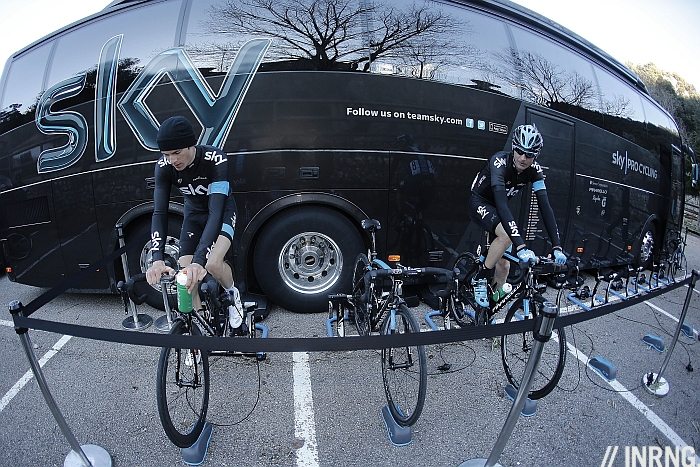 There are others in the sport who are wealthy and have an active role. James Murdoch, son and heir-apparent of Rupert, is still a keen cycling fan and a non-executive director at Sky, the UK television arm of the Murdoch family empire. If "non-executive" sounds passive, he's CEO of 21st Century Fox which owns 40% of the British broadcaster so he's arguably the most powerful man in the Sky boardroom. Sky are said to be "exploring options" which could mean a takeover or a sell out as Murdoch doesn't like partially owning the UK TV arm, preferring all or nothing. We'll see what this does for Team Sky but in the meantime Murdoch is an active supporter of the Velon venture, his interest in the media and Sky's transformation of the British football premiership make this natural.
I don't know how wealthy Michael Drapac is, the figure is hard to track down. But he's made a fortune over the years as a property developer in Australia and the West Coast of the US. Some of this is being spent on the eponymous Drapac Pro Cycling team. Another wealthy man with so much money he spends it on his hobby? Yes and no as the team is much more than a glorified version of Velogames. Yes as here's an eponymous team racing around Asia and the US in the name of the team owner, or rather his business and of course marketing spend is tax-free. But this is more nuanced as the Australian Pro Continental team puts a big emphasis on life beyond cycling with riders encouraged to study and regularly reflect on their certain retirement. This is a philosophical leap from the short termism apparent in cycling and practically every other sport and makes for a fascinating case study. In his words "medals are just a by-product" of sports, the idea being that true success is having a fruitful pro career but then being able to enter the real world with skills and self-belief and for more on this his speech on the team launch in 2014 is worth a read. So perhaps his bank account or balance sheet doesn't matter?
IMG and its various private owners have a role in cycling with ventures like producing the InCycle video content and working with Velon (which helps explain why InCycle resembles Velon-vision). But for such a large sports agency their role in cycling is a small one, perhaps a way of keeping an iron in the fire in case they want to strike one day.
Wang Jianlin (pictured, photo by Word Economic Forum/Natalie Behring) also has a small role in the sport. He's the Chinese billionaire behind Wanda, he began as a Chinese border guard and went on to command a regiment before going into business and owning hundreds of shopping malls, hotels, cinemas and karaoke bars in China and now he's on a shopping spree around the world buying a real estate plus stake in Athletico Madrid football team. Wanda's bought Ironman, the branded triathlon events company, and recently the endurance-race division of Lagardère Sports which runs several unloved pro races like the Hamburg Cyclassics or the Velothon Wales. It also owns Infront, a Swiss sports marketing agency with has a joint venture with another Swiss firm Ringier and InfrontRingier run the Tour de Suisse so technically this large race falls under Jianlin's umbrella too. For now his presence in the sport is small but this could change. Described by The Economist as a man with "Napoleonic ambition" it seems fitting that he expressed an interest to buy the Tour de France.
Others
Mike Sinyard sponsors three World Tour teams (Astana, Etixx-Quick Step, Tinkoff) via his Specialized firm but doesn't venture many public opinions on the sport; John Burke at Trek took over the business from his father and the US firm as seen sales soar making him wealthy not in the league of those above; it's taken Segafredo to help find the budget to recruit more riders. King Liu is the boss at Giant but again it's a marketing operation without much power or politics. The Galbusera family aren't big names but owning laminated steel maker Lampre gives them the wealth to back a pro team for 20 years and they're the only remaining Italian top squad. The Carretero Napolitano family of Panama own sports shops and restaurants and are multi-millionaires and have backed the Southeast team, normal since their son Ramón rode for it until he was rumbled for EPO. Doug Ellis has been a generous backer of Slipstream but his wealth doesn't put him in the same bracket as others above. Bahamian fund manager Mark Holowesko also sponsors the Cannondale team and also George Hincapie's team, Citadel-Holowesko but he's not active in directing the team; still it seems he's helped introduce Citadel to cycling, it is a giant hedge fund run by Ken Griffin who the internet says is worth $25 billion and worth watching to see if Griffin gets hooked. There are more sponsors of course of other teams but they don't take such an active role in their teams yet alone the wider sport.
Commentary
This two-part piece isn't to wow at wealth. Instead it explains the backgrounds of some of those sponsoring the sport, an introductory "follow the money", highlighting the "sugardaddy" phenomenon and the conservative families owning many of the sports assets. But for all the business brains on board, many of these people are spending with little hope of a real return, highlighting the awkward nature of being a sponsor. They go where corporate sponsors won't, despite the giant publicity generated by the Amaury's Tour de France, many teams struggle to find buyers for the naming rights and the "real estate" on the team jersey. Yet for all the billionaire oligarchs used to clicking their fingers and getting what they want there are still some things you cannot buy. Surely the Amaury's are the richest people in pro cycling. Not on account of money or "net worth" but because they own the sport's prime asset: the Tour de France. As such they're the only ones making money while everyone else is spending it.
This is the second part of a two-part series. Part I is here.