Katusha team owner Igor Makarov might be one of the wealthiest men in the world but even he's said he can't fund the team forever. He's helped to bankroll the team with support from Itera, the gas giant he founded in the 1990s, since he bought out Oleg Tinkov in 2008. There's been open talk for that he's thinking of stepping back from the team once he's funded Russian cycling's journey to Rio. He's right to question the spending given the team's best results have come from foreigners and Russian recruits like Denis Galimzyanov and Denis Menchov have been disastrous.
Faced with this the team is setting out to woo fans and improve on the squad's unloved image.
"We have respect in the worldwide peloton but what we need is more identity. From next year we're going to change the conception a little, we're going to be unique, get more sponsors and become a more international team.
That's Katusha's general manager Viatcheslav Ekimov talking to Cyclingnews. Here's team PR officer Philippe Maertens in the same piece:
"We're not a sexy team… …Everybody is afraid of the Russians but there is really no need because they are nice guys…but they have the kind of image that the East Europe guys are a bit closed."
What's in a name?
With many teams it's hard to get excited about suppliers of laminate flooring or national lotteries but at least you know what you're getting. Katusha has been more nebulous with many thinking the team is named after a rocket launcher and the implicit associations of Russian military assertion. However that weapon system was itself named after a folk song called Katusha about a girl called Katyusha  – the diminutive of Catherine, ie Cathy or Katie – missing a man away fighting the Nazis. So instead of a weapon system our cycling team is named after a love song, albeit with laden patriotic pride. Team Cathy if you like.
Team Kremlin
But no matter what the name or its meaning the team is obviously Russian with its red and white kit, the "Russian Cycling Project" strapline, sponsorship from Kremlin companies and team presentations complete with Red Square photoshoots. From the start Katusha hasn't just been Russian, it's been Team Kremlin with a board of officials close to President Putin (the full story on the team's origins and web of komanda connections in Tinker, Tailor, Cyclist, Spy from 2011). When the UCI tried to take away the team's licence in 2012 the team's press release response used the word "Russian" five times, a patriotic ploy. Given all this the team's identity is linked to perceptions of Russia, Moscow and Putin.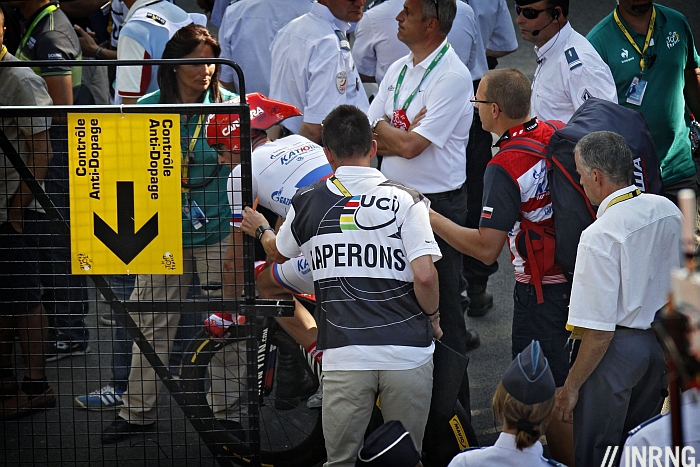 допинг
Back to cycling and the pachyderm in the parlour: doping. If you ignore geo-politics chances are you've still caught the bad news about the apparent collusion in Russian athletics. We know that Rusvelo was the first ever team to self-suspend under the MPCC rules and U23 feeder team Itera-Katusha has just had two riders stopped. Of course other countries have problems but they're not in the headlines as much. This year Astana have been the pantomime villains aided by the Bond villain imagery of Sacha Vinokourov but there's a strong case that Katusha score worse:
the UCI's Licence Commission stripped the team of its World Tour licence leading to legal battle at the Court of Arbitration of Sport where the team won back its licence, an escalation above and beyond the Astana case
Katusha employ a convicted criminal as their head doctor, Andrei Mikhailov was busted for his role with the TVM team in 1998 in the wake of the Festina scandal. A long time ago but of all the doctors in the world they have the one who's been to prison for doping
Ekimov himself was a long-standing US Postal and Discovery rider who probably wasn't surprised by the revelations of USADA's Reasoned Decision but he continues in the sport in the same way Bjarne Riis, Neil Stephens and many others do, it's their right. But it's just not that endearing
It's not all old news, we've had Galimzyanov, Menchov and more. For 2015 Luca Paolini and Giampaolo Caruso, stopped this year following an EPO sample from 2012, both have open cases
If the team announced a steam clean of these Augean stables many fans would probably say "great, good news and we'll judge you in three years' time".
Another image issue with Katusha is the semblance of teams with the team. There's the Spanish stage race crew with Joaquim Rodriguez; the classics component with Alexander Kristoff where his success is regularly attributed to home training riders and coaching by his stepfather Stein Ørn, an implicit if involuntary statement that success is down to Norwegian efforts; plus a rump of Russian riders. Somehow it doesn't seem to fit together. Not that there's bickering between the groups, just the sense of a team split in different ways. The good news is that some storytelling can go a long way, for example how Alexey Tsatevich closed a gap to set up the win for Rodriguez or Kristoff.
symbols of the Soviet Union #cccp #ussr pic.twitter.com/TEuMa4lYT6

— Koshevoy Ilia (@il_koshevoy) November 16, 2015
The Russian Cycling Project has yet to have a star Russian rider and even if they did there's a big language barrier. Maertens says the Russian riders "are a bit closed". Of course there are Eastern Bloc riders who are amusing and informative to follow on Twitter, for example Ilia Koshevoy… of Lampre-Merida who has good English and Italian.
Katusha's Slovenian iceman Simon Špilak has won big but remains a mystery to many. Interviews are hard to find as is personality and even victory celebrations look bad. Now some people are like that but Katusha appears to have an oversupply of stony faced stoics with the media profile of a Dutch mountain stage.
Take Ilnur Zakarin, arguably the revelation of 2015 but the Stork of Tartarstan isn't hot property. How come the media aren't chasing them for interviews or are they only to find monosyllabic answers that are barely worth transcribing? When Zakarin won a stage of the Giro we got an interview with team svengali Sergei Outshakov. Could language lessons help? Perhaps, Zakarin for example only speaks Russian. It feels arrogant to demand foreigners adopt a European language in order to engage with the English, French, Italian, Spanish and Dutch language that makes up the bulk of the sport's coverage.
One idea would be to use their bike sponsor better. The Cervelo Test Team had a natural following with Cervelo owners, something Trek Factory Racing and Cannondale-Garmin exploit today. Canyon bikes seem to be everywhere in Europe, their low-cost distribution model sees wide ownership and sales are soaring. But as readily as people buy Canyon bikes they're unlikely to sport Team Kremlin jerseys. But design some fashionable kit and even bundle it with the bike sales and there's an avenue to expand the fan base beyond Russia.
Indeed this fan aspect seems to be what's coming. A website has been set up at katusha-sports.com and according to French website VeloPro said to be the start of a new marketing project where the team will continue under the Katusha identity but aim for new revenue sources with direct clothing sales and even "Katusha Events". All this and more is going to be unveiled in a presentation in Calpe, Spain on 12 December.
PR Case Studies
Stepping away from the sport there's no shortage of PR advice around for individuals, companies and even nations that are unloved. It's hard to think of a pro team that's gone from ugly duckling to swan though.
Conclusion
What does Katusha mean? They've topped the world rankings before and have some of the world's best riders like Alexander Kristoff and Joaquim Rodriguez today. But they're an unloved team and the managers want this to change. They're right to be concerned given even the most successful teams don't win that often so perceptive matters like popularity and public image matter.
Stepping away from the Team Kremlin image could help but it's hard to escape the source of their funding. Management is part of the problem too, some of the staff have a dubious past and a steady drip of doping stories which keep making it hard to forget the past. They're the only active team that's had their licence stripped. Given this even if they get everything right in 2016 it'll take more time to polish up their image.
But there's more than PR here, the team wants to continue with a new model that goes beyond naming rights, to retain the Katusha name as a permanent feature rather than subverting its identity every few years as sponsors come and go. The team will get more international, it has to given the Russian consumer market and TV audience alone isn't big enough to support it. This is an interesting project and worth following.