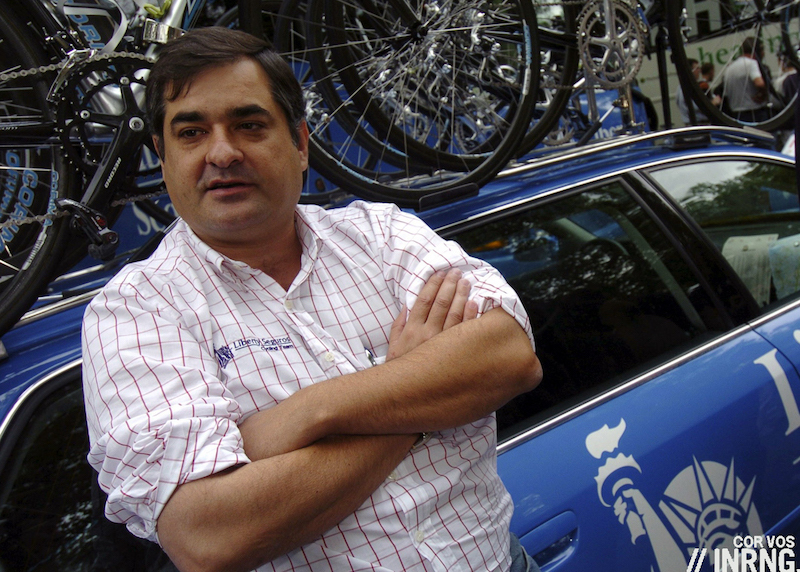 Spain's had a rough time of it recently with only Movistar in the World Tour and Caja Rural in the Pro Conti tier, not much given the rich culture of cycling, the extensive calendar and the sheer number of Iberian pros, almost a national export. So news of a third Spanish team on the up should be greeted with cheers. Only there's a catch: it's run by Manolo Saiz.
Yes, Manolo Saiz is on his way back after his inglorious exit from the sport in 2006 when he was rumbled in Operacion Puerto for running a team-wide doping programme. He quit the sport to run a castle and restaurant. He's never given up on cycling and apparently Katusha came close to giving him the reins a few years ago. Since then he's been working with a Spanish U23 Aldro which is stepping up a gear for 2016. Should he be back in the sport? This is a moral question to which the answer says more about the respondent's position than Saiz. It's moral because legality doesn't come into it given Saiz was never banned but simply stripped of his team licence and this is the root of the problem. If he was punished like Johan Bruyneel then he'd be gone for good but since he wasn't he's free to work in the sport in the same way Eusebio Unzué, Bjarne Riis, Neil Stephens or Viatcheslav Ekimov can run teams. We might not welcome Saiz's return but given others are running teams we probably have to live with it and be vigilant. Saiz does stand out for his provocation at times rather than keeping his head down.
Now for a team on the up as MTN-Qhubeka, soon to be Dimension Data, was celebrating their appointment to the World Tour for 2016. But is there much to celebrate? There is all the "historic" tales of the first African team to join the World Tour but since the UCI Pro Tour only started in 2005 it's not quite the story. Dimension Data now get access to all the top races and a new logo on the jersey. The roster in place already qualified them for the empty spot in the top division whether in terms of rankings or the minimum team size. Given there's nothing dodgy for them to fail the ethical element it came down to admin and financial criteria, in other words having the money and filling in the paperwork. The real test is whether they're competitive and for that we'll soon see when Mark Cavendish's race programme is announced. Perhaps the real celebrations will have come from inside the UCI which avoids the embarrassment of a top tier with an empty spot?
The Pro Conti scene is diverse with huge gaps between teams, some can rival World Tour squads any day of the week while others are shoestring operations. In cash terms you sweep from teams like Cofidis spending €14 million down to some squads with a budget of €2 million, a ratio of 7:1 between the top and bottom, much wider than anything we'd see in the World Tour where it is 4:1 at most.
Four teams are still waiting for a licence, Bardiani-CSF, CCC-Polsat, Direct Energie (ex Europcar) and Southeast and will hear in December. There's no word on what's gone wrong, it could be a missing piece of paper, it could be a fundamental failure. It might not linger for long but it's acutely embarrassing to be named as a team that's not ready. It's especially true for Direct Energie which is supposed to be a fresh new start for Jean-René Bernaudeau only we're seeing a repeat of past admin problems, you'll remember Europcar fell out of the World Tour because of a financial shortfall.
One perpetual headache is the bank guarantee which teams must front. Essentially this is a sum of money that is put aside in case the UCI wants to call on it, normally in case the team vanishes overnight leaving wages unpaid. It can amount to a sum equal to fifth of the team's wage bill, a huge cost equivalent to signing a star rider… that sits out the entire season. A bit like signing Carlos Betancur.

Naming rights are a big draw for sponsors of course and UCI rules limit this to two sponsors per team, like Giant-Alpecin or Lotto-Soudal. So it's curious to see how French team Delko-Marseille-Provence-KTM has managed to get such a long name. Delko sells car parts, Marseille is France's second city, Provence the region around it and KTM make bikes as well as motorcycles and garden equipment. Even if Marseille-Provence are lumped together it makes for three names rather than the usual two. It's possible they keep their geographical name as a tribute to their roots. Still as sneaky as getting all these names into the official name is they're probably going to be "Delko" to most people or Marseille to others, reflecting their origins from the city.
Disc brakes are back in the news after the cyclingtips scoop they'll be allowed in the World Tour for 2016. It seems short notice as sponsors need to have bikes ready in no time. The debate rages with some saying there are improvements in braking and others claiming this is being driven by the bike industry in order to complicate the bike with more expensive equipment that requires more servicing. But if the latter is true then it's your choice to buy a replica bike, pro teams might be given disc brakes by their sponsors whether they like it or not but consumers have free choice. In short if you don't like it then you don't have to buy it.
If you do like discs then things only start to get complicated given the mix of standards and fast changing designs. Be sure to get a properly designed model rather than one that simply has disc mounts added to a standard road frame as the braking forces are different or at least applied differently. Ideally this is true for the wheels as the rim is not longer part of the brake system so the design needs to reflect this. It all makes for a headache if you want a new bike given the constant flux in design with ever-changing bottom bracket "solutions", electronic shifters that aren't compatible with last year's model and all this is before engineering from MTB bikes crosses over with thru-axles which seem certain, 135mm rear dropouts are possible… and even 29-inch wheels, an idea that's under gestation in a few places. Is this flux making people hold off from purchases?
Finally having looked at how a pick of 10 neo-pros got on in 2015, thoughts had turned to who'd be worth watching in 2016 and Australia's Robert Power was among the top picks only he won't be turning pro any more after falling ill with a rare bone marrow disease. Power had been whispered about as a huge talent, even "the one" by seasoned observers. Best wishes to him.