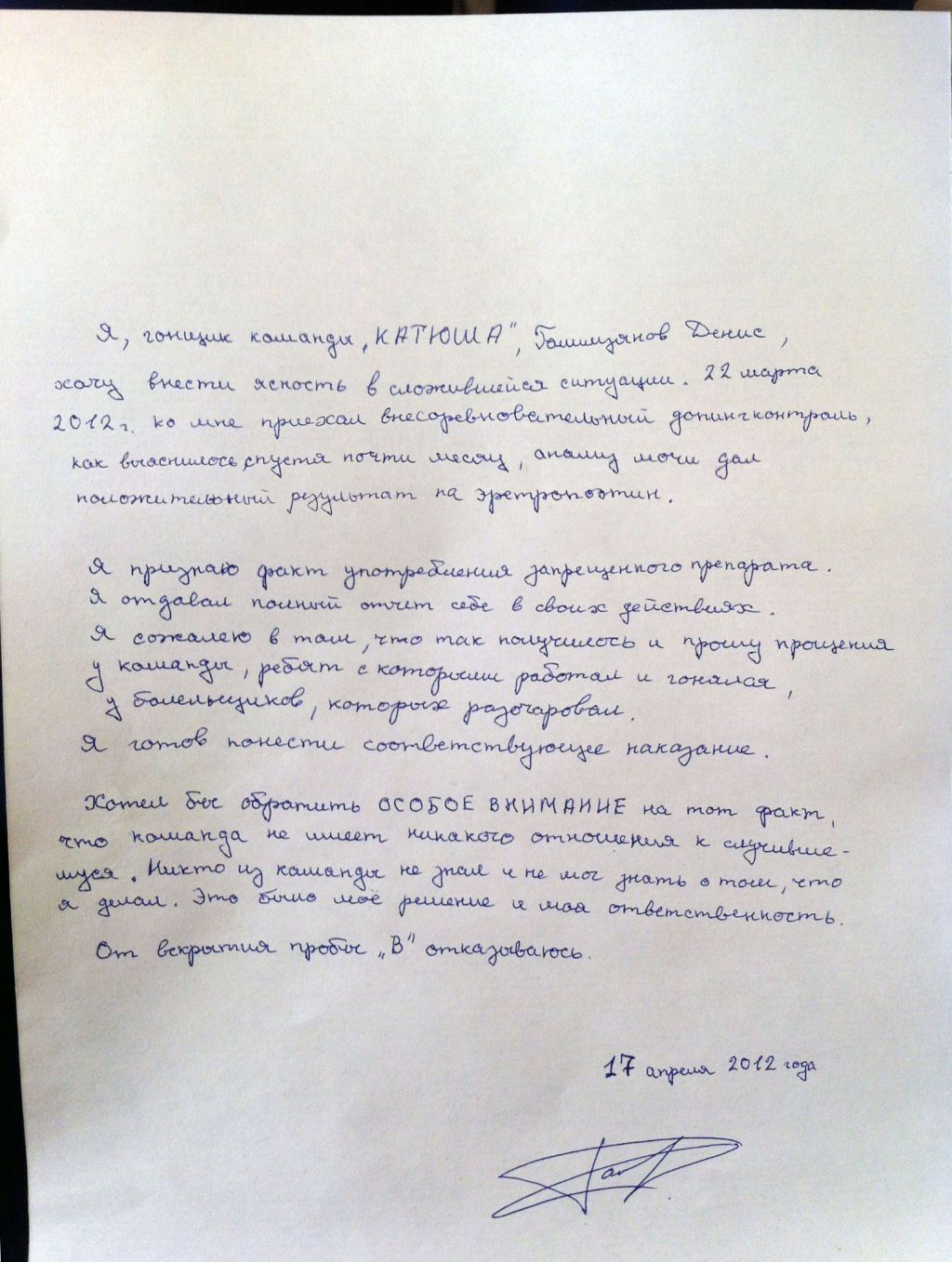 This is the confession of Dennis Galimzyanov. In this handwritten letter dated today the rider admits to his team that he took banned substances and waives his right to the B-sample being tested. He states that he acted alone, even using capital letters to help emphasise nobody from the Katusha team was involved.
However the matter isn't finished. There's the formal process of imposing a ban. If the letter is accepted by Russian Cycling and the UCI then a confession is equal to a positive test and he'll be banned for two years. Sacha Modolo (Colnago-CSF) now "wins" Stage 1 of the Circuit de la Sarthe.
For Galimzyanov there are more questions, namely whether he acted alone or if anyone else was involved. He says in the letter he's ready to face punishment but is he ready to co-operate? From whom did he buy the EPO? How did he learn about injections? Did anyone explain the dosages involved? Where did he consume the banned substance, was he at home or a training camp? Did he use EPO before? It is rare for a rider to act totally alone here.
Katusha had tried a contract where riders caught doping were supposed to pay back a multiple of their salary. But I think this was invalid to start with and probably unenforceable so at least Galimzyanov should avoid this.
Away from the 25 year old rider there are questions for the Katusha team and its management as well. Teams should prove support and coaching to help ensure riders are clean and whilst squads are not there as parent for childish riders, if riders are doping then it suggests the team environment can be improved. Especially since teams monitor their riders health and blood levels from time to time.
Worse for Katusha, the team's got some questionable leaders. As I mentioned yesterday, even being charitable the team manager Hans-Michael Holczer seemed careless, ignorant or naive when he was in charge of the Gerolsteiner team when several riders under his watch were caught doping; and that's assuming he wasn't actively part of this.
On the medical and sports science side the Katusha team's head doctor Andrei Mikhailov is a convicted criminal with a prison sentence for doping. We go back to 1998 when he was caught by French police who discovered a van with large quantities of EPO inside and given a suspended prison sentence and a large fine. He claimed to be on a mercy mission, that the EPO was actually destined for a hospital in Russia but the judge didn't believe him. Still, this was a long time ago and perhaps everyone deserves a second chance?
Summary
It's unusual to see a confession, we're more used to brazen denials. Galimzyanov was tested, caught and will now be banned.
But if handwritten letters are rare these days, doping totally alone is even more rare. It'll be interesting to see if we learn more about how Galimzyanov acquired the banned substance and where he learned to abuse it. It's good to catch the cheat but we often lose sight of the supply chain in the background.
This is Katusha's third EPO positive after Christian Pfannberger and Toni Colom. These could all be "lone wolf" stories but the team would do well to see if it can offer a more supportive environment for clean riding. Sadly, with Holczer and Mikhailov in charge I struggle a bit to see the commitment. But that's my problem to deal with.