Sergio Paulinho is the lastest rider to suffer injury from a race vehicle after he was hit during Stage 11 of the Vuelta a España on the same day his Tinkoff-Saxo team issued an "open letter" calling for improved safety and an apology.
Some people have been asking what are the rules about vehicles and safety in the race convoy and what the different vehicles are doing so here's a look at the topic.
There's been a list of incidents this year. As well as Sagan and Paulinho you might remember Jacob Fuglsang being knocked off on the Col du Glandon during the Tour de France. Greg Van Avermaet got taken out in the Clasica San Sebastian. More than usual? Hard to say, there's never going to be an even distribution of these accidents and they keep happening over the years. Social media has changed things as images and messages can be shown around the world in a flash and creates instant demands for something to be done. Bizarrely even Tinkoff-Saxo were polling fan responses following Paulinho's accident:
Unbelievable! @sergiompaulinho abandons @lavuelta after being hit by reckless TV motorbike! What shall we do now? (More info to follow)

— Tinkoff Saxo (@tinkoff_saxo) September 2, 2015
What are the rules?
Drivers in the convoy of a World Tour race have to hold a UCI licence and be approved by the governing body. 2013 saw this extended to the media, seemingly a response to the incident with Johnny Hoogerland and Juan-Antonio Flecha in the 2011 Tour de France. There are some specific rules relating to motorbikes in the race convoy but they're all dry and obvious, for example motorbike riders "shall immediately comply with orders and instructions given by the race commissaires" (Rule 2.2.051) and "these motor-cycles shall manoeuvre in such a way as neither to help nor hinder the progress of the riders" (2.2.071).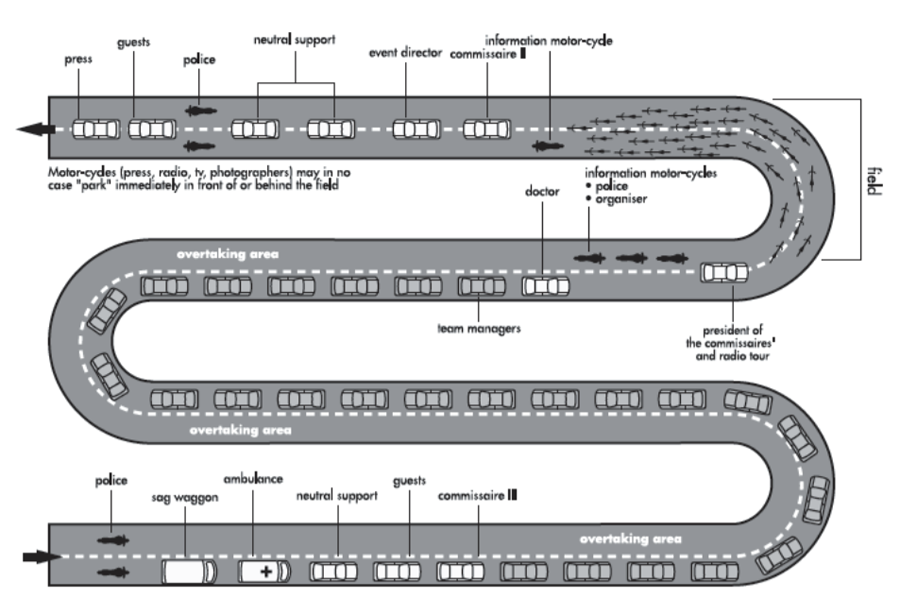 The graphic above is an illustration of a typical race convoy and in reality it's a lot more dynamic. The idea is to keep vehicles away from the racing and let them approach or overtake riders with approved manoeuvres. There are protocols and drills for photographers and TV cameras to overtake the bunch or drop back from the "screen" or "barrage" ahead of the race to capture the action, it's all in Part II of the UCI rules if you want them. What's happening in some crashes isn't flouting these rules, it's merely poor execution of an overtaking manoeuvre or simply an accident.
Those who fail to comply with rules risk being excluded from the race. In total the rules are not specific and this is no bad thing because you can't ban accidents simply by writing more rules. Trying to overtake a rider by squeezing into a small gap is a dumb idea whether in a race or an open road.
There can be a lot of motorbikes in a race so could reducing the count help? Arithmetically yes. You might see the pristine countryside on TV but the riders are sucking fumes from the large convoy from many motos:
TV camera motorbikes
the local TV channel often has a reporter or two on motorbikes
photographers are getting the images that this site and everyone else relies on
radio stations cover the race live from motorbikes
time gaps have to be measured and for now they are based off the motorbikes tracking the race
there's the motorbike with the blackboard for race timing
police motorbikes help keep the road open when crowds are dense
commissaires monitoring the riders and others in the race convoy
neutral support mechanics
That's not an exhaustive list either. The Tour de France has motorbikes carrying waterbottles for example, they had relay motos for those geo-location telemetry sticks too. Plus cars cause problems too, see this year's Tour of Flanders with Jesse Sergent and Sébastien Chavanel who were taken out. All together that's a lot of traffic and it's also hard to place it all under one authority.
Accountability and conflict: Some vehicles and drivers are working directly for the race but many are working for the media, teams, police and others meaning responsibility and accountability varies. To illustrate this, the race can discipline one of its own employees as it wishes but will it been as easy to hit a TV motorbike with a penalty given the race depends on selling broadcast rights to the channel? Of course negotiations are at high levels compared to lowly officials and motorbike crews but there's the conflict of interest.
What to cut? We can't bemoan how riders get away with excessive sticky bottles and then call for fewer commissaires or worry about the crowds and then want to remove the police motos. Even if we prune 10% of the motorbikes this still equates to a 90% chance of an accident.
Never waste an accident: the solution seems to be qualitative rather than quantitative, on safer riding rather than fewer vehicles. Tinkoff-Saxo offer up some ideas today including widening the required distance between riders and vehicles. We can also use accidents; just as some industries with risky practices like aviation and oil exploration launch formal enquiries into accidents, not just to learn what happened but to help prevent it happening again. In a bike race an accident report doesn't need to be a big deal, just formal account of events where the scene is recreated on paper via diagrams with witnesses invited to comment could help and anyone involved in an accident more than once sees their participation reviewed.
Conclusion
Bike racing is dangerous enough without the entourage becoming part of the problem. Team cars, TV motorbikes and other vehicles are all part of race but they're not meant to alter the racing. The UCI rules reflect this, most of the regulations are about ensuring motorbikes and other vehicles don't alter the race outcome by providing a draft rather than basic road safety. The UCI met yesterday to discuss safety but no amount of paragraphs and PDFs are needed to say "don't hit the riders".