Team Sky's annual accounts have just been published. Here's a look at their budget, spending, wage bill and the behind-the-scenes change in team ownership.
2014 wasn't a great one for Team Sky. The spring classics season didn't work out and then when three grand tours came along nothing worked either, take the Tour de France where the only time a Sky rider stood on the podium was when Mikel Nieve got the combativity prize once in the Pyrenees. Plus the Bradley Wiggins selection soap opera ahead of the Tour. Still here's another tale of 2014 with bumper sponsorship and soaring wages.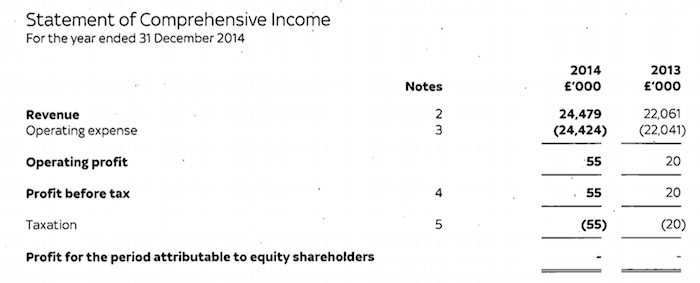 What is Team Sky's budget? The income statement above lists the figure in black and white: £24,479,000. ($38.1m / €31.1m, exchange rates below). That's up 11% on 2013 and thanks to gyrating exchange rates it means the same value in dollars but a 16% rise in Euros. This matters because Sky competes with a lot of European teams and has a lot of expenses in Euros, from fuel to kit so it amounts to financial tailwind for the team.
Teams are business-like but they are not run for profit and UCI rules constrain this, here's the rule:
"The income deriving from the activities of the UCI WorldTeam must be allocated exclusively to its operations or to the development of cycling… …The allocation of the profit must be decided after the annual accounts have been established and audited. No advance payment of profits may be made to beneficiaries during the course of the year."
Of course a company can avoid making a profit by paying the money out to its staff but in the case of Team Sky it seems they operate instead by drawing down on cash from Sky UK and others as and when it's needed rather than the alternative model used by some teams which rent out naming rights and jersey space in return for a settled sum per year. Now onto the money that flows into the team's coffers.

Title sponsorship is what it says, the money from Sky. Only it's more complicated as Britain's Sky pays in as does 21st Century Fox of the USA.
Behind the scenes the ownership has been changing, originally Sky Italia owned 25% of the team but it sold its holding to 21st Century Fox in 2013. The new accounts report 21st Century Fox has just sold some of its shares to Sky UK which now owns 85% of the team. All of these are subsidiaries within the same corporate empire but it shows the British element taking over. Also the accounts say Team Sky's sponsorship agreement runs until the end of 2016.
Performance sponsorship is related to the other sponsorship contracts, for example Pinarello, Shimano and Tata Motors' Jaguar brand. Race fees are stipends paid by organisers to cover expenses when a team participates in a race, the numbers are not made public but you can see it's a substantial component of team income, less for Team Sky but vital for the likes of Europcar. Now we've seen where the money come from, where did it go?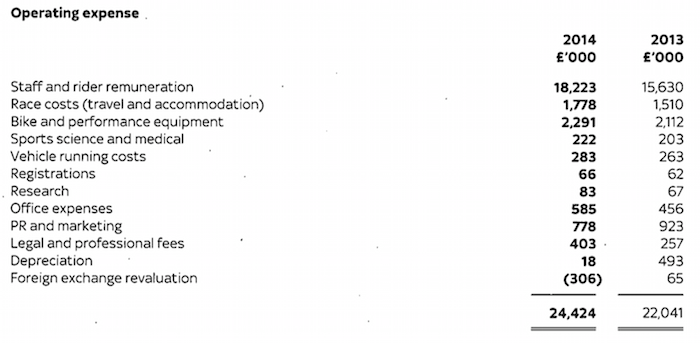 The wage bill of £18.2 million ($28.2m / €23.1m) jumps by 17%. This line item is every team's biggest expense and by some margin but here Sky's spend on wages alone is huge, it dwarfs many other teams. Remember this is the 2014 accounts so it includes Wiggins and Froome but is before the signings of König, Roche et al. Looking ahead it seems Sky are set to save with Bradley Wiggins' "retirement" and letting Richie Porte go (to BMC Racing) but any savings could be spent on new hires.
Note the line on "bike and performance equipment", this is where the team buys its own material, preferring to buy some gear rather than take on a sponsor. They have a large, private stock of Veloflex and FMB tires but there's only so much rubber you can buy, it's not clear if this sum includes pricey training camps in Majorca and to Tenerife or whether travel for training is still classed under "race costs (travel and accommodation)".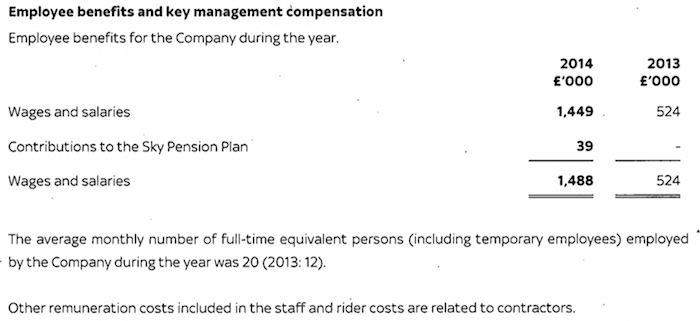 As the slide above shows the team has 20 staff on its books. But it had 28 riders you say; this is because the riders are usually taken on as "contractors" who sell their services to the team, often driven by tax purposes. Instead the "staff" are the managers and others, a number that has risen from 12 to 20.
Hidden among the accounts is the UCI World Tour registration fee of £66,000 ($84k / €102k) is a reminder the UCI doesn't make big money from the teams in the World Tour. There's also a small transfer fee of £36,000 in 2014, loose change compared to the total sum of more than £3 million sitting on the balance sheet, presumably incurred when buying the likes of Bradley Wiggins out of his contract with Garmin-Sharp and Ben Swift from Katusha too.
The End? Today Sky UK announced it's stopping sponsorship of British Cycling, the UK's governing body, after 2016 and the Rio games. Coincidentally the pro team's accounts out today show funding to 2016 as well and there's no commitment beyond. This isn't to say it's stopping, but unlike past accounts which have mentioned sponsorship extensions, this one does not. It's not a big deal for the company either, its annual marketing spend is buried in its own accounts, £1,117 million meaning the pro team is about 2% of Sky UK's marketing budget.
Other teams? Some teams don't publish accounts at all. Some can be difficult to track down or just contain a few statutory lines of information such as the revenue, profit and the value of their assets without giving away much more. Sky's annual report offers a much bigger picture with line-by-line spending details, it's by far the easiest to get and the most informative. If you want more on team finances then last September Ag2r La Mondiale's €11 million budget was given a closer look in Ag2r La Mondiale's Team Budget.
Conclusion
There's a lot of mythology and fascination around Team Sky. They're bringing a dedicated restaurant truck to the Tour only lowly Europcar have been doing this for years. When they bring motorhomes it's innovation but 1931 Tour de France winner Antonin Magne said "le Tour se gagne en dormant", the Tour "is won by sleeping". What Sky bring more than others is a truckload of money but crucially they seem to spend it well.
These accounts give an insight into Team Sky but the team enjoys an exceptional budget so the finances on display here are not representative of the rest of the World Tour where many teams have half or even one third of money to spend.
Exchange rates at 31 December 2014: £1 GBP = US$ 1.55 = €1.27