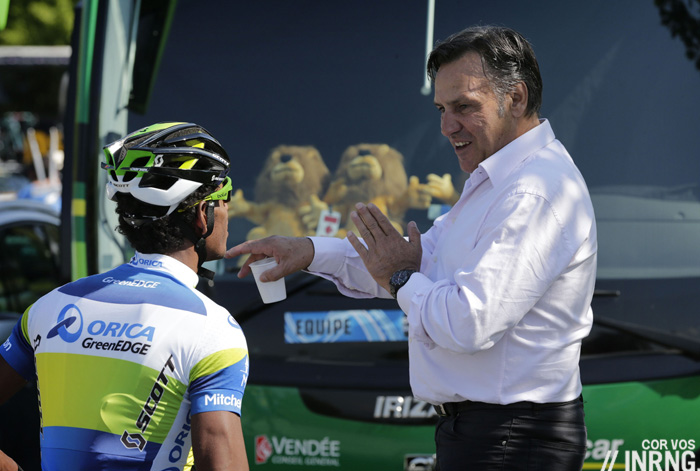 Europcar manager Jean-René Bernaudeau has found a replacement sponsor in Direct Energie, a supplier of electricity and natural gas that operates in France and Belgium. It keeps the team on the road and also does the whole sport some good because here's a sponsor from outside the sport that wants to use the team as a means to win new customers.
Jean-René Bernaudeau seems to be the master of late saves as he's managed to rustle up a series of sponsorship deals at the eleventh hour. There's much to cheer with the team's continued presence but let's tackle the negatives first:
This is only a Pro Continental team and there's talk of 20-22 riders for next year while the existing squad has 26 riders so what continues will be a reduced team
The budget is mooted to be €6 million, less than half of what Ag2r La Mondiale spends and less than a fifth of Team Sky
They lose their best rider in Pierre Rolland, 2016 could well be Thomas Voeckler's last year and he's not the regular success he used to be, ditto for "new" signing Sylvain Chavanel who returns to Bernadeau's team after starting out as a neo-pro 15 years ago
Adrien Petit is a decent signing to help Bryan Coquard's sprint train but this alone won't match Cofidis's lead out train for Bouhanni, yet alone rival Giant-Alpecin and others.
A diminished team and given Europcar are hardly a force at the moment there's not a huge promise in 2016. So far a downer but the continued presence of the team is a good thing of course, jobs are saved and the mere fact that a new sponsor comes in is good news. Bernaudeau's team is more than a squad, it's a family and maybe even a philosophy. This may sound pretentious but that's how it works at times, the team has its service course in a country manor house and a claimed 85% of the riders come up from the Vendée-U feeder team which is also based there. We can see the loyalty of some riders: Bryan Coquard probably could have gone elsewhere and doubled his salary; Thomas Voeckler has been helping with the sponsorship hunt. It's not unique, teams like Orica-Greenedge also know they can't compete financially with other teams so work hard on other aspects to retain their riders and make them feel valued in other ways.
The arrival of Direct Energie is a small coup and possibly good for the sport as a whole in a small way. Look around and the sport is full of bicycle industry sponsors and hobbyist sugardaddies. Great to have them but it says the sport is struggling to find backing beyond the restrictive circle of cycle makers and cycle fans. Direct Energie is a young company that's been set up as new supplier of energy to challenge the state monopoly providers. We see a similar story with Fortuneo, the replacement sponsor for Bretagne-Séché team, an online bank that needs to attract customers outside from the traditional circle of banks in France. Both Direct Energie and Fortuneo need new clients, sponsorship for them isn't about making people feel good about an existing brand nor tempting them to make a quick purchase. Instead switching energy supplier or bank is a big ask, a matter of substantial inertia, and it'll be interesting to see if these two companies find cycling works for them as way to get new customers, possibly rural and provincial ones.
Direct Energie and Fortuneo are also buying in the best route to get the Tour de France publicity bonanza they crave. No need for a World Tour licence and the extra requirements imposed by the UCI. No need to hire 25-30 riders and have riders exhausting themselves in markets where you have no customers like the Giro d'Italia. Instead for a few million Euros these team sponsors are buying a route into Tour de France via the hope of a wildcard awarded because the Tour de France always needs local teams. Direct Energie looks a shoe-in for July.
Direct Energie merged with a company called Poweo in 2012 and the Poweo name lives on in Belgium with the same branding. It's likely the team has a main jersey and a Poweo version for Belgium. Naming rights are big but not everything. Direct Energie is a sponsor of the team but not the only one, we don't know if co-sponsor Harmonie Mutuelle will remain but another backer Akena Verandas will. There is also income from other sponsors. Here's an excerpt from Team Sky's accounts:

As you can see, title sponsor means Sky and performance sponsorship is all the others like Jaguar, Pinarello and others and it's a substantial contribution to the team. It's the same across most other teams. Team managers get the kudos for landing the big deal of the main sponsor with naming rights but there's a lot more work to do in order to get team cars, bikes, nutrition and other co-sponsors. Colnago won't be staying as a sponsor, the riders have gone public with criticism of the clover brand.
The smaller the team the harder it gets with the likes of Bernaudeau having to do a lot of the work to land sponsors while also managing riders and all the other jobs; Team Sky have managers dedicated to finding sponsors and working with them, arranging VIP visits and more. Success breeds success and all that.
Conclusion
The team goes on and that's a good news story. Look more closely and an already weak team is looking weaker for 2016. Better this than nothing. Perhaps the real good news is a sponsor that's coming in because it sees the sports as means to win over new customers. We see the same with Fortuneo replacing Bretagne too. If it works it may well tempt others to sponsor teams too.