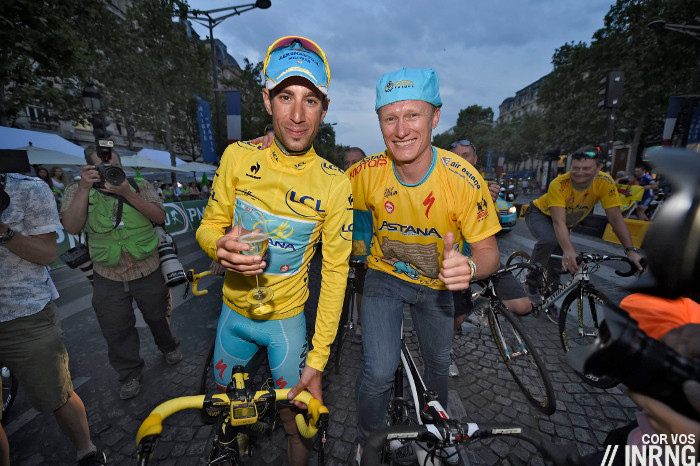 Astana kept their World Tour licence after the UCI's Licence Commission gave them the green light to ride on. The who, what and why remain a mystery for now as we wait the promised publication of the reasoned decision.
Before that happens there are wider issues of communication and perception. Few understand how a team gets a World Tour Licence, the ISSUL audit seems to have been misunderstood by many and it created a scenario where the vacuum of knowledge was filled by speculation and innuendo.
It might seem basic but the UCI's never clearly explained how a team gets a World Tour licence. Sure it's described in a chapter of the rulebook inside a PDF sitting on the website but who has time to go digging for this? There's still no World Tour website with a simple flowchart, a presentation or a 90 second video primer.
"The Schleswig-Holstein question is so complicated, only three men in Europe have ever understood it. One was Prince Albert, who is dead. The second was a German professor who became mad. I am the third and I have forgotten all about it."
– Lord Palmerston, British statesmen
How a team gets into the World Tour is cycling's version of the Schleswig-Holstein question. Now there have been improvements, the "sporting criteria" have been made more transparent but to a degree, you still need to sit down with a cold towel to review the rules. Joining the World Tour should be a prestigious thing with a clear and obvious path.
Take the Astana case where in the vacuum of info there were numerous comments on social media that the UCI could not afford to lose Astana because of the lucrative fees it pays. Only there's no such thing, teams in total pay about one million Swiss Francs in fees to the World Tour so the loss of one team, a 17th of this is hardly a big hit.
It's the same with the Licence Committee. There were plenty of "Cookson-should-do-this", "Cookson-should-do-that" comments which misunderstand how the UCI's Licence Committee works. It's largely independent of the UCI, it sits in offices hundreds of kilometres away rather than meeting in the UCI's Aigle HQ. But nobody knows this.
Similarly when the UCI imposed the ISSUL audit on Astana back in December nobody knew what this meant. Here was a team's fate dangling on a process that was a mystery. L'Equipe covered it and having read their piece and scanned some academic journals there was an explainer here in mid December too. But it's the sort of thing the UCI should have been boasting about long before, it started this in 2013.
The UCI did put out a press release but it emerged on Christmas Eve when the Internet is hibernating, the equivalent of news being buried alive. Since then the page has since got three social media shares compared to 1,500 shares for the February press release calling for the team be stripped of its licence or 800 for the December press release saying Astana had to sign up to the mysterious ISSUL plans. So far that's it, there's no backpage PDF with the detailed info. Yet this is such an intriguing concept that is set to be a fundamental part of the sport it needs to be understood: traditionally a team could lose its licence for things it's done, now it could lose its licence for things it has failed to do.
The Institute of Sports Science at the University of Lausanne (ISSUL) audit is about evaluating soft things like good practice within teams and tries to make teams responsible for prevention when it comes to doping but also stopping bad working practices that can damage rider health and undermine careers. That's fundamental, pioneering and possibly something the UCI should be shouting about especially as it's supposed to apply to all teams for 2017.
Astana have been audited to the standards imposed by this but eight more teams have volunteered to trial this: AG2R La Mondiale, FDJ, Cannondale-Garmin, Giant-Alpecin, IAM Cycling, Etixx-Quick Step, Orica Greenedge and Trek Factory Racing. Of course teams can be turned in glorious Potemkin villages in time for an ISSUL inspection but the point is a big change that's central to the future of team licensing is coming down the tracks and few know it.
The February press release only adds to the communication problems. It was the textual equivalent of hurling a bucket of slurry over the team. The UCI went public in saying it found something inside the team so horrible that the team had to stop:
"UCI strongly believes that it contains compelling grounds to refer the matter to the Licence Commission and request the Astana Pro Team licence be withdrawn"
Not stripping one or two individuals of accreditation, this was the governing body saying the audit had thrown up something so grave the entire squad had to be taken down. This was compounded by the reference to the Padova investigation. But remember if the Padova case was being prosecuted then the Italian authorities would be slowly pursuing people in the courts rather than leaking it to La Gazzetta Dello Sport or freeing up the files for the UCI.
We don't know what was behind the UCI's decision to refer Astana's case to the Licence Commission but La Gazzetta Dello Sport did seem well-briefed at times during the process. After events they said the audit threw up some issues where staff were not sufficiently qualified for some roles, communication problems with riders and language barriers. Being flippant this could apply to many teams, especially those with a high mix of nationalities but presumably, hopefully, more concrete problems were identified.
So it was all about things that many didn't think about. The UCI does have a communications problem, giant reforms to the sport either get leaked or are tucked away in a newsletter read by few, except the odd bored blogger when they ought to be released with a fanfare and a timetable to implementation. Only the 2020 calendar reforms appear to be diluted, indeed going from watered down to homoeopathy.
Conclusion
This isn't about the Astana team. Forget whether they had two, three or five positive doping cases and all that for now, it matters a lot and we'll return to this when the Licence Commission publishes its reasoned decision. Instead this the story of how the sport doesn't get explained by its governing body. There's no upstream effort to educate big changes whether calendar reforms, how the bio-passport works or the new coming ISSUL guidelines. Now many fans rightly want to watch a race rather than download PDFs but anyone with the curiosity often won't get far if they look for answers.
How a team gets into the World Tour isn't obvious to most with some thinking it's contingent on bonanza payments to the UCI while others imagine UCI President Brian Cookson personally vetting team applications. It's not like this. It's the same for the ISSUL audit: a team's fate depended on this but in the absence of info many saw the word audit and imagined forensic scrutiny.
With little information on the team vetting process and the new ISSUL scheme out there the vacuum which got filled with speculation and innuendo. This was almost encouraged by the UCI when it went public with a very strong message about taking away Astana's licence and and adding the Padova reference. Now the absence of education comes back to make the UCI look weak, as if it's left hand can't hold the right hand to account. A perception perhaps but these things can stick.
The new ISSUL guidelines are interesting. Sure anyone determined to cheat can fool the auditors just as they fool the testers but for those who want to do things right, having a more supportive working environment is a plus. It could be a good news story if it was explained more.