The UCI's plans for pro cycling in 2015 and 2017 as the plans for reform appear in full thanks to a leaked document on Cicloweb.it
We got a glimpse of this earlier this month with the details buried in a technical bulletin but now a copy of the whole presentation has emerged.
The takeaway is that if the reforms are expected to be completed by 2020, radical change will be coming as soon as 2015. Within the next few years races like the Eneco Tour and Tour de Pologne will get downgraded. Germany's Bayern Rundfahrt gets promoted. Meanwhile Paris-Nice, Tirreno-Adriatico, the Dauphiné and Tour de Suisse all shrink. Other races vanish.

Who's running this?


You don't need to be fluent in French to get this slide. Amidst the alphabet soup of acronyms we see the body of race organiers, the UCI World Tour, ASO, RCS, Flanders Classics and interestingly the Tour de Romandie's Richard Chassot as well as GCP's Alain Rumpf. In addition there's the team association the AIGCP, the CPA rider union and Team Sky's Bernhard Eisel as the frontman for the UCI Athletes Commission. Note there's nobody representing sponsors, broadcasters or fans although you can assume some proxy coverage on behalf of other groups.
Team Changes


This slide explains some of the changes to the teams. Currently squads are capped at 30 riders but here the team size will be reduced to 22 riders. This is a reduction… but when we see the calendar being shrunk to 120 days and the end of overlapping races it's not so small. There are 153 days on the 2014 World Tour calendar alone and that's before the 573 days on the Europe Tour and more in the US and beyond. Note the final point that team size will be 7-9 riders which suggests continuity although leaves the door open to smaller team sizes in major races.
Another slide also reveals that a team can have a B-team of 8-10 riders for development purposes so it's possible team sizes remain at current levels. But without overlapping races and more we can expect a big drop in the number of mechanics, soigneurs and other support staff.
Season length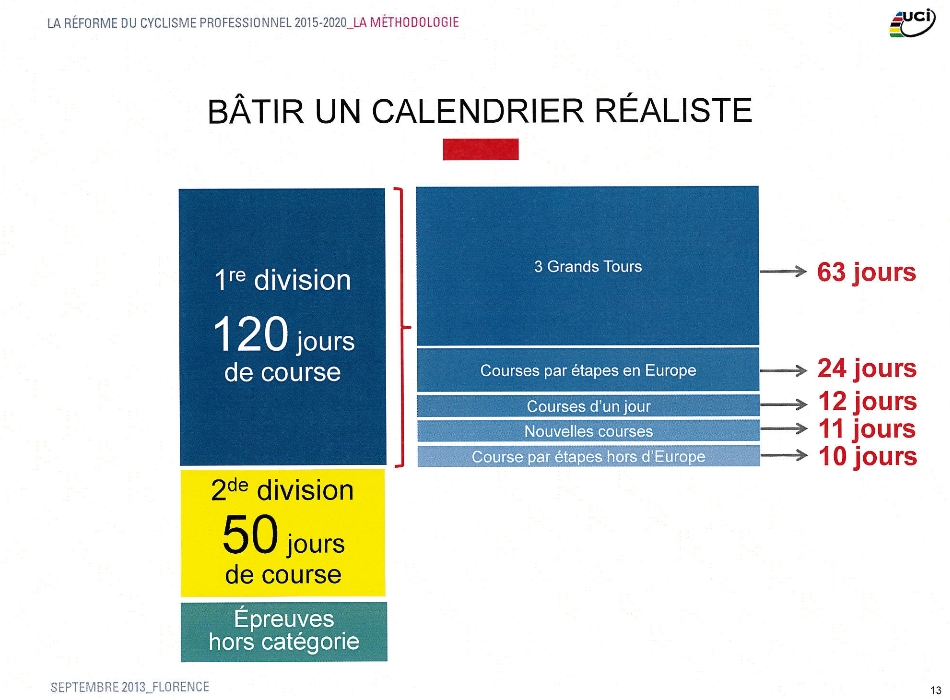 The calendar shrinks to 120 days but note the three grand tours remain. They will account for more than half the season. A three day race is a wonderful adventure but it looks bizarre to shrink other races, for example the Tour de Suisse from nine to six days, without touching the grand tours. Wouldn't a two week Vuelta be plenty?
The Surviving Races
If a race wants to stay on the calendar it must meet three identified criteria:
the calendar: from February to October. No overlap, a defined season of spring classics and ideally action every weekend
technical: this requires a race to tick a variety of boxes from logistics, offering riders high quality accommodation to TV production standards
financial: the race must be able to fund the important technical criteria, pay teams more money to take part and – no surprise – pay a larger tax to the UCI for the right to be registered on the calendar
Who Rides What?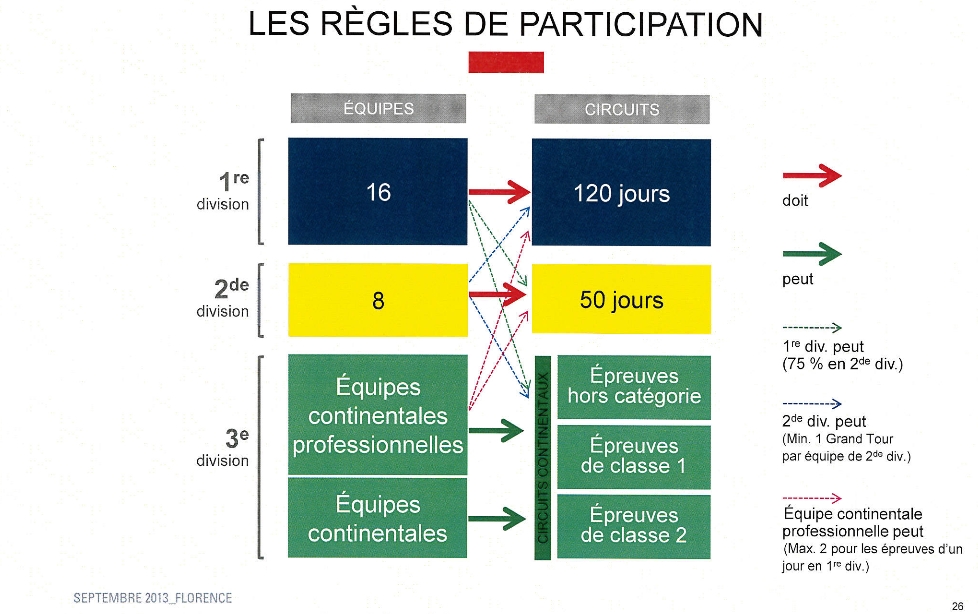 This slide sheds more light on the participation. The red arrows mean obligatory races, for example the 16 top teams must ride all 120 days on the main calendar just as the second division teams must do all 50 days. Green arrows mean "can", so a third division team can do a big race just as a top team can do some lesser events.  It's similar to today's scheme with wildcards but the system of promotion and relegation is designed to be more obvious and transparent.
Winners and losers


The 2017 calendar looks familiar only someone's deleted a lot of races. Blue means first division, yellow is second division. The Bayern Rundfahrt seems to be promoted which makes sense given Germany is Europe's largest country and most wealthy economy, sponsors need to be there. The Swiss seem to do very well with Romandie and the Tour de Suisse. It helps having Richard Chassot as a stakeholder although he's a dynamic type, his presence is not by accident. Similarly they're very different countries but Dubai, Qatar and Oman have a combined presence that many others will envy.
But note other crucial markets are missing. Two days in Canada but not one on the USA and nothing in Britain either. The Tour Down Under is still in January but come 2020 and it could be replaced by another race elsewhere in Australia. The Tour of Beijing remains, the current contract with GCP remains until 2014 so it'll be interesting to see what happens after.
But note this is a provisional illustration. Races must meet the new criteria set out above and this review process has yet to happen. But the calendar does give us a clue as to the UCI's current thinking.
Next steps
In more immediate terms 15 January 2014 is the next big date. The plans will be confirmed and then launched with a view to beginning the changes for 2015 and beyond.
Conclusion
We got a glimpse a few weeks ago and it was hard to extrapolate too much. It was only a matter of time until the details leaked and thanks to cicloweb.it we get plenty more information. But there are still gaps and as ever, it's one thing to make some technicolor slides, another to force through the change.
The theme seems to be "small is beautiful" but the changes might not be enough to delight E. F. Schumacher. Yes the calendar shrinks and some races will vanish but the season becomes dominated by three grand tours. Some races have been in trouble and surviving from year to year, now the UCI will impose a technical and financial test and only the fittest will survive the cull. But these plans still reveal big geographic gaps, a sport that remains focused in particular areas of Western Europe.