Professional bike racing is just that, a profession. While there many rules on workplace safety for factories and offices, there are few when it comes to racing down a mountain at 100km/h. Now efforts are underway to make racing safer in extreme weather. The UCI's Road Commission, prompted by the rider union CPA, is exploring this. Cyclingnews.com explains more.
About time or is the peloton turning soft? Maybe it's not so binary because the interesting part will be seeing how they might write rules and protocols for something so subjective as when tough conditions become dangerous.
Before you leap to the comments to say "but I rode this morning and it was colder", remember this is a professional environment we're talking about rather than an elective ride and also it's a race too where there are all sorts of rules about what you can wear, pinning on numbers and when you can and can't eat. It's already a regulated environment. Exploring rider safety is just the kind of thing a rider union should be doing.
Coping with the cold
Cold weather does make for hard racing conditions but it's when things turn damp as well that it gets harder. When your clothing is wet the rate of heat loss increases dramatically. It's why the 2013 Milan-Sanremo was so hard, there was wet snow on the road to the Turchino pass.
Duration matters too. Office workers can smoke a cigarette outside a building in mid-winter as they don't stand there for long just as a cyclist can cope with a icy rain shower versus six hours of of sleet. To cite Sanremo again if the grim conditions had arrived just in time for the Cipressa and Poggio it would have been ok but mid-race it's harder.
As for the temperature, again duration matters and so does accuracy. If the temperature on top of the Stelvio is 0.5°C below the minimum temperature threshold but the road up and down are warm enough, what happens, is it ok to sprint over the pass or do we apply a strict neutralisation? And if we're going to stop the race it has to be because of accurate measurements: who is measuring the temperature, does the race convoy have to include a calibrated weather station because a car thermometer is imprecise? Ideally we'd use some "common sense" but once you start to interpret matters you leave the rulebook behind.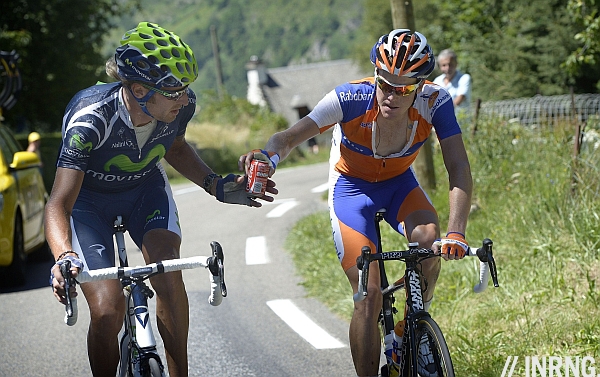 Too Hot
The heat can be as much a risk too. However it's not as simple as temperature. Humidity can play a part as this affects cooling via perspiration and breathing. Speed matters because the airflow is a big factor in cooling too. Put simply a descent on a hot day is easy, a climb can be infernal. Tennis and athletics are aware of this and sometimes wet-bulb temperature is used to measure heat stress but in cycling the complexities with airflow and the tarmac temperature (on a hot day the road surface can be 60-80°C, enough to fry an egg). Once again there are complexities in measurement and issues about judgement.
Plan B
The calls for alternative plans to be in place are a good idea in theory. Snow on the Stelvio? Then bring out an alternative route? Icy on the morning of the Omloop? Delay the start and move it to somewhere else. Easy sometimes but it can be very difficult, there might be no obvious alternative route.
Who decides?
For argument's sake, let's imagine an informed rider union and enlightened UCI create rules that satisfy race organisers too. Unlikely but let's continue. Picture a race afflicted by bad weather, is it for the commissaires to judge? If so do they have particular weather readings in their car? How can they resist pressure from the race organiser? What if the race organiser tells them there's no obvious Plan B and its better to race on ("they would say that, wouldn't they")? In other words even if we could create written rules, practical implementation is another thing. See the existing UCI rules on riding off the road, on rain jackets, on getting drafts from team cars, on mechanics doing mobile repairs and so on. All are ignored.
But…
So far, so technical. Hot and cold conditions can be tough to race in but quantifying when hard turns to dangerous is the difficult bit. Measurement, duration and exposure matter, making it hard to draft clear and enforceable rules. However there's a big philosophical point at stake: cycling is defined its embrace of nature and geography. Races cross mountain ranges and rattle across cobbles. Unlike some sports, play isn't stopped by rain.
There is a danger though that in protecting themselves from the cold the peloton turns its back on what has made the sport so popular. At times the cult of suffering can be overdone, especially for marketing purposes, but the sport has built up a heritage based on races when a rider beat not just the field but nature. We think of Bernard Hinault riding through a snowstorm to win Liège, Andy Hampsten being the best dressed man on the Gavia and Gerald Ciolek winning an interrupted Milan-Sanremo but there are so many other examples to cite from each year. Remove cycling's image as The Toughest Sport on The Planet and you undo a lot of the branding, it would mark a big shift.
There's also a missed commercial opportunity, sponsors should be looking to say "our gear helps you get through the cold". Everyone in today's peloton has a rain bag and it's full of effective gear, a far cry from the old days of woollen shorts and polyester "boil in the bag" jackets. Here any discomfort felt by the riders is reduced compared to events past, just read Paul Kimmage's "Rough Ride" for accounts of riding the Giro where he'd pee on his hands to warm them back up and, the stage done, hotels would run out of hot water… and riders were left to wash their own kit.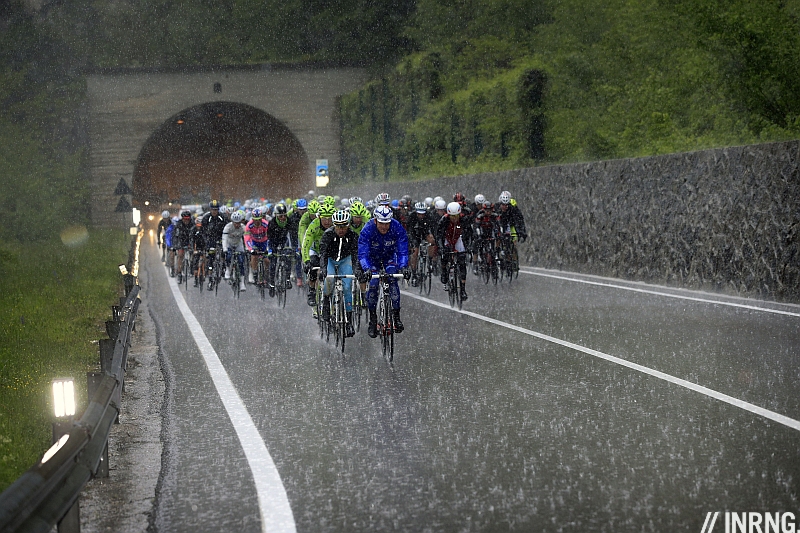 Conclusion
I know many will leap the comments to shout "don't be so soft" and it's understandable, especially given the sport's rich history of battles in fierce conditions. But the more nuanced view is that there are all sorts of rules and racing might be better if there was a protocol to follow in case of icy conditions or a searing heatwave. Better to have this than leave it to the whims of a commissaire or worse perhaps, to the peloton patron who decides to shut down the race because he's got a chill.
It'll be fascinating to see what comes of this because trying to define what conditions are suitable and when things are too bad is a very difficult exercise, there's the academic/scientific side to consider alone. We know bad weather when we see it but even this can be temporary, an apocalyptic storm can pass. Quantifying it all and making rules and protocols will be interesting. The fear is that even if the rules or guidelines are sensible, their application during a race won't be.