Diego Ulissi will racing shortly after his ban ends in March. For some this appears to contravene the MPCC's rules and the group today said it wants to check Ulissi's situation. This in turn upset the Lampre-Merida team who in press release tennis, smashed back their response.
Amid all this there's a lesson: any rider in the pro peloton is taking risks with a few puff on a Ventolin inhaler as studies show it can bring about large doses in excess of the WADA threshold.
Background
Diego Ulissi was provisionally suspended last June following a sample from a test in the Giro showed an elephantine dose of 1900 ng/ml of salbutamol, a banned substance (more of which below). Before this he'd won two stages of the Giro but note he was tested following these stage wins and passed. He admitted using salbutamol to treat asthma during the race and indeed quit the race later on complaining of bronchial problems.
The case dragged on, so much so that his team provocatively decided to enter him into a race last September which saw the UCI and the Swiss Federation (Ulissi is Italian but lives in Switzerland) swing into action. The delays continued with a ruling expected late in 2014 finally arriving on in January where Ulissi was given a nine month ban by the Swiss Olympic committee backdated to the start of his provisional suspension in June.
MPCC Rules
The MPCC group has a rule that states teams cannot hire riders who have been suspended for more than six months for two years following the end of their period of ineligibility, effectively a four year ban in place before WADA brought in a four year ban for 2015.
Ulissi is cleared to race with Lampre because they are not hiring him, he is on the roster and has been all the time. Visit the UCI website today and you'll see Ulissi is on the Lampre-Merida roster, albeit with asterisks next to his name to denote his present ineligibility to race. All the MPCC need to do is call the UCI or check the contract with Lampre.
Remember not every rider who tests positive or gets a ban is fired by their team. Fränk Schleck was ejected by Radioshack but it's not automatic. For example the Garmin riders while quietly serving their USADA bans or see Filippo Pozzato who served a three month ban in 2012 for working with Michele Ferrari but stayed with the Farnese Vini team.
The MPCC rules need some reworking, especially the English translation is confusing at times, for example using the word "enter" for the French engager, to hire. It pays to read the original French rules but this doesn't excuse the clumsy English version.
Risky Ventolin?
Salbutamol can have an anabolic, muscle-building effect which is why its banned. But it is the ingredient in popular anti-asthmas treatments like Ventolin, a medicine often consumed by the small hand-held puffer.
What is still unexplained is how Ulissi ended up with such a big dose. The decision doesn't seem to be on the Swiss Olympic website. However staying in Switzerland there have been studies on the use of Ventolin, a "puffer" containing salbutamol and it is possible to get very high concentrations of the substance, far in excess of the set limit to trigger a doping test, even when using Ventolin under a prescription and Therapeutic Use Exemption (TUE).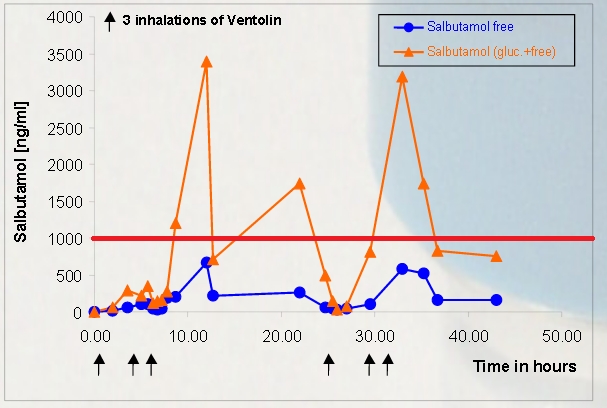 The chart above is taken from this study and I've added the red line to show the WADA limit. Each black arrow marks an athlete taking three puffs on a Ventolin inhaler and the orange line shows the measured dose in the urine. Put simply nine puffs during the day appear to be enough to go well over the WADA's red line. If this is replicable in other athletes then anyone using Ventolin, even if prescribed and agreed by a TUE, risks a long provisional suspension and a possible ban too.
Conclusion
It's hard to see this as a sneaky ploy by Lampre-Merida management to bend the MPCC rules or exploit a loophole. If he's stayed on the team roster then he's eligible to ride with his team once the ban ends. All this could be clearer if the MPCC rules were sharper and it's communications clearer. Calling out Lampre-Merida in public to check Ulissi's contractual position is clumsy, it could have checked in private before. But it's not just the MPCC, we need clearer and faster anti-doping procedures, for example it shouldn't take over six months to rule on his case and the reasoned decision seems to be private.
We don't know what caused Ulissi's threshold-busting dose but the Swiss study linked above will worry any athlete using Ventolin.