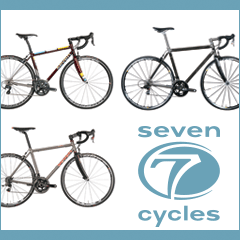 Seven Cycles are advertising for February and it's a custom of this blog to say thanks in public for their support.
The US framebuilder offers a range of custom carbon, titanium and steel frames and to find out more, click on the ad to visit their site and learn more. With Valentines Day coming up soon, what better time to show a sponsor some love?
If you enjoy this site then it's thanks to people like Seven Cycles that it happens. Bandwidth, photography accounts, race recce travel plus coffee and carbon all keep the cadence up at the Inner Ring.
It might be a step up from getting a supporter cap to buy Seven frame if you want to support this website but if you can't stretch that far you can make still a difference by visiting their website, following them on Twitter and Instagram, liking them on Facebook or just saying "thanks" to them via email or on Twitter.
The website shows a range of bikes for varied uses, from racing to riding, touring to tandems and some indestructible-looking travel bikes. They're built to precision, Seven "hold the wall thickness variations to within 0.001″—less than the thickness of a human hair" for the butted tubes and "every Seven frame is subjected to no less than 50 alignment checks—28 in welding alone. Each is designed to guarantee the straightest, most accurate frame possible. It's no small effort to hold tolerances as tight as +/- 0.002″ for the most critical measurements." Of course I'm singing their praises but happy to do so here because they're kind enough to support the site. This is run on a personal level, it's not just another frame of pixels on a website with more logos than a Gianni Savio team jersey.
One recent use of funding was a detour to check out the Col de la Croix de Chaubouret in central France. What, where? It will be the summit finish in central France for the upcoming Paris-Nice race. This was a case suffering for art's sake because the road was a grey black ribbon of tarmac flanked by white snow, the temperature barely above freezing on the way up to the small Le Bessat ski station before a limb-numbing descent, all while trying to make mental notes about the road surface, gradient and so on. A nice ride but if this blog didn't generate an income then I wouldn't have spent the time, fuel and road tolls on it all. There will be a Roads to Ride piece about the climb ahead of Paris-Nice.
Thanks.