It's easy to see the Ronde as one of the sport's best races but it doesn't automatically deliver the best racing. This year's edition had solid action through the final hour and suspense right until the end.
What's your favorite spring classic? Many will pick Paris-Roubaix but you don't have to chose. Watch them all. There's something about De Ronde though, the enormity of the event.
This year's edition was starting to simmer with 100km to go but hit boiling point on the dreaded Koppenberg. The remnants of an early breakaway started the climb but by the top, a matter of meters, a new group of fresh attackers had taken the lead.
But it was on the Taainberg that Greg Van Avermaet rode away, using the descent to surprise the others, except OPQS's Stijn Vandenbergh who sat tight on his wheel. "GVA" has a fast finish so this attack wasn't needed. But that made them race more enticing. Behind several other riders wanted to move but couldn't do much because OPQS had so many riders, if they moved they'd use energy, thus increasing OPQS's strength.
Fabian Cancellara attacked on the Oude Kwaremont and only Sep Vanmarcke could follow. The two strongest riders in the race? But they left it late with GVA and Vandenbergh still up the road. Would it come together? Yes but it meant four riders each in with a chance.
The following images show the crucial closing moments. Cancellara dips his head and refuses to tow Vanmarcke. So Vanmarcke goes himself and finds Cancellara tracking him. Did this mean Cancellara saved just enough energy to win?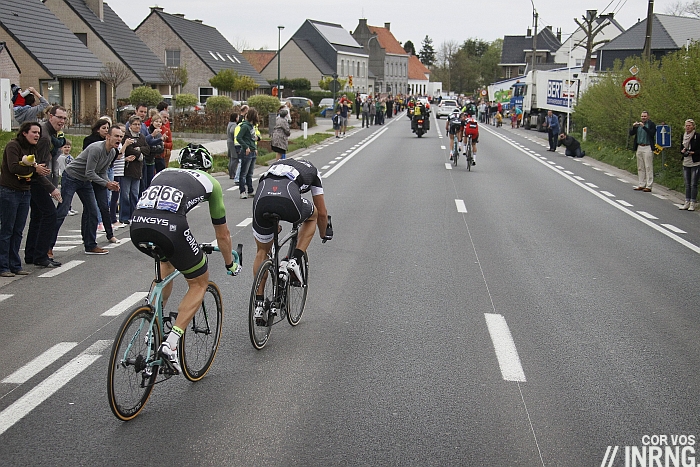 Why the highlight?
250km and hours of action and the winner wasn't known until the dying seconds.