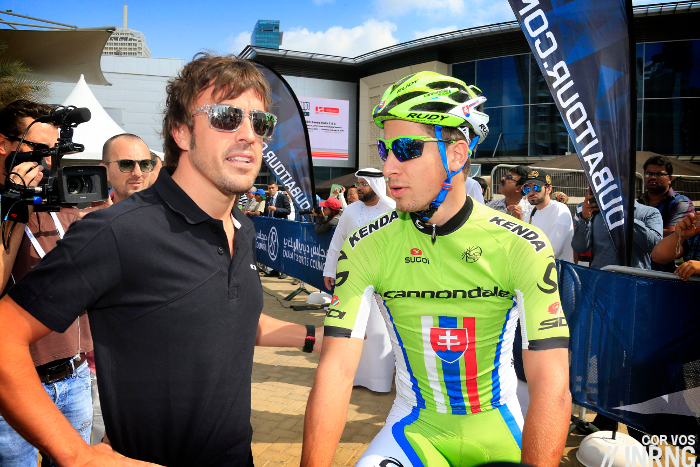 Famous as one of the fastest men in sports Fernando Alonso is proving to be a pedestrian cycling manager. His team is struggling to get going.
Luis García-Abad is Alonso's manager and is helping to assemble the team but it's seemingly caught in a Catch-22 scenario, as he tells Spain's AS.com he can't sign riders until the team gets a licence and without a licence he can't sign riders. This isn't strictly true, several teams have been launched into the World Tour straight away, think Team Sky or Orica-Greenedge. In practice what happens is that a team approaches riders before the 1 August with a contract offer and builds up a roster and then on 1 August inks the rider contracts and files the relevant UCI paperwork. What seems to have happened with Alonso's team is that sponsor talks cooled in April and May which made it hard to sign riders… but now it's all back up and running with his funding from Dubai secure. Now there's a race against time to build a team… and it means Alonso's trying to buy star riders like Peter Sagan knowing other names have already disappeared off the market.
But take all of this with a pinch of salt, trying to find out what's happening with the team is proving difficult. This is half the story in itself, there was talk of a team launch in the Giro and then on a Tour de France rest day but there's no news and no public presence, just a journalist discussing the project on the margins of a press conference. Far from being the big, bold and slick new pro team we'd imagined the Alonso project looks like many any other pro team as it struggles with sponsor negotiations and finds it hard to project a coherent message. It's running out of time.

Talking of ticking clocks, is the Tour of Beijing coming to an end? As the short video clip above shows the race's future is very uncertain. We know the existing contract's ending and there's no renewal yet from the Beijing municipal authorities. It's worth noting that the 2015 World Tour calendar needs to be approved by the UCI's Management Committee in the coming weeks so if the Beijing authorities want to sit down for a review after the race it could be too late. However the UCI has fast-tracked its own races onto the calendar before so it could repeat this.
Times have changed, the race was born out of Hein Verbruggen's political contacts cultivated during his role in the 2008 Olympics and that angle is now closed off. The race has struggled because of the way it was bolted on to the end of the calendar and been hit by air pollution and food contamination worries. But China should have a top bike race, it has other good events like the Tour of Qinghai Lake. However Qinghai or another race can't be promoted overnight as the UCI has pledged there will be no new World Tour races for 2015 and 2016.
One race that's growing is the Tour de Pologne. This year's race is a genuine tour of the country with a start in the northern coastal city of Gdansk, a visit to the capital city Warsaw before the race heads to the Tatra mountains before Saturday's finish in Krakow.
The race is remarkable for its use of roadside inflatables to promote race sponsors. It's one way of making ends meet but it does detract from the landscape, a flotilla of fluo balloons dominate the TV images although so far we've not missed too many stunning landscapes. An alternative method to raise money is being used at the Tour de l'Ain race next week. As well as pro race in the afternoon in the morning the roads are closed for a cyclosportif ride sponsored by clothing firm Craft so people can ride each day's stage and even do all four stages. Clearly the model works for the Ain, a small départment of France where the start and finish are never far apart and if cycling is getting new audiences in Poland, France obviously has many more participants. So each to their own for ways to make the money come in, essential to keep the race on the road.
In Poland riders have been treated to even more touring thanks to long transfers between the stage finish one day and the next day's start. It's a hidden element, necessary to help stitch the stages together if the race wants to visit the whole country but tiring for the riders and the risk is some won't want to return the next year for fear of more fatigue.
Quieter transfers
To transfers of a different kind there are several riders moving teams but it doesn't look like a big season. In past years we've seen crucial riders move teams. Think Alberto Contador to Saxo Bank or Vincenzo Nibali to Astana. If cycling is chess, their moves were like the king being moved around on a board and left everyone else reacting. But this year it's more a case of rooks and bishops moving so far and while most of the pawns will follow in due course.
This year's biggest move is likely to be Peter Sagan's switch but even his new job isn't going to transform a team, indeed if he's linked to Tinkoff-Saxo for 2015 the move isn't the big story for me, it's how he'll fit into the team or any team. If he wants to win green again in the Tour, how many riders will be available for him given this summer's Tour squad was built around Contador; if he wants to win a Monument next spring will he have team mates alongside him in the final 30km of a race? Working with a new DS could be interesting too as he tries new tactical ploys to prevent the scenarios of the Tour and spring classics from being repeated.
Criterium Season
If Sagan wanted to win a race a post-Tour criterium could be ideal. These exhibition events are held in France, Belgium and the Netherlands and allow the public to see the pros up close and, whisper it, the results tend to be fixed in advance although not always set in stone. They were once vital to the sport because of the appearance money paid to participants. Many a rider relied on the criteriums for part or even most of their income until salaries perked up in the 1980s. It's one factor behind the disappearance of the peloton "patron" because in times past the le patron could say to a criterium organiser that they didn't want so-and-so taking part. If a lowly rider was rejected then they suffered a serious financial penalty. Today there are minimum wages for UCI pros and the criteriums are bonus. But the tradition lives on largely helped in part by the celebrity status of riders, many in Belgium don't get to see Vincenzo Nibali very often and the French events have been boosted by the popularity of Thibaut Pinot and Jean-Christophe Péraud. As well as some sporting theatre it's also a good excuse for a BBQ.

More caps will be ordered. Sorry for those who missed out, they started selling fast and yesterday evening it looked like they could sell out by the weekend…only to sell out in the night.