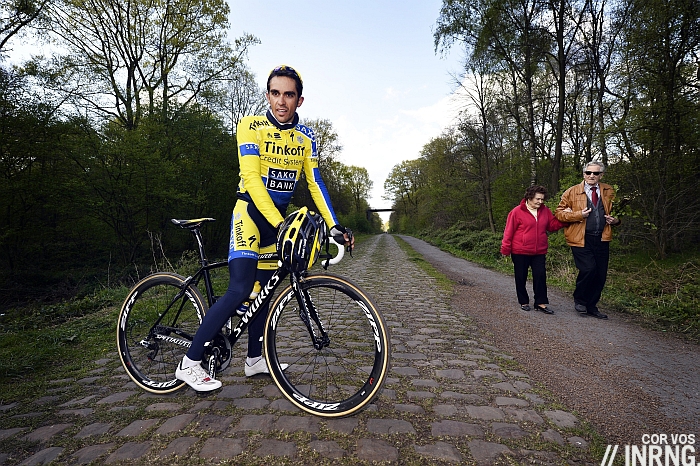 Want to see Alberto Contador, Chris Froome and Vincenzo Nibali in action together? You could wait for the Critérium du Dauphiné in June but, as today's L'Equipe shows, they will all meet up this month in Tenerife for training camps on Mount Teide. Quite probably they will all stay in the same hotel, setting up an intriguing atmosphere with the three great rivals for the Tour de France sitting down for dinner together, albeit at different tables.
It's easy to spend hours reviewing the tactics in a race but very little time and coverage is given to what a rider's job really involves: training.
Training > racing
So far this year Caja Rural's Luis Leon Sanchez is the rider with the most days of racing: 43 days. It still means for every day he's raced he's had two off and remember he's the exception with the most days. If we look at the trio of Froome, Contador and Nibali it's 19 days, 25 days and 36 days of racing respectively. They've all spent far more time training than racing yet this area of the sport remains a great mystery.
Definition
Reduced to its simplest, training involves providing a stimulus to the body prompting it to react. Repeat something enough and the body adapts, whether it's throwing a ball, lifting weights or pedalling a bicycle.
But what of pro cycling training regimes? A novelty this year is that Alberto Contador's performance is put down to increased self-belief and improved training in Tenerife under the guidance of Steven de Jongh. Only we don't know any more about the training, it's kept secret… which invariably leads to steak "jokes". But it's understandable because teams don't want to share training plans any more than they'll give away tactics. But all the same, it's remarkable that we can review a race in great detail but have next to no idea what happens for the rest of the year.
A day in the life
Michael Hutchinson's book "Faster" details a discussion with Team Sky's coach Tim Kerrison about a training session on Tenerife for Bradley Wiggins during his 2012 approach to the Tour de France:
"The details of a session would cover an A4 page… A big day. Six hours, with 4,000 vertical metres of climbing – we probably do 16,000m a week. Four efforts: the first on San Miguel climb, two minutes capacity, one minute recovery. Then into 27 minutes of mid-zone three, with nine minutes at normal cadence, nine minutes at 50rpm, and repeat.

Second effort is the same, except that it is 32 minutes; ten minutes of low-to mid-zone three, then a one minute spike at five-minute capacity pace, so you get zone three, a spike, zone three, a spike. Third effort of the day, on the Grenadier climb, is low- to mid-zone three, and ten minutes of normal cadence, ten minutes of torque. Fourth effort is on a different climb again and it's more a high zone three, but this time every kilometres we do a sprint of progressively 15, 20 and 30 seconds"
That's not an A4 page but gives you some detail. Note "capacity" is a rider's maximum five-minute power and Hutchinson says the low cadence is designed to help riders cope with attacks in the mountains, to improve torque for "a sudden acceleration against a low inertial load". If the plan sounds precise it's also remarkably similar to a mountain stage in the Tour de France: six hours, beaucoup climbing and a range of efforts that go from being paced up a mountain by team mates to kind of efforts you make on the final climb with accelerations and even sprints.
If all these training efforts are trying to replicate racing why aren't the riders racing? Because training is about creating structured efforts in a controlled environment. There's a lot going on in a race and even more outside it. Avoid crashing and once the finish line is crossed the day is far from done, there might be a podium ceremony and press conference and then an hour's roadtrip to a hotel before massage and dinner in unfamiliar surroundings.
Mental approach
It's unspoken but I think there's also a mental benefit to the training camp. The rider is building to a goal and surrounded by supportive staff and they can progress towards a goal. Psychologists call this flow. It means an off day is just that. If the legs feel heavy you can take a rest; if the weather is grim you can cut back or even train indoors. But if this happens in a race it risks becoming a crisis in tomorrow's headlines and the insecurity of seeing rivals functioning better.
Out of competition
It seems racing used to be seen as the best form of training until the mid-1990s. We saw the ONCE team skip racing in order to send riders home for gruelling training sessions. The story went that team manager Manolo Saiz would fax prescriptive training plans to riders who were tasked with executing them, legend has it they were harder than racing. But they were more prescription plans with riders sent home to train hard while consuming copious banned substances. Races meant the chance of a doping control and back in the 1990s there were no out-of-competition controls leaving riders free to load up.
But there were other reasons too, economics was a factor. Teams ran on smaller budgets and racing meant the team had free accommodation compared to training camp when the team or even the riders had to pay.
Today we have out-of-competition tests but this has merely provoked a change in the game. Some riders try to game the Whereabouts system. You might remember Dane Michael Rasmussen's claims of training in Mexico. Today isolated training camps have the advantage of being further away from the testers. More recently a deposition by Leonardo Bertagnolli revealed Dr Ferrari was advising him how to exploit altitude training camps as a ruse to cover the tracks of blood doping. To conclude this doping parenthesis riders and teams who employ doping practices have and probably will use any opportunity to dope: they'll do it at home, in competition and on training camps.
Teide
Mount Teide is a volcano on the Spanish island of Tenerife. In fact the island is the volcano and the cones height is the primary attraction for riders who train at altitude. Ironically riders go their separate ways after a race only to end up in the same place. This month it appears Chris Froome, Alberto Contador and Vincenzo Nibali are all booked to stay in the same isolated hotel, the Parador de Canadas del Teide, 2,152 metres above sea level. It's an austere place with nothing to do, the rooms don't even have internet access. It's so popular with some teams they stash spares there all year and in April Sky found the hotel was fully-booked. Froome et al had to sleep lower down the mountain. Of course there are many mountains in mainland Europe but unlike other locations riders can train at sea level if they want and it's warm for much of the year.
Altitude training is complicated. The sport science journals seem to test groups in trials that are at the same time too small in scope to prove reliable yet also hinting that altitude response varies among individuals, it works for some but not others. There are also different goals, you can improve aerobic performance by naturally boosting the body's oxygen carrying capacity… but you can do this at sea level with an "altitude tent". What is interesting teams more and more is the experience of riding at altitude and the acclimatization it brings. The blood chemistry is different with pressure, acidity and other factors. Put simply you get used to riding hard at 2,500 metres and therefore gain when a race takes place at high altitude.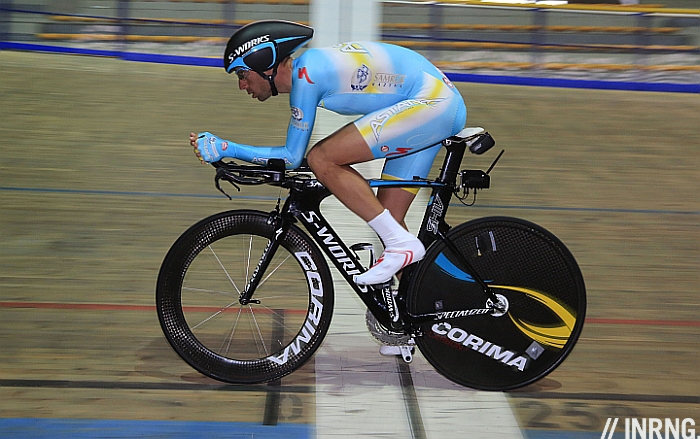 Who Coaches Who?
Most riders go home between races to train. Some will have plans from a team, some work with a personal coach but others go for the DIY approach, relying on experience, tips and textbooks.
Ag2r are a useful example. Last year ex-pro Stéphane Goubert doubled as a DS and coach but now they have a full-time coach in Jean-Baptiste Quiclet, recruited from Sojasun. But the coaching isn't comprehensive. Carlos Betancur is coached by Michele Bartoli who, er, presumably passes on the fruits of years being coached by Luigi Cecchini. Meanwhile Romain Bardet recently tried his first ever altitude training camp, visiting the Sierra Nevada with his father and a stack of academic journals to read up on the subject when he got back to the hotel each day.
Media briefings
Some teams invite the media to a training camp but this is more a PR opportunity, the chance to stage interviews and take photos as opposed a grilling session about sports science. The obvious problem is that sports science is a very specialist field where even the experts in academia publishing articles in the various journals are behind when it comes to practice in the field. In short there are few journalists capable of understanding the physiological data, and if they could then how many readers would be able to follow?
All the training secrecy can backfire. In 2012 Team Sky faced a series of questions in relation to the performances of Bradley Wiggins. It was surprising to see them on the defensive again in 2013 with Chris Froome. A consequence of the media barrage was a belated attempt to explain the training. First came "Le Dossier Froome" in L'Equipe and then, quietly, the team was inviting journalists onto the team team bus for briefings to explain the training. I wonder if they have a plan for 2014?
When L'Equipe looked at Froome there wasn't much analysis in the paper, more FDJ's coach Fred Grappe saying Froome's "performances are coherent" which is the equivalent of those toothpaste adverts when someone appears on screen with a lab coat to do the four second science bit. I don't mean this as a slight to anyone involved: 99.9% of L'Equipe's readership wouldn't understand the raw data. Or put another way a lot of cyclists with powermeters struggle to understand their own data yet so reviewing someone else's output is hard.
Conclusion
Riders spend more time training than racing but it's all out of sight. Every detail of a race can be reviewed but few will know what Froome, Contador or Nibali are doing today. They will all spend May riding lots but there's not much more to know.
But even if we could have full access to everything would we understand what was going on? Would you want to know that Nibali spent today doing low cadence drills at 420W or Alberto Contador rode his time trial bike in the morning before eating a salad with beetroot for lunch? Perhaps there's some appetite from fans and keen cyclists but for the wider audience such technical details aren't a concern.
Then again as we keep seeing time after time there is a big appetite to know why so-and-so is so fast. We might not want to know every session but come July and even the wider public wants to know what training means. When a rider says "I train so hard" it's hard to quantify or explain. Being able to pull out a folder or a sheet of A4 with the distances ridden this so far, the calories burned, the hours in the saddle and the vertical metres gained can provide some handy context to fill the vacuum.