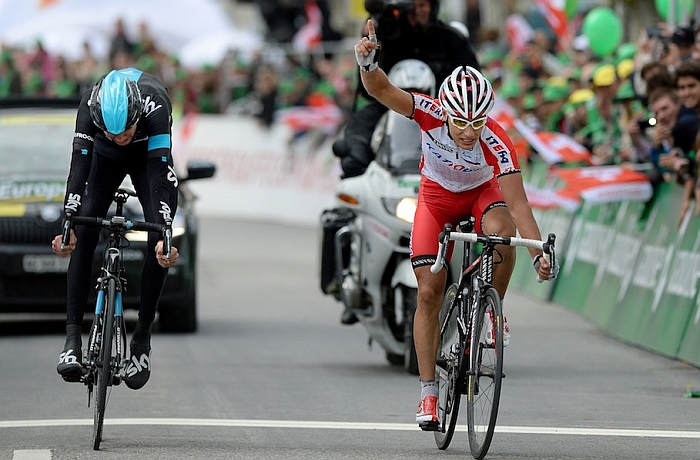 Simon Špilak outsprints Chris Froome to win the Queen Stage of the Tour de Romandie last Friday. The exact same thing happened this time last year in Les Diablerets, just 20km away. With this Froome distanced his rivals and used the final time trial to seal the race overall.
But not everything is the same. Froome's had different challenges. Here's a look back at the race with a look ahead to the Giro and beyond.
Špilak vs Froome
Coming in to the finish the two had a good sprint. In cycling little deals are often made and it would have made perfect sense for Špilak to do the work on the descent in return for the gift of a stage win:  Špilak and Katusha get a good win in the race and have to defend the yellow jersey on Saturday's circuit race, while in exchange Froome gained time on everyone and can hope to ditch the Slovenian in Sunday's time trial. But even if match fixing is part of cycling perhaps it would be too much to try it in Aigle of all places. Why? Because the finish line was a rulebook's throw away from the UCI headquarters.
Then again there's no need for trading, Špilak would normally hope to beat Froome. Besides if they did rig the sprint they deserve an Oscar as it was a convincing sprint with Froome throwing his bike to the line to lose by less than half a wheel.
This time it's different
Not that everything is a repeat. This time last year Froome was in yellow already and it was a lot colder. A year ago he was still in the phase of having to get used to race leadership and an unknown quantity for the media and perhaps even team mates in the sense that they didn't know how he'd cope. He fared fine and dispelled fears his insect-like build was prone to the cold.
This year his abilities, team leadership and media work aren't in doubt – L'Equipe always seem wowed by his good manners. But there are other concerns. Back problems are a fundamental concern with a cold as a short term worry. Froome's win does plenty for a team that's been struggling and should see his odds for the Tour de France begin to shorten again after going out in recent weeks as Alberto Contador's danced to several wins.
Not that all's well, Froome still got concerns about a cold: I gather the post-race media appearances were briefer than usual so he could keep warm and dry. Plus his attack didn't drop everyone as Špilak was able to ride across. Team Sky aren't the black steamrollers of the past. Richie Porte hasn't finished a race since February.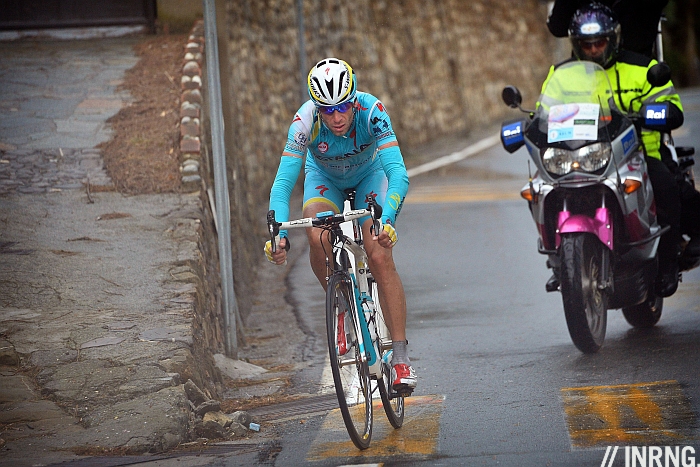 The Basking Shark
Vincenzo Nibali was the first to attack on the climb to Villars. The TV showed an Astana rider on the move. Was it a team ploy to soften up the race? No it was Lo Squalo di Messina, The Shark of Messina in person. The nickname owes itself to the Sicilian port town of Messina where the straits are known for occasional sightings of the great white shark. But too often Nibali is looking harmless, not a predator but smaller who sits lower down the food chain than his rivals.
The tifosi would counter that he's the one to animate a race. Who could disagree? His loss is our gain. Just like in Milan-Sanremo where his attack livened up the race the Sicilian is a television producer's team and the darling of many fans. But even he's feeling the pressure now and in the post-Romandie press conference he said he'd barely take a few days off because he's got work to do.
But what if bravado proves a stealthy ploy in the Tour de France? Imagine a day when the others let him go up the road thinking he's just going to waste energy once again… only for him to win? His consistent losses could allow him more room. We'll know more in the Dauphiné.
Albasini x 3
The Swiss rider took three stage wins. Impressive especially because of their diversity, he even won a bunch sprint. A much quieter ride by MTB world champion Nino Schurter. This Swiss overall had a great race with local team IAM in action and taking home the mountains jersey. BMC are half-Swiss but they didn't fare so well with Tejay van Garderen crashing in the prologue and abandoning.
Tony Martin beaten again
It was only by less than a second but Tony Martin was beaten once again in a time trial. His record this year is 4th, 3rd, 4th, 1st and now 2nd. In 2013 he won 11 ITTs and only "lost" two, one in the Vuelta and the other was the mountainous Embrun-Chorges stage of the Tour de France which nobody thought he'd win.
The Iceman?
What of Simon Špilak? He won the Tour de Romandie in 2010 although thanks to a decision taken in the nearby Court of Arbitration for Sport which stripped Alejandro Valverde of the win and rewarded the Slovenian. Špilak's been a regular in this race with eight place overall in 2012 too. He seems to be a rider you tip when the weather's awful and it's true that some his rare wins have come in poor weather, notably in Romandie where this time he was climbing almost as fast as Froome and leaving everyone else behind. But he won the Gran Premio Miguel Indurain and the GP Frankfurt in fine weather last year so the ice/rainman label is handy… but inaccurate. A strong junior who won the Liège-La Gleize race, the junior version of Liège-Bastogne-Liège. In the U-23 ranks he was fourth in the 2007 Tour de l'Avenir behind Bauke Mollema. Aged 27 he's aiming for the Tour de France next. Note it's "schpee-lak":

Giro Notes
It was only one day but the climbs give us some clues for the Giro already:
Rafał Majka managed to crash uphill on some tramlines at the top of the final climb. Without this he would have made the Nibali group. Team mate Nicolas Roche was further back and the Pole's leadership of Tinkoff-Saxo looks more solid

Rigoberto Urán was struggling to follow the wheels on the mountain stage, he was the front of the group when Nibali and Froome were making the moves but faded. However he was an excellent fourth in the final time trial which suggests all's well

Trek's Riccardo Zoidl had a solid ride. He's recovering from a broken collarbone and if the team has Robert Kišerlovski as their leader and Julian Arredondo as back-up, don't be surprised with the Austrian signing
We shouldn't extrapolate too far. The Giro might start in a week but that means it's crucial stages are almost four weeks away. Andrew Talanksy isn't doing the Giro but he lost out today after his chain fell off just as the others were jumping while Thibaut Pinot was brought down by Majka's crash.
Conclusion
The final podium of the Tour de Romandie had the same three names as last year with Chris Froome, Simon Špilak and Rui Costa. But if the result was the same, the context was very different. Froome's win is a relief for Team Sky but if he won, the team weren't so visible and Richie Porte's still struggling. Simon Špilak had a great race as did Orica-Greenedge with Albasini. Meanwhile Vincenzo Nibali has yet to look like a threat this year; is this a media thing or will it begin to worry him?
Main photo credit: Team Katusha / Tim de Waele