Every site sponsor gets thank-you note and Trek are the sponsor for April. It's an auspicious month given the focus on the classics for the Trek Factory Racing team. The ad is there to show Fabian Cancellara's cobble-eating Trek Domane. Within days of the ad appearing on here the Swiss won the Tour of Flanders.
As well as the thank-you note since we're talking site sponsorship there's a quick housekeeping note where the elusive INRNG t-shirt gets an airing.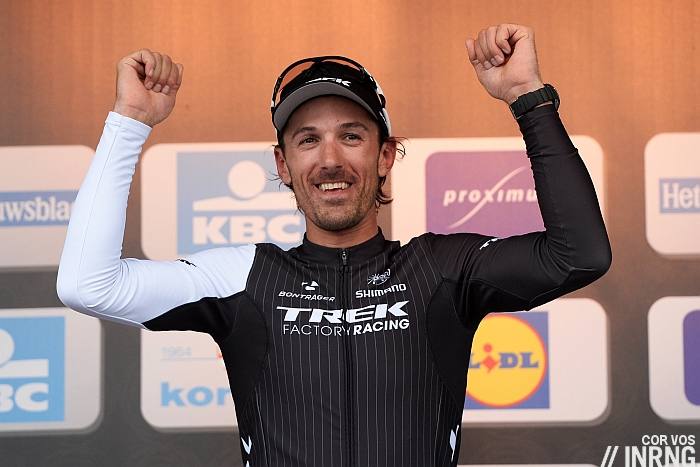 Thanks to Trek
It wasn't just the Domane that got a good outing this month, yesterday saw Julián Arredondo in action on the Madone. As I learned from the comments yesterday the Colombian's from the same small town as Carlos Betancur and is surely going to win something big soon.
As ever sponsorship matters here. This site is an amateur effort but these days there are costs from photo accounts, mobile-friendly versions of the site to chunky amounts of bandwidth used so the ad support the equivalent of a tailwind. You might see "just" a square box with an ad but it keeps the wheels turning here. Thanks to Trek and their UK office for the support, they've been sponsors last year too.
T-Shirt
Time for a housekeeping note. There are regular requests for an INRNG t-shirt. It's a complicated project because readers come from all over the world so the logistics are awkward, eg what currency to bill in, shipping rates and more. And that's all before thoughts of a good shirt and the design.
Also there are occasional requests to make donations. Cycling social media and donation requests don't always work out but one option I'm considering is a small "tip jar" facility where people can donate and if you put in over a certain amount you'll get a t-shirt back. But all this is being worked on and finding time for the blog itself is the priority in part because it's more fun and much easier. We'll see what May brings.
Advertise here
Finally if you'd like to advertise here there's more info on the offer plus a gallery of past ads at:
inrng.com/advertise/