Damien Vandamme got his Warholian 15 minutes of fame although the publicity is far from positive. Lying prone in the road, the Belgian later told Het Nieuwsblad wanted to capture an image of the bunch in the Gent-Wevelgem race as it rode past a British war cemetery saying "I don't understand the fuss… …I never thought  I was in danger."
Vandamme gets marks for effort but put both his own safety that of riders in danger too, all for a photo. You sense a career as a war reporter could be brief. Safely for everyone, he's not a pro photographer, instead he's just a local who got too zealous with his art. There's an obvious lesson here that spectators should keep out the way when a race is approaching at 50km/h but there's another too: most people taking photographs from the roadside end up with bad images and miss the moment they came to see in the first place.

What's so pointless about photography? Nothing normally but trying to get images from a race is one thing, taking good pictures another. The riders are moving so fast and you've only got a pocket camera or smartphone. 96% of the time the image won't look very good especially when you download it back home.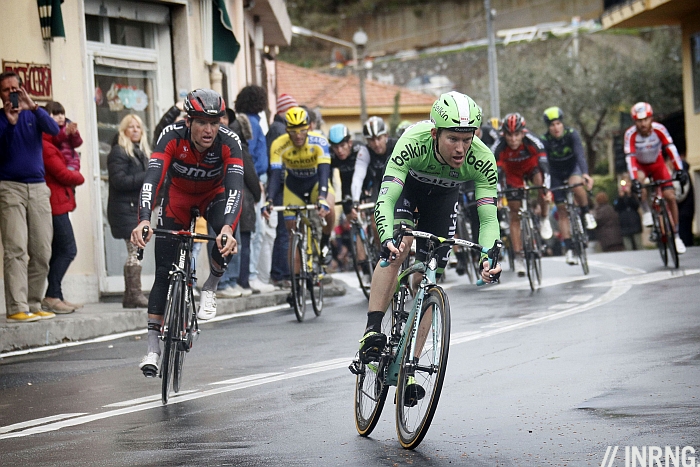 You can wait for hours to see the race only to miss it because you were looking into a lens or a screen rather than absorbing the race itself with your own eyes. Take a look at picture above from Milan-Sanremo, Belkin's Lars Petter Nordhaug has put in a late attack on the Poggio and look behind and you can see all the riders eyes are on him. But what of the crowd? Look at the man on the left in the blue sweater, he's busy trying to hold his phone steady rather than cheer on the riders and enjoy the moment.
Nevermind a camera, it's often hard enough to capture the scene with your eyes and brain as the riders flash past. If you can spot a rider you know they're gone past you before you can shout out their name and often the passage is a blur of faces, spinning wheels, twitching muscles and following vehicles.
I'd suggest two exceptions:
If you're really into your photography and want to practice your skill then snap away. Obvious really but it means a very different approach to the race, you'll pick somewhere to stand thinking of image composition, background, light rather than being in a strategic point of the race or a spot within range of bar or jumbotron TV
If you want to stick a photo on Facebook why not capture something else like the start where riders aren't moving so fast, if it's a smaller race maybe you can ask for a pose. Or if you're out on the course, snap the drunken fan on the other side of the road, the Rodania car or the broom wagon as it rumbles past?
Vandamme's not the first one to look too through a camera instead of their own eyes as this clip from the 1999 Tour de France shows…

Summary
By all means take plenty of photos to bring back some memories of a fun trip to see a race. But when the riders approach, make sure you're not in the way, whether lying in the road or running in front of the riders.
Unless you're a keen and confident photographer one tip is to put the camera aside when the riders appear. The risk is you waited patiently by the road and then when the moment came, wound up concerned about your phone and a two-dimensional JPEG rather than taking in the sound, movement, smells and everything else that makes visiting a race special. Enjoy the moment.
If you want to improve your photography skills, see cyclingtips.com and theguardian.com for some tips and tricks.