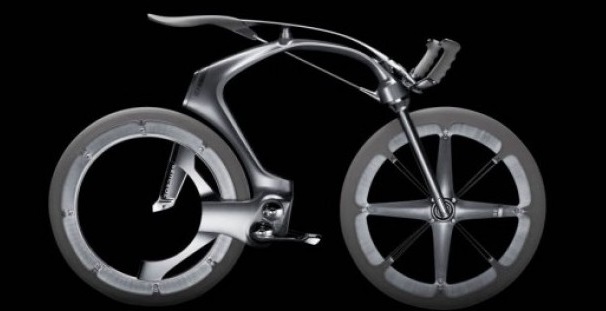 Predicting the future is hard. We can't pick next week's lottery numbers but we can predict there will be a draw. You can take trends and measurements to make weather forecasts. What about the bike industry? We can spot the trends and extrapolate to imagine the bike of the future.
You've probably seen the images of concept cars unveiled at motor shows with futuristic machines that reveal what is coming. Often these are wild ideas do point to the future but they also appear amusing, especially with hindsight, although often the purpose is to catch attention and showcase design ideas. It's the same with bikes, there are concept models although on a more modest scale.
Two years ago I looked at what the bike of the future might bring. I saw more electric gears, disc brakes, tubeless tyres and a redesign of the frame, although most terms like the dropout width. Where are we now?
Electronic gears are starting to trickle down. Shimano offer Ultegra, Campagnolo have Athena EPS and people say SRAM are recruiting electrical engineers… although maybe to help with suspension management. But the systems still look unrefined with clunky battery packs and CPU units that need cable ties to fix to the stem, unacceptable for €10,000 bike. We should see more integration with wireless technology and a CPU that you can hide away
Disc brakes seem to be coming but slowly. It's one thing to display a bike with discs at Eurobike, another to produce the finished item. Their use for road racing is not certain. The sharp rotors and the way they soak up heat means they could be dangerous in a mass pile-up, perhaps some enclosure or guard will be required. Disc brakes can't be seen in isolation but should require frame and fork redesigns to cope with the different braking forces. Will we accept an asymmetric front fork? Rims should be redesigned too because they don't need a braking track nor cope with the heat.
Tubeless tires might be coming but their adoption slow. People like them in many conditions but there's still no feather-weight version to rival a premium tubular or clincher. Maybe this is the market at work, because adoption is slow there's no point producing something for 5% of a still small market?
11 speed is widespread now but we extrapolate the trend towards more and more gears? Maybe 12 speed will arrive but currently you can run 11-25 without any big gaps in gearing and this offers enough range for most. Perhaps we're now at the point where the extra cost of an even more narrow chain outweighs the benefits of going to 12 speed. Unless we see the rear dropouts widening from 130mm to 135mm… or even 140mm.
UCI approval
The governing body has rules to define what is allowed and these have been quite conservative. Paradoxically the vast majority of bikes are sold for use outside of UCI officialdom but races like the Tour de France and Paris-Roubaix are the shop window for bikes. As said before, if the likes of Trek, Cannondale and BMC can't showcase their best products in these races they'll take their sponsorship elsewhere.
One obvious change is the the 6.8kg minimum weight limit. It was introduced in 1999, at a time when carbon frames were exotic and the use of composite materials had yet to spread to components such as bars, rims and more. In other words the technology has changed substantially since 1999 but the weight limit has not. Bikes in peloton today have to be weighed down with deep section rims, power meters and even chains dropped down the seat tube for compliance. It's likely this limit is reviewed and reduced.
Late adopter?
To pre-empt curmudgeonly comments of course you can ignore all of this just and ride your bike.
Integration
It's not coming in 2014 but at some point all these things have to be integrated. Perhaps by 2020 we can expect frames and wheels designed for disc brakes and tubeless tires… something mountain bikers have already. But there can be more integration, imagine a some solar cells on the chainstays to trickle-charge the battery or even a frame with a USB port so the bike can be charged and ride data downloaded all in one go?
The New New Thing
For me the consumer electronics angle looks to be the biggest new thing. Instead of carbon, it's silicon chips and software. No more so than the advent of Google Glass or the Recon Jet with a "heads up display" on your sunglasses. Sure you can look down at computer on the handlebars or maybe you ride to escape a day job spent in front of a screen. But this optical tech is coming and once it's here and becomes affordable I think we can expect it to spread.
We've not exhausted carbon tech or bike design but bikes have incorporated more and more electronics in recent years, from gears to GPS to power along with post-ride analysis.
Conclusion
Two years ago electronic gears looked exotic but they're the norm in the pro peloton. Now disc brakes might go the same way although this will require rule changes so it's less certain. Tubeless tires are probably the future too but for now they're on everything but road bikes. We can see how conservative road bikes are compared to MTBs, although their functions explain this too.
Real change will be when these changes are integrated into a system rather than treated as external components. Imagine built-in batteries and charging ports, frames, forks and rims alike redesigned for discs. That sounds off the radar for now but then so does a heads-up display for your sunglasses only these are coming for 2014 and we might see electronics as the new thing in pro peloton.