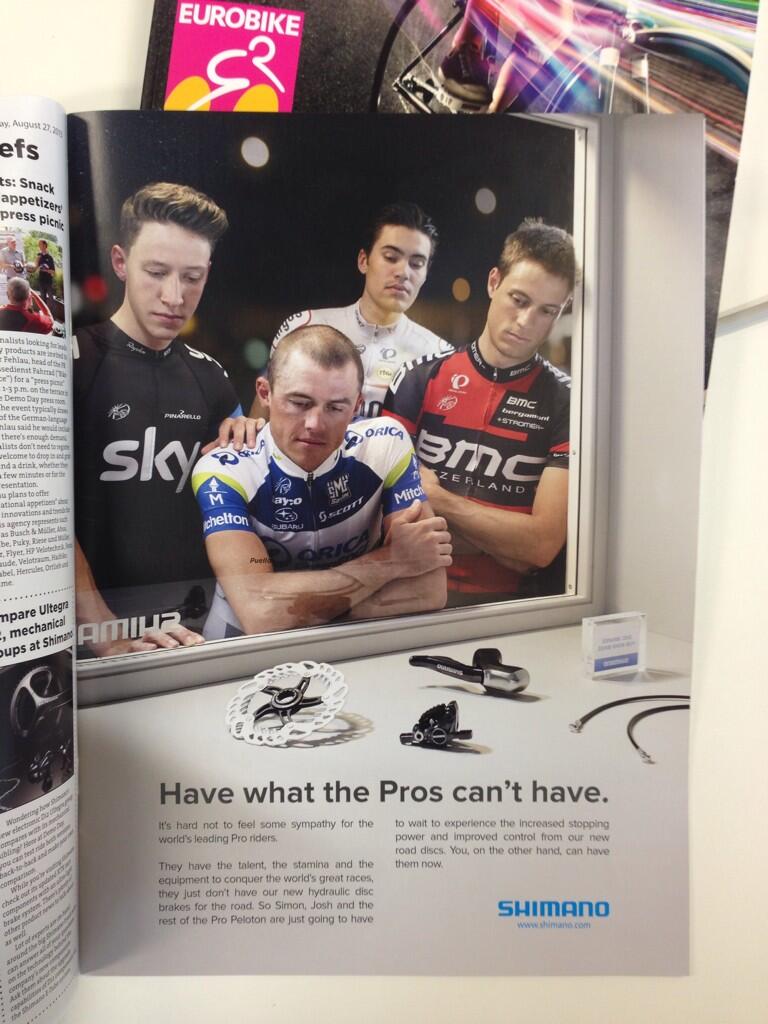 From the earliest days in the sport there's been a close link between cycle manufacturers and teams. Marketing and sponsorship played a big part in the sport's development as companies sought to prove their wares could withstand long distance races to convince consumers that they could ride to the factory or field without problem.
In recent years there's been a revival with the Cervélo test team and now Argos-Shimano and Cannondale will be joined by Trek in 2014. But are pro cyclists being left on the outside when it comes to having the best gear?
It's only one advert but the image above it's telling as Shimano try to suggest ordinary consumers can get superior braking to the pros. In other words pro team components are no longer the gold standard and labels like "team issue", "service course" and "race-winning" no longer mean the top of a company's product range.
Of course "the pros" ride whatever they're given. The economics of sponsorship mean typically only a large frame builder and component manufacturer can sponsor a top team. By extension the big races see the major brands on display and the causality matters as it's the big companies with their mass-production and money who can afford to sponsor the pros rather than teams choosing the best material.
It's long been possible to build a better bike than a pro gets, for example you can make a bike lighter than the UCI's 6.8kg weight limit and still enjoy great safety and performance. Cannondale scored a publicity coup in 2004 when they glued weights onto to a frame to make a point. But more often the hunt for such a bike required specialist parts in a glass cabinet in your local bike shop or browsing German websites for parts made by a small engineering firm or even a devoted hobbyist.
What's different now is that an industry giant like Shimano is saying "our best gear won't be found in the pro peloton." It's a change but part of a trend. See Specialized with its Shiv time trial frame.
"Our all-new Shiv. This stealthy speed machine is absolutely not UCI-legal, because it's specifically designed for the needs of triathletes: it's more aero than the UCI allows"
– Specialized.com
Specialized is marketing its frame to triathletes and making a point of saying it's too fast for road cycling. Pro cycling is not being abandoned. And as I've written before, if Paris-Roubaix didn't exist then perhaps it would have to be invented because of the irony of a one-day race that's used to signal product durability.
But there is a risk that road cycling becomes too traditional for manufacturers who take their prototypes and crucially sponsorship dollars elsewhere. The UCI's allowed disc brakes for cyclo-cross but they're not yet legal on the road and there are good reasons for that. But see the UCI's minimum weight of 6.8kg, it was introduced in 2000 and remains unchanged despite all the advances in manufacturing, materials and design.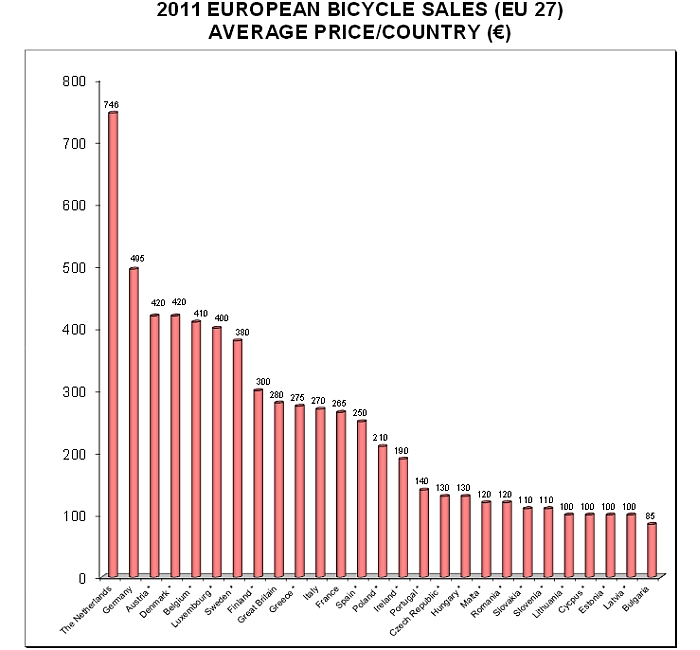 To pre-empt the comments that nobody needs this technology, that's not quite the point. After all nobody needs a racing bike. In Europe most bikes retails for less than €300 so the difference between bikes in the >€3,000 price bracket is for… those who read cycling blogs. It's the same with people who buy a jacket used for an ascent of Annapurna to keep warm waiting at the bus stop, it's not necessary but it can fulfil a consumer need. Bike manufacturers produce gear for sale and always want to find ways to make you open your wallet or click that "add to basket" button only this time the pros aren't being used to help push the gear.
On a similar point, there are arguments for and against disc brakes. Cost, weight, heat build-up, injury and more mean there are real questions about their use in bunch racing. Of course the ad is staged and and just as some pros get no choice in what they ride, so the wistful look on their faces is an obligation for the photo shoot.
Conclusion
Money dictates that only the big players in the industry can sponsor a pro team so innovative items from smaller manufacturers has long been found outside the pro peloton and its major brands. But now even the big players are making a virtue of having material that's too good for the UCI World Tour, Shimano's ad comes after marketing from Specialized and several others make a virtue of having bikes that are too light for the Tour de France and other visible races.
Of course every pro bike is perfectly adequate for the job, whether it's the Tour de France or a Sunday spin and this is all marketing. But so is pro team sponsorship and it's worth millions to the sport. If the UCI rules stay as they are then we'll see more and more manufacturers look elsewhere for a shop window, breaking the century-old model where team issue bikes have often represented the pinnacle of a company's product range.
But things have some way to go. Shimano today announced a product recall for many of its road disc brakes. Maybe Simon Gerrans is smiling after all as he rides around Spain on rim brakes?
The riders in the ad? Josh Edmonson (Team Sky), Simon Gerrans (Orica-Greenedge), Tom Dumoulin (Argos-Shimano) and Martin Kohler (BMC Racing)
Hat-tip to Carlton Reid for prompting this piece with a tweet this morning
Shimano's road disc ad in Eurobike Show Daily. Pro riders want disc brakes! pic.twitter.com/fiThLSCe8y

— Carlton Reid (@carltonreid) August 27, 2013