Pro cycling is beautiful sport but follow some of the sponsors behind the teams and they're not always as clean as the riders are supposed to be. Look at the pro peloton today and you'll find teams representing despotic governments, accident-prone chemical companies and a range of other questionable sponsors.
One by one each of these sponsors might have its place but does their collective presence say something about pro cycling?
Where to start? Let's go in alphabetical order. First up, A for Astana, the team named after the capital city of Kazakhstan. The country has plenty going for it, whether its sheer size and abundant resources. But it sits very low on indices that rate press freedom and corruption although many probably know the damage done by Borat instead. The Astana team has been a vehicle to harness the sporting popularity of Alexander Vinokourov who is no stranger to politics, having been on the electoral list at the behest of the ruling Fatherland's Ray of Light party. The team helps give a better image of the country, especially as it tries to sell gas to Europe. Nibali's Giro win helped promote the country's image in Italy, a counter for the tale of "extraordinary rendition" of an opposition politician.
Next B for Baku, a small cycling team but sitting on top of a lot of money. Baku is the capital of oil-rich Azerbaijan some of its cash is going on pro cycling. The route of the new Tour of Azerbaijan tracks the route of a new oil pipeline. Eurosport viewers might remember the "movin' ahead" adverts only progress for most Azeri citizens isn't so obvious. It rivals Kazakhstan for low scores on openness and corruption. They've just had elections and Ilham Aliev won, just as his father won previous elections. Only this time with an amusing twist as the government announced the election results by accident days before the vote was due to happen. Most of the country's wealth is divided up between a few clans and the team has the President's seal on the jersey.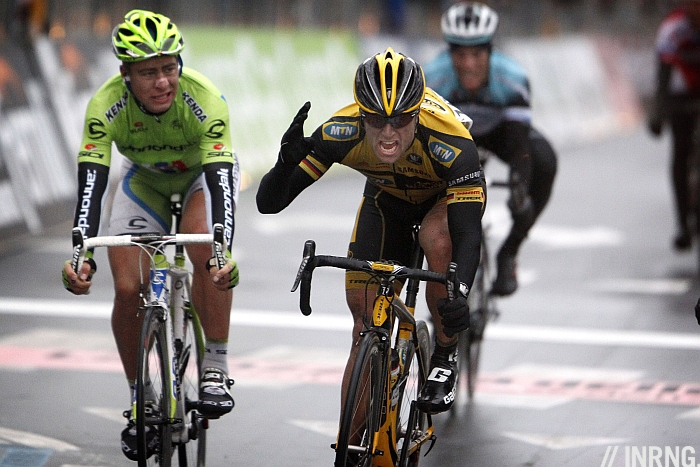 Now cross the border from Azerbaijan to Iran and we get to MTN as in the MTN-Qhubeka team. A fun team with a good charitable mission,  Milan-Sanremo trophy and more yet South-African based cellphone operator MTN could do with some good publicity. It operates developing markets but it's also got flak for its operations in Iran and Syria. Here's London's Financial Times:
"Touted as one of South Africa's biggest corporate successes of the post-apartheid era, MTN has over the past year been at the centre of controversies over its operations in Iran that rattled its share price and brought sharper scrutiny of its business in other frontier markets… …a saga that illustrates the extraordinary risks MTN has taken to profit from doing business with pariah states and poor countries with limited infrastructure"
– Telecoms: Dealings in the danger zone, FT.com, 2 July
Maybe MTN's work goes with the terrain, read the FT piece to judge for yourself or if you struggle with the paywall, see Reuters. But you can understand why the telecoms operator would like some good publicity in Europe, far from its home market. But unlike Astana and Baku  at least you can at least buy MTN's products and services and the team's success in African races is a viable promotion.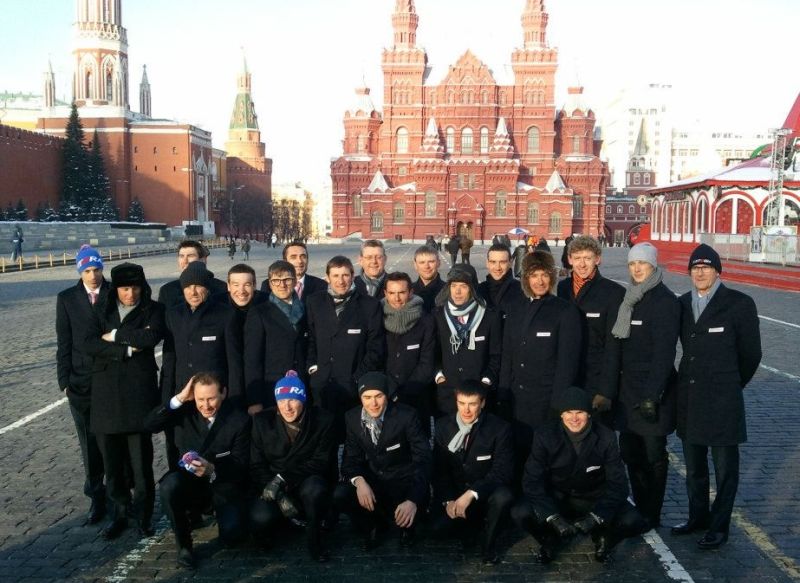 You can't buy a Katusha unless you're an arms dealer
The pro cycling team is named after a patriotic song and does not represent any consumer products. There is a surface to air rocket but that's named after the song and has no connection to the team. Katusha is Team Kremlin, loyal readers will be familiar with the Tinker, Tailor, Cyclist, Spy blog post, probably the most read item on here. As we'll see with the Sochi Winter Olympics, Russia's keen to exploit sport to promote its national identity instead of letting others print stories about odd election results and street protesters being given lengthy custodial sentences. The money behind Katusha is also supporting Rusvelo.
Next up, Orica. The Australian company makes explosives and other speciality chemicals for the mining industry; it bought Norwegian dynamite firm Nobel a few years ago. The company does not have a great reputation with explosive disasters and numerous chemical leaks, an unfortunate way of putting something back into the local community. Unless you're the purchasing manager for large mining operation you cannot buy Orica's products so the sports sponsorship is another example of a company trying to improve its image with something positive.
One thing you can buy is a Cofidis product only the trick is not to have too much. The French cycling team has run non-stop since the 1990s and is backed by a consumer lending company that targets revolving credit to people euphemistically described as subprime. It's got bad publicity with stories of over-indebted consumers. No doubt cycling sponsorship helps with branding but it's got a sales aspect too, aiming direct at the blue collar demographic in France and Spain where it operates that makes up much of the TV audience for races.
There's Sky too. Part of a British media company ultimately controlled by Australo-American Rupert Murdoch, a real life version of The Simpson's Montgomery Burns. Various British outfits have been in trouble – one newspaper was even closed down – and the founding force behind Team Sky, James Murdoch was called to the British parliament to explain himself over alleged criminal practices by his journalists. It's said the cycling team was created for other reasons – James Murdoch is a cycling fan – but the success of Wiggins and Froome has been an invaluable boost for the corporate image.
So what?
What if cycling suits a few shonky sponsors? There's plenty of relativism, you can place some of the names listed above on a scale that goes from legitimate and regulated French consumer credit all the way to despotic nations that rig votes and torture political opponents, a vast distance. It's better the money goes into cycling than something else. And it works, you probably think better of Kazakhstan thanks to Astana and Orica rhymes with cycling rather than environmental damage. Sponsorship allows us to see the good news.
Risk vs Reward
But I think there could be something particular to pro cycling. You know the pro cycling sponsorship sales pitch by now: lots of publicity for relatively small outlay. It sounds good but a big return on a small investment usually means one thing: high risk. Run with this idea and some sponsors might not have much to lose when it comes to their image so spending some cash on cycling sponsorship can help redeem their image. Cynically if it all blows up in their face with a doping scandal, well it's not going to hit the image of a country used to attracting headlines for the wrong reasons.
The Good Guys
It's worth stressing the majority of sponsors in the sport are there for the right reasons. Garmin sell lots of cycle computers, Cannondale make good frames and so on for Quick Step flooring, Movistar telecoms and Lampre laminated steel. And even if you might be uncomfortable with the money or people behind some teams, we're miles from the mafia-backed money laundering Roslotto team.
Conclusion
Sometimes those team names and logos on a jersey can seem strange, you might not know what Cofidis or Orica actually do. Cycling is a means for some sponsors to rehabilitate their names. This is the essence of sports sponsorship, a way to associate a corporate activity with something dynamic and fun and it goes well beyond cycling, see Russia's Gazprom sponsoring football and more.
But amongst the roll call of team sponsors there are several names whose products you cannot buy. Instead they appear for more vague reason of branding and promotion. Is pro cycling's risk-reward profile a cheap way to boost their reputation?