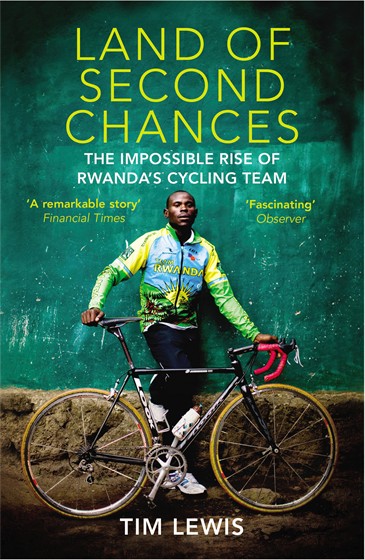 Land of Second Chances by Tim Lewis
Enjoy bike racing? Like coffee? Here's a story that combines both and much more. It's a true story rather than a fairy tale which makes it a compelling read as it ranges from development and discovery but also failure and frustration.
Rwanda might know to many for its genocide. In 1994 800,000 people died during roughly 100 days of violence, that's someone hacked to death every 10-12 seconds. A grim count but it's impossible to imagine Rwanda losing one tenth of its population during this time. But the country has turned a corner and rising up the development rankings and spots the idea of cycling as promotional tool, both to display hard work to the locals but also to act as ambassadors abroad.
Rwanda has been known as "the land of thousand hills" and the Tour of Rwanda starts this weekend it doesn't bother with a points jersey, apparently they can't find enough flat roads for the intermediate sprints. But these hills are a problem for local coffee growers. Coffee is a cherry-like red fruit and soon as its picked the bean inside starts to ingest moisture and molecules from the pulp, it has to be washed less than eight hours after picking to taste good. This poses a logistical challenge to growers who must ferry sacks of coffee fruit to be washed. For years in Rwanda they'd been using wooden bikes that look like something from The Flintstones.
Along came MTB legend Tom Ritchey with a cargo bike. Lewis tells the tale in full detail, of how Ritchey spent college time racing and brazing frames, the rise of the mountain bike and then Ritchey's midlife crisis which leads to Rwanda and building a cargo bike. In turn Ritchey sees people cycling everywhere, not the mule-like contraptions but ordinary bicycles and sees some have talent and strength and so a racing team begins with work by one-time Bernard Hinault team mate Jonathan "Jock" Boyer, the first American to ride the Tour de France. His racing career over, a business folds and he is convicted of a sex offense with a child.
By now the "second chances" theme is obvious. Rwanda is trying to rebuild itself after genocide, Ritchey is searching for something new and Boyer is trying to make amends. Now begins the almost impossible task. Take a cargo bike, it has be strong enough to function as a workhorse without breaking down.
But look at the chain length on the machine above or imagine how long the tires and brakes will last when the bike is going up and downhill under load: turning concept into last reality is harder. And this is just for a cargo bike. Now try creating a cycle racing team in a country where the sport is not popular and there's little infrastructure. You can identify the genetically gifted but the training, tactics and more are not easy.
At times it's almost too much to take in. The scale of genocide in Rwanda is unimaginable whether the statistics or the stories, the riders who lost most of their family or when applying for passports to race abroad make up their date of birth because there are no records. A blank canvas might be inviting but it needs a lot of paint.
Lewis is telling a much bigger tale, the story of a nation through the use of a bicycle, whether to transport coffee or as sporting propaganda with a racing team. It's not earnest,  there are amusing moments, for example when some Rwandans visit America they are impressed by the plentiful foods but perplexed by the custom of keeping animals inside a house. It's a book for a wider audience, this is not a cycling tale or sports book and when cycling is covered, the technique and tactics are explained.
The greatest problem with the book… is the reader. You might have fairy tale expectations of riders becoming champions, of booming coffee sales and a whole nation marching into a bright future. But this is no Disney production and Lewis is a realist. Import tariffs are levied on the bikes. Coffee production is threatened by a pest that sours the taste and farmers complain they've run out of spares for the cargo bikes. If some riders are good enough for the pro peloton, they've yet to win big and, to Boyer's frustration, they don't dream big but seem content with a few hundred dollars a year collected from team stipends and prize money is enough to buy plenty; their happiness is relative to their surroundings. Meanwhile Rwanda as a whole is wobbling like a wooden bike, it's done well since 1994 on many developmental measures but keeping up the pace now is proving harder. We learn the government drive to national unity is not built on harmony alone but underpinned by strict laws that might have the right intention but can foster Groupthink. This only to touch on the story, the book details it all in a way that is worth reading.
But this is what makes it a richer read than the average bicycling biography. You know the bike book format by now: a rider rises up the ranks, he's talented but has a setback or two, then he matures and triumphs. It's the formula for most sports biographies and many are a good read if the story is well told. Only here the triumph is Adrien Niyonshuti finishing 39th and second last in the mountain bike race in the 2012 Olympics; you'll have to read the story to learn how qualification was a miracle alone and the work Niyonshuti puts in to improve his bike-handling skills.
At the same time the scale of the book is probably its weak point, the story picks up pace as it introduces you first to Rwanda and then Tom Ritchey in a mid-life crisis and then the intersection with coffee bikes and on to to Team Rwanda and its various members but then – psssssscht – the story feels like it gets a slow puncture as Lewis explores the wider context. We learn of the politics of Rwanda, its history and sociology as well as touching on the military occupation of Congo, a fight for resources like Coltan – worth so much more than coffee beans – before exploring the wider hunt for an African champion in Kenya and Eritrea. This wider view is rewarding and informative but can't bring the reader to a conclusion, it doesn't bring the story to a point.
Summary
The story of a team but also the tale of those behind the team and the whole of Rwanda too, this is a great piece of storytelling that's enjoyable and rewarding, especially if you want an alternative to the conveyor-belt production of Tour de France compendiums and biographies of British cyclists. But it's not the linear story you might expect, a tangled ending makes it clear that it is for Rwandans to write to the next chapters.
Note: this copy was sent free for review. It is published by Yellow Jersey Press / Random House and available in hardcover, paperback and e-book

A list of previous book reviews is available here.