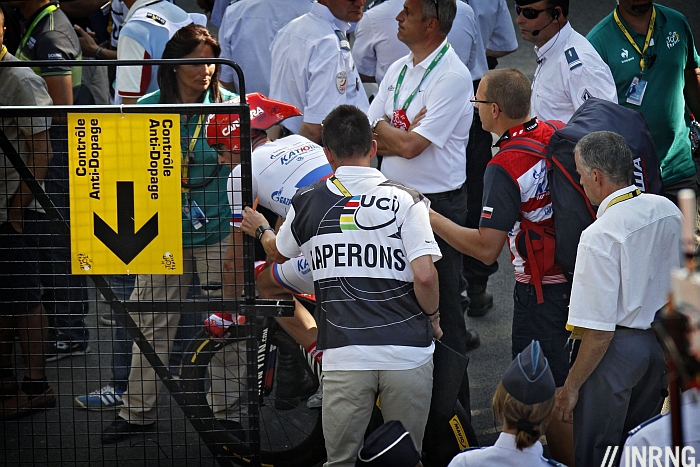 WADA's adopted a new code that will apply from 2015 onwards. It includes a four year ban for serious doping offences. Will this change anything?
First a technical explainer. Not all positive tests mean four years. WADA has a list "specified substances" where under defined conditions the ban may be reduced. "The purpose is to recognize that it is possible for a substance to enter an athlete's body inadvertently, and therefore allow a tribunal more flexibility when making a sanctioning decision" says WADA's website. This list typically includes molecules contained in many over-the-counter medicines or even herbal remedies and consumer products. It's only the kind of substances that you can't buy that will result in automatic four year bans, think EPO, human growth hormones or a blood transfusion.
In fact there will be more flexibility in 2015 when it comes to substances that could have been taken accidentally. This will have to be watched carefully to ensure athletes do not consume banned substances and then claim accidental use, just as Lance Armstrong did when he was injecting cortisone whilst pretending to use a topical cream for a skin rash.
2 to 4 years
The move to a four year ban suggests a two year ban has not been enough, either as a deterrent or a punishment. One motivation behind the doubling of the sanction is the Olympic cycle. Many sports squirm at the thought of a participant showing up at the Olympics after a doping ban. You could say its for the sake of appearances.
4 years = life?
In practical terms a four year ban is a life ban. The current two year ban has probably marked a physiological, financial and mental limit. Imagine a rider busted in the 2014 Tour de France, they will be out for two years and can return in mid-2016. They have a certain stock of condition to carry into 2015 which becomes a "sabbatical year" to borrow from Richard Virenque's denial. Then comes 2016 and the rider can build up in preparation for the Vuelta. It's a long time out but only really means missing one full year, there is a big financial penalty to pay for up to two years without salary but a big fish can decide whether it's affordable.
By contrast a rider caught in 2015 can only hope to return to the 2019 Vuelta. That's four years of unemployment and and three whole seasons of glorified cycle touring in the effort to keep the body in shape because if you stop you lose condition and the comeback gets harder. Maybe one or two fanatics will try it but I think it effectively ends someone's career.
It's this ejection that could make the sport quite different. Today fans can be troubled by returning riders. For example watching Operation Puerto "survivors" in action is awkward, the likes of Ivan Basso and Michele Scarponi can incite different emotions. With a four year ban these kind of riders won't be back, the "they've served their ban and have the right to return" mantra won't be heard as often.
Call the CAS
Because this can end careers one upshot might be more contests at the Court of Arbitration for Sport. Now testing justice in court is a noble principle but practice has seen many unconsidered appeals that ultimately waste everyone's time except the lawyers fronting them although even they can look foolish venturing wild arguments. We can probably expect a few more cases.
Is a longer ban better?
A longer ban is good if everything else stays the same. Only it doesn't. It's like the death penalty for murder, people may still commit the crime. It might deter some but it might also encourage others to prepare for the act properly. Instead of a rash act they'll be extra careful to cover their tracks. As a result fewer cheats will trip up; over the years many have been caught because of silly mistakes, the cliché of anti-doping controls being an IQ test rings true.
Note we've seen bans go up over time, from a matter of weeks in the 1970s to months in the 1980s and one year in the 1990s. The two year ban came in the 2000s but doping remained widespread in the peloton.
Detection
The deterrent factor is a function of the probability of being caught. In order to ban someone you have to catch them first. A long ban in scenario where few cheats are caught is not the same as a short ban where every doper is detected and blocked. Put simply detection matters and this is the hard part, whether an acceptable testing regime (hello Jamaica) or adequate tests for EPO microdosing, AICAR and other substances where a validated test is slow to appear and is costly.
Conclusion
A mix of deterrent and Olympic face-saving seems to have brought about this long ban. It's easy to put in place at the stroke of a pen and a vote of approval. But if it looks tough to outsiders, the real battle for WADA is improving detection to catch the use of banned methods and substances.
A two year ban has not ended careers, several big names in cycling have made a successful return. But a four year suspension is going to alter the balance. Anyone caught in 2015 and beyond with EPO, steroids and other hormones may be gone forever. A four year ban might not double the deterrent factor but it will alter the composition of the pro peloton.