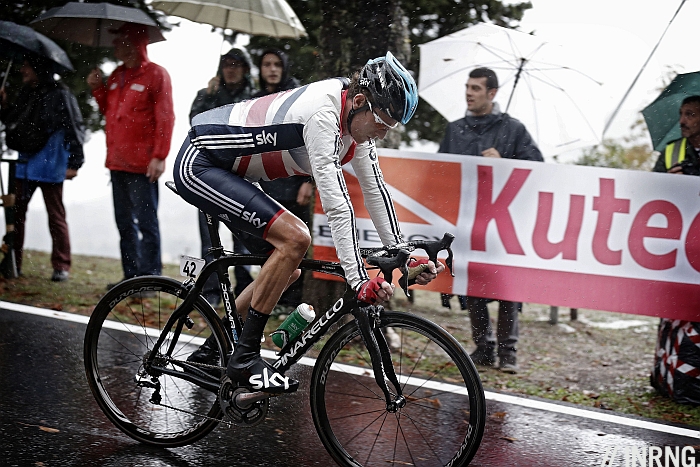 Coulda, woulda, shoulda
There's been a lot of post-worlds chat, especially the Spanish tactics and the British vanishing act. It's part of the fun to review the race but the Worlds has attracted more talk than usual. How come? Is it national pride that makes people more passionate about the performances? Or maybe because the Worlds is just once a year? Bungle the finish in the Ronde van Vlaanderen there's always Paris-Roubaix; mess up one day in a stage race and you can still have time to come back. No such chance with the Worlds.
Gran Theft Bici – Disc Brakes – Heulot and Goodbye – Cannondale + Tinkov? – McQuaid – Flandrien Award – Giro Mountain TT – Tiernan-Locke case
Gran Theft Bici
The Worlds were great but there's been a problem with bike theft. The Russians and Danes were both hit and lost many bikes and wheels. It's a recurring problem and not unique to Italy, you might remember Garmin-Sharp got raided in February at the Tour Méditerranéen.
Teams are not passive about this. At night the mechanics' truck is reversed up against a wall or the team bus so that there's no clearance to access the back of the truck. Of course thieves can tow vehicles but it's an extra work. There's talk of mechanics sleeping in trucks but often there's no room when everything is loaded in and these guys work hard already, spending the night inside an uninsulated vehicle is making the working conditions even harder. Plus the thieves are so determined that the mechanics are placing themselves in harm's way. Some have suggested team guard dogs.
Alarms might be an idea and another suggestion could be to park vehicles in a common lot which is then guarded by security staff. But this is another expense and has the added concern that a gang could knock out the guard and then have access to hundreds of bikes all grouped together.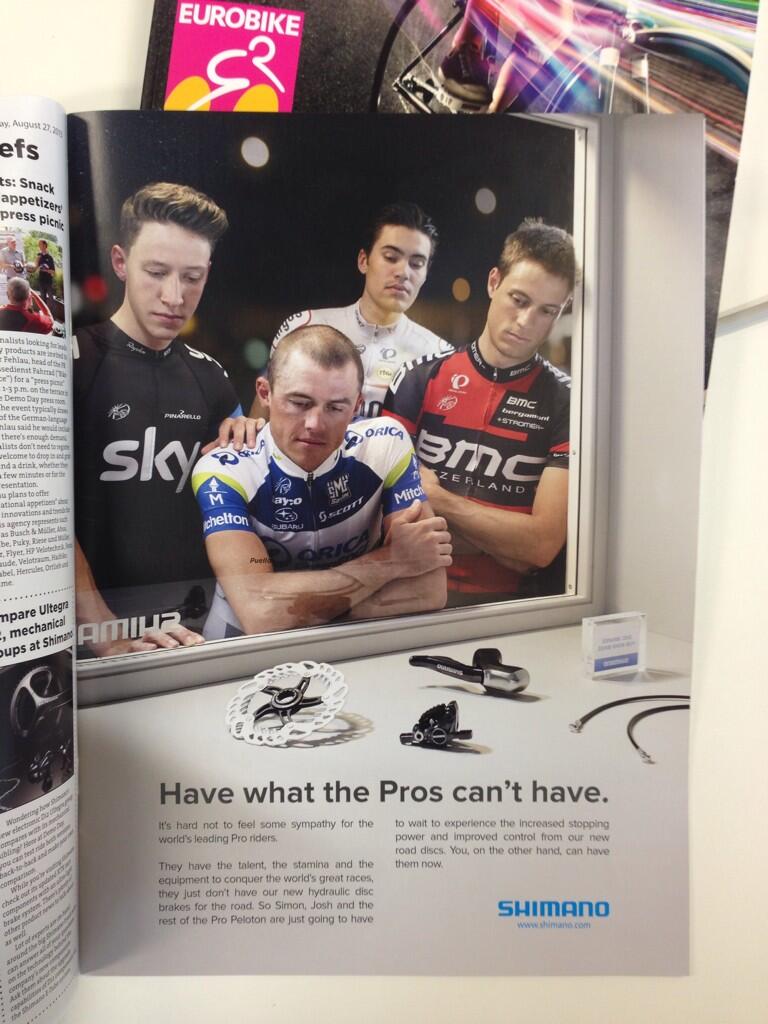 A brake on technology
"It really doesn't matter what the UCI says. They're only a small part of cycling and there are a lot of people out there who don't care what the UCI is nor do they give a damn. They just want to ride their bikes."
Rob Eva, SRAM
Cyclingtips has a good piece about disc brakes. You might not need them, you might not want them but they're coming to a bike shop near you. Calliper brakes will of course stay. But a recurring theme is that new bike technology is coming out and bypassing the pro peloton (see "Pro Cycling As The Shop Window"). Right now we're seeing several bike companies sponsor pro teams (Cannondale, Trek, Merida) but the worry is that manufacturers find pro cycling just can't act as the shop window. Things will have to change.
Heulot and goodbye?
Talking of a lack of sponsorship, the Sojasun pro team will stop. Efforts to find a co-sponsor haven't worked. But like an iceberg, you might have only seen the part that sticks out. Below the pro team is a pyramid structure with a leading amateur team which will still be sponsored by Sojasun and team manager Stéphane Heulot will return to run this. It was this structure that Heulot used to build the pro team, in effect taking promoting his amateur squad to the pro level. It's a healthy system that could allow Heulot to return to the pro ranks once the French economy picks up and pro cycling sponsorship becomes a more attractive proposition.
In the meantime riders have known what was happening and many signed contracts or options to sign with other teams. Only these deals could not be announced otherwise it would scare away potential sponsors. No doubt many will end up unemployed but hopefully a lot of riders remain in the pro peloton.
Cannondale + Tinkov?
There's talk that Oleg Tinkov will sponsor the Cannondale team. He pulled out of the Saxo-Tinkoff this year and left them with a funding shortfall. Viewed through a cycling lens at least, Tinkov seems to bring cash but is not there for the long term. It's the opposite of Heulot: cash rich but lacking a structural foundation.
McQuaid to step down from IOC
Pat McQuaid has been a member of the International Olympic Committee board but the role occurred by virtue of being the head of a sports governing body. Therefore he'll be stepping down and already the IOC website gives a 404 error for his name. One of the more ridiculous claims during the McQuaid campaign was that his membership of the IOC was essential to protect cycling. Brian Cookson doesn't automatically get a spot and with several Britons inside the IOC he might never get a gig. But to imagine cycling curtailed or dropped from the Olympics sounded like a scare story, it's a sport that is popular around the world.
Flandrien of the Year
You know the end of the season is coming because there's talk of awards. First up is the Belgian "Flandrien" of the year. The five nominees are Jan Bakelants, Philippe Gilbert, Gianni Meersman, Sven Nys and Greg Van Avermaet.
No mention of Tom Boonen and it's not been a great year for the Belgians with Jurgen van den Broeck crashing out before he could try for the podium in the Tour de France. Bakelants has done well, Meersman has had his best season. But it's Sven Nys with multiple wins and the Superprestige who wins on numbers although cyclo-cross has other awards and it would be the first time it goes to a cross rider.
Giro Route

The route of the 2014 Giro is being trailed by RCS. Obviously the start in Belfast is know but there have been announcements about the Barbaresco-Barolo time trial and the stage finish on Monte Zoncolan. Now Tuttobici claims to have the whole route and there's a nod to the second world war with the Montecassino finish and a mountain time trial from Bassano to Monte Grappa. The official announcement is next Monday when we'll get all the details, including stage lengths and which climbs will feature along the way.
Rainbow Jersey
Didn't win a jersey in Florence last week? I don't usually feature charity fundraising stories as there are too many to list. But someone who's done some translating work for pro races has got a signed Gilbert jersey for sale on ebay and other items.
Tiernan-Leak
Finally a word on the Jonathan Tiernan-Locke story. The Sky rider pulled out from the worlds at the last moment and there was talk of an injury. But the weekend saw the story that he was being questioned by the UCI about his blood passport data and it turns out he's withdrawn from racing "whilst his response to the UCI is prepared then considered by the UCI". A few people have asked about the story on Twitter and by email and it's worthy of a bigger look and I'll return to this later in the week.