What's the secret of Team Sky's success? One element is money as the squad has one of the highest budgets in the sport.
Sky are the only major pro team to publish their accounts and the latest set have just been filed. So here's a look at the numbers from the headline budget down items like the spend on travel, rider transfers and equipment.
There's the team budget for the 2012: £21.4 million ($34.5m / €24.5m, exchange rates at the bottom of the page). Teams are business-like but they are not run for profit – UCI rules constrain this – so there's no surplus. Now onto the money that flows into the team's coffers.

Here we can see the three prime sources of revenue: Sky, other sponsors and race fees/other income. Title sponsor means "Sky" but it's split between Sky in Britain (BSkyB), Sky Italia and News Corporation Europe although all three entities are controlled by the same parent company, 21st Century Fox.
Note the big increase in sponsorship money. Sky are paying more and "performance sponsorship" means all the others like PepsiCo brand Gatorade and Tata Motor's Jaguar. Race fees are paid to all teams for participation. In an era where teams are struggling for sponsorship the hefty increase in revenue here is very impressive.
Team Sky started in 2010 with initial sponsorship of £40 million for five years from BSkyB, the British broadcaster that is 39% owned by 21st Century Fox. Since then Sky Italia has come in for 25% of the sponsorship with News Corporation Europe another 15%. The £40 million commitment looks set to be exceeded because the team has received £10m in 2010, £10.5m in 2011 and £13.4m in 2012, £33.9m over three years. Note the Italian sponsorship deal explains the presence of several Italian riders, the additional motivation to win the Giro this year and why the team has had subtly different kit when racing in Italy.
Having looked at the money coming in, let's look at what it was spent on during 2012.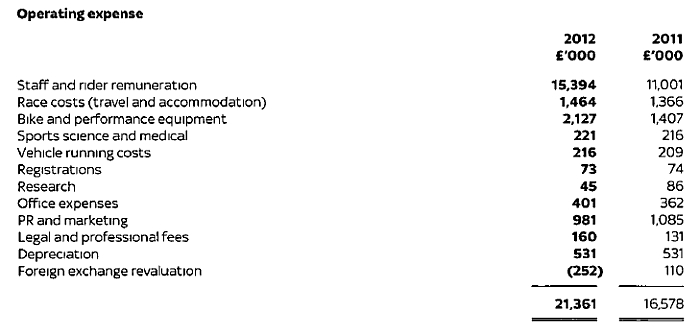 This is one of the most interesting sections. Note the 40% jump in the wage bill, from £11 million to £15.4 million. We can assume a significant share of this went on hiring Mark Cavendish. Note wages went up 25% from 2010 to 2011 too.
The "Bike and performance equipment" line is interesting. As seen above, Sky earn £4 million other sponsors which includes the likes of Pinarello, Shimano and Rapha and some of this is going out in the £2.1m line above, for example when a frame is finished. But the team also has a policy of buying various items for the sake of performance, for example buying Veloflex tubulars or speciality carbon rims and each company is too small to sponsor a team of this size. We've seen some riders buying their own carbon wheels over the years but here we see a team doing this and the spend involved.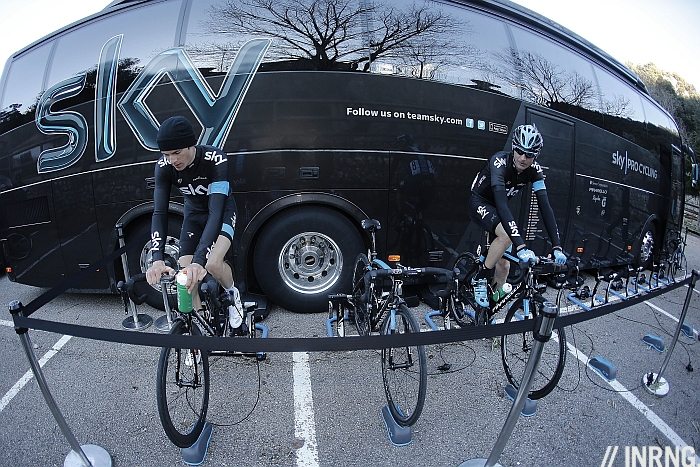 Vehicle running costs include fuel the two "Death Star" team buses which cost thousands of Euro to fill. Even when parked they're drinking diesel to power the generators for aircon and coffee-makers.
The team spends close to £1 million on public relations which shows that simply having a logo on the kit is necessary but not sufficient for corporate sponsorship, a share of the money is spent in order to get the message out and inviting VIP guests to experience events. But it still didn't prevent them being unprepared for Bradley Wiggins' media grilling about dopage during the 2012 Tour, and Chris Froome got the same again this year.

Having a budget in one currency and expenses others means a foreign exchange risk. As we see it's provided a bonanza of £252,000 for 2012 rather than a loss in the previous year. This is a sum is equivalent to the budget needed to run a top women's team for a year. The budget is so large that an un-budgeted accidental gain from currency fluctuations is enough to run a women's team.
Now onto the assets. If you think Sky's top assets are its riders you're right in a way but accountants think different, riders are mere expense items. But they do show up as assets in other ways…
Mystery surrounds the rider transfer payments in 2012 which totalled £302,000. The previous payments included the transfers of Bradley Wiggins and Ben Swift, each controversially bought out of their respective contracts with Garmin/Slipstream and Katusha. The extra for 2012 could relate to new hirings but it's feasible it relates to payments for transferring riders and staff out following the adoption of the "zero tolerance" anti-doping scheme towards the end of 2012. It's a lesson that we get the accounts but can't account for last operation.
Now how many people do you think Team Sky employs? You're probably thinking of the riders, managers, mechanics, soigneurs and more, right? Wrong, the team has a staff of seven. See for yourself…
Sky had one full time employee in 2010, three in 2011 and now it's got seven. But what of all the riders and others? They're hired as outside contractors, each selling their services to Tour Racing Ltd just like a lawyer or window-cleaner might provide services to another company.
Value for Money?
Sky's spend is focussed on a process to achieve results rather than hiring star riders and hoping they replicate past performances.  High wages can correlate with results but Sky have had been ahead of the curve on rider wages with Bradley Wiggins and Chris Froome, hiring them on "contender" pay packages before they won the Tour de France. Now both are on substantial packages meaning certain outgoings for next year but uncertain results.
And for all the talk of a superteam, note they've practically given up on bunch sprints by releasing Mark Cavendish. Trying to win a grand tour whilst running a sprint train is too much for anyone, no matter what your resources are.
Is it worth the spend? That's subjective but all the publicity from winning the Tour de France is very valuable. Note that BSkyB's total marketing spend in 2012 was just over £1,064 million (yes, £1 billion) meaning Team Sky represents just 1% of the annual marketing spend.
Does money buy results?
No but it goes a long way to putting things in place to make them happen. Funding isn't everything, just ask BMC Racing who spend big but only their trophy cabinet looks emptier. They're now playing catch-up, for example putting Allan Peiper in as Performance Manager.
As long as Sky can access the prodigious resources of one of the world's largest media companies it will remain a leading team in pro cycling. As we've seen the funding increases to match the team's ambitions. But it can only go so far.
Amidst the numbers there's some wording that seems to have been written near the start of the year, celebrating Froome's win in the Tour of Oman and looking forward to the classics and Giro. Things didn't go to plan.
What about the other teams?
Every team has to produce accounts for the UCI for the annual licensing procedure but these are confidential. To my knowledge only Team Sky makes their account public, British law requires this. But you won't find this on the Team Sky website, the document is lodged with a government agency and only available to those who pay.
Even if we could see the accounts the numbers don't tell everything, for example French law requires teams to take on riders as employees and jobs are heavily taxed in France so the payroll would look very different. Either way Sky's spend is very big, it's in a bracket with BMC Racing and Katusha and more than double the budget of Garmin-Sharp or FDJ.
Conclusion
If you want to know the secret of Team Sky's success then these accounts are a good place to start. £21.4 million goes a long way in pro cycling but it's a tiny fraction of the Sky corporate marketing budget which helps explains why the team can increase its spend every year by such a substantial amount. Other sports are wildly different but and for what it's worth Manchester United's wage bill should be enough to fund the entire bill for all 507 World Tour riders.
These accounts give us an insight into a pro team budget but remember Sky is the exception, your average World Tour team spends half the cash.
£1 = US$ 1.61 = €1.24 on 31 December 2012
£1 = 1.62 US$ = € 1.19 at today's rates
Thanks to reader Simon R for sending in a scanned copy.