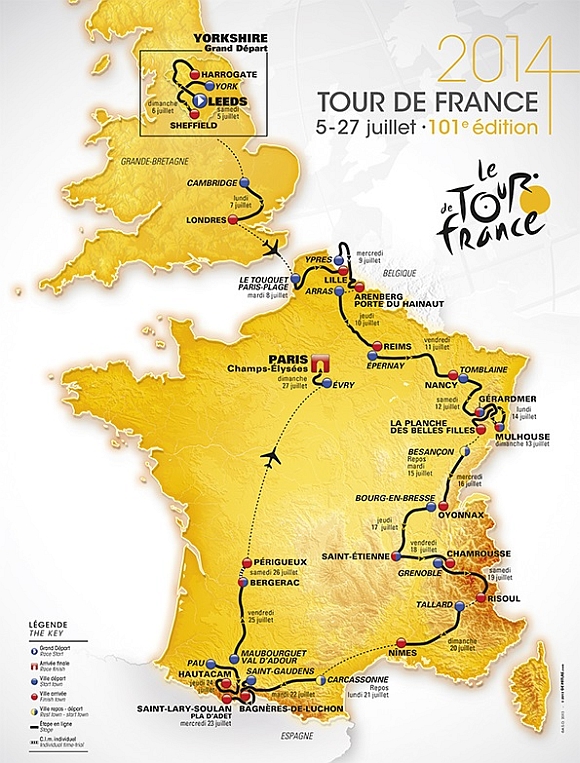 With the presentation of the 2014 Tour de France now a week behind us, what to make of the 2014 route? With some perspective we can see more.
The race might stick to the east but it will visit a lot of people and by accident it's also a tour of Europe's rust-belt cities from Sheffield to St Etienne. Plus some thoughts on where to visit and the darker side of Tour founder Henri Desgrange.
Tour des Français
Look at the map and it looks like a Tour of Eastern France. How can you have a race that misses out so much of the country? Well because the race can visit different regions in other years of course, things balance out. But note if the race doesn't visit all of France, it will visit a lot of French people. Here's a map of France with population density by départment: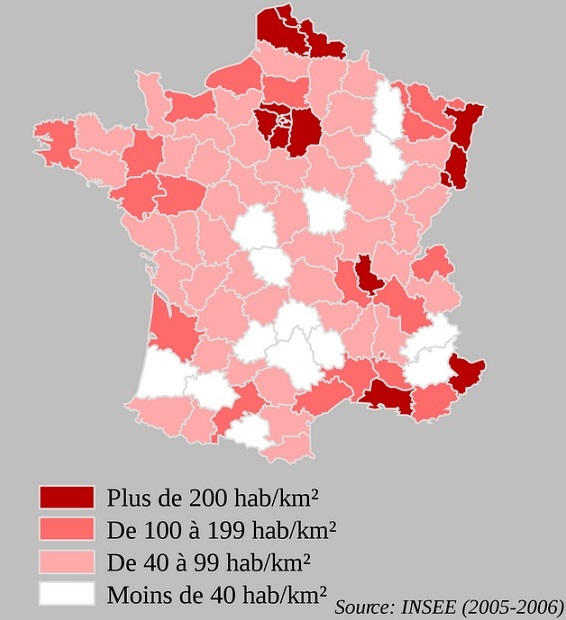 Tour de Rust
One reason for the high population was rapid urban growth caused by industrial expansion. Coal and steel saw many of the red regions to the north and east boom. Only it's all been on the slide. The people remain but sometimes the jobs do not. If there's commemoration of the Great War, another unintended theme looks like the Tour of deindustrialisation. The race is set to visit a series of places where industry has collapsed leaving scars and sometimes still open wounds in the form of high unemployment and other social problems. Sheffield, Lille, Arenberg, Nancy, Mulhouse, Oyonnax, St Etienne and even the Pyrenean valleys have seen factories vanish.
Of course each town will boast of regeneration and a vibrant future and bringing the Tour to town is a way to shine a light on the improvements even if the race only rides in to town for a day.
Desgrange and the heart of France
If numerical analysis is not your thing what about patriotism? The race arguably passes through many areas associated with French nationalism. You might think of the country's heart being in the middle of the map but in the mindmap of national identity France's spiritual home lies somewhat to the east. Reims is famous for Jeanne d'Arc and where the Germans signed the act of capitulation in 1945.
This is a slippery slope but the race's visit next summer to Nancy would please Tour founder Henri Desgrange. Prior to the Versailles Treaty of 1919, Nancy was on the border with Germany and Desgrange delighted in sending the race to "France's eastern capital" to deliberately taunt Berlin. He loved France… but hated Germany and the Prussians and once called on Frenchmen to slam the butts of their guns down on Prussian chests, to spill their blood and show no forgiveness.
Whilst we celebrate Desgrange's genius as a race organiser and newspaper salesman he had a more sinister streak. He sent the race to the Vosges out of provocation. Of course the race visits in 2014 in search of good roads but the race will need think carefully about commemorating the past whilst finding a way to skip past the event's early nationalist streak. I'll return sometime soon to Desgrange's more sinister legacy.
To pavé or not pavé?
Back on more familiar ground and there are different views on whether the cobbles should be in the Tour de France. One side says these roads are part of France and part of cycling lore; the other says it's too dangerous and a circus stunt for TV. Of course both can be true. Riders scared about the cobbles have two choices: get familiar and comfortable with them or spend next July riding the 100% tarmac Tour of Austria.
"L'enfer, c'est les autres"
Jean-Paul Sartre
Satre said "hell is other people" and the difficulty of riding over the cobbles is one problem but the peloton psychosis is another. Fear of the cobbles means riders fight for position and teams accelerate to place their riders near the front forcing other teams to respond, an infernal spiral that forces riders to take risks and where accidents are likely.
First week siesta-fest?
Stage 2 is hilly and could cause problems but all eyes are on the cobbled stage for a race: it's difficult. The other stages will of course have their moments but it is possible to have an entire week of bunch sprints. TV viewers might be doing a rain dance… if they can rise up from their sofas. Then again I'd pencilled in the second week of this year's Tour as dull and we got some crosswinds and breathtaking racing. Still, it should take something unusual or external to the race to split things up.
Full route
Some have been asking when the full route comes out. The answer is normally in May. You can plot it yourself for some of the mountain stages because there are few roads to link up the main mountain passes. But if, say, you're planning a trip to France and want more precision, email me and I'll try to help.
Where to visit?
Seeing a stage of the Tour de France is something everyone should do. Even Britons finding the race on home soil should consider seeing it in France although perhaps not this year. You'll rarely catch the decisive moment of the race so a determining factor in where to visit is your preference for a particular region.
The cobbles are exciting but visit them in April to see Paris-Roubaix for real when there's a chill in the air and mud in the fields. The Vosges mountains would be one tip, fine roads to explore and the race criss-crosses a few points meaning you can see three stages without having to travel much. This allows you to try different experiences, watching in a village bar one day and then seeing the finishline jumbotron the next.
The Alps look avoidable this year, the race doesn't linger there. The Pyrenees look a better bet and are worth visiting for their scenic charms and the retro vibe where each kilometre south of Pau takes you back a year in time. You see signs like older cars, faded adverts and hotels with phones where you dial rather than punch a phone number.
For a more technical analysis of the race route with stage profiles and more, see 2014 Tour de France.