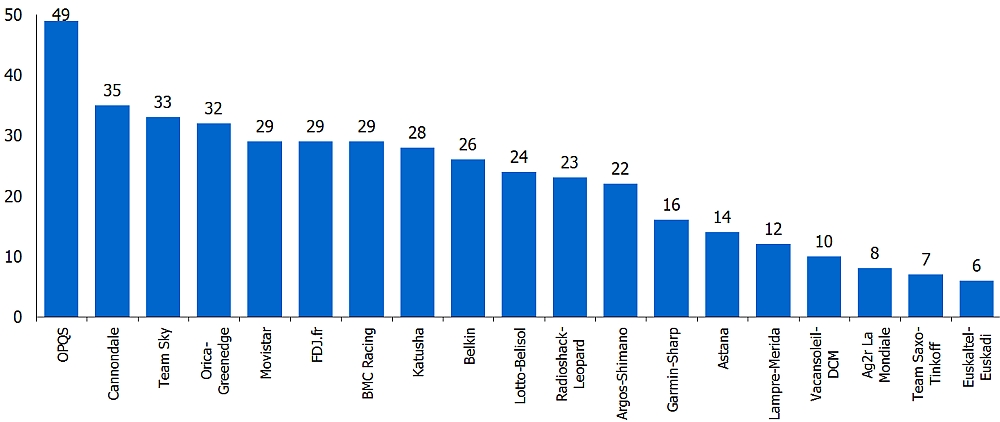 With the Vuelta done here is the listing of team wins so far this season. This will be the penultimate version this year as we're now into the final section of the season with just 47 of the 553 days of racing remaining.
As ever the usual caveat that cycling is not about quantity, surely every team would swap all their wins for the overall winner of the Tour de France. But these rankings do cut through to illustrate several points, for example Euskaltel-Euskadi sit in last place and illustrate the problems facing Fernando Alonso as he looks at buying the team's licence. With just six wins (of which two are Ioannis Tamouridis winning the Greek road and TT championships) the team's win rate is extremely low. Alonso might have a passion for the sport but he's got to spend hard cash too.
On a more cheerful note Cannondale are on a real run thanks to Peter Sagan. The Fastvakian has racked up 22 wins this year, more than anyone else – Mark Cavendish is on 16, Marcel Kittel 15- but even without him, the lime green team would sit with a respectable number of wins and obviously without him they'd have cash to hire someone else. BMC Racing are of interest too as their 29 wins counter the "loads of money, no results" sticky label. Meanwhile FDJ are having a record year with more wins than ever. The French lottery team goes back to 1997 of course when a pony-tailed Chris Horner was part of the squad.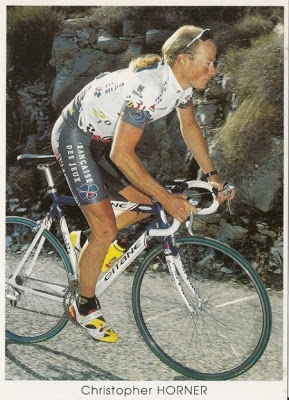 Enough of the past. It'll be interesting to see how teams build squads for 2014. Take Garmin-Sharp where Tyler Farrar has no new contract and Robbie Hunter is going, as if the team is reducing its presence in the sprints, at least it'll be up to the Kreder brothers and Steele Von Hoff to step up. Orica-Greenedge are supposed to be moving towards more stage race success but for now they still seem packed with sprinters, it will be interesting to see what happens with Matthew Goss. Meanwhile Saxo-Tinkoff look set to become Saxo for 2014 and with less money following the volatile Oleg Tinkov's decision to stop sponsorship, Bjarne Riis is going to struggle to hire riders capable of winning more frequently. If the team had won more this year would Tinkov have stayed?
UCI Pro Continental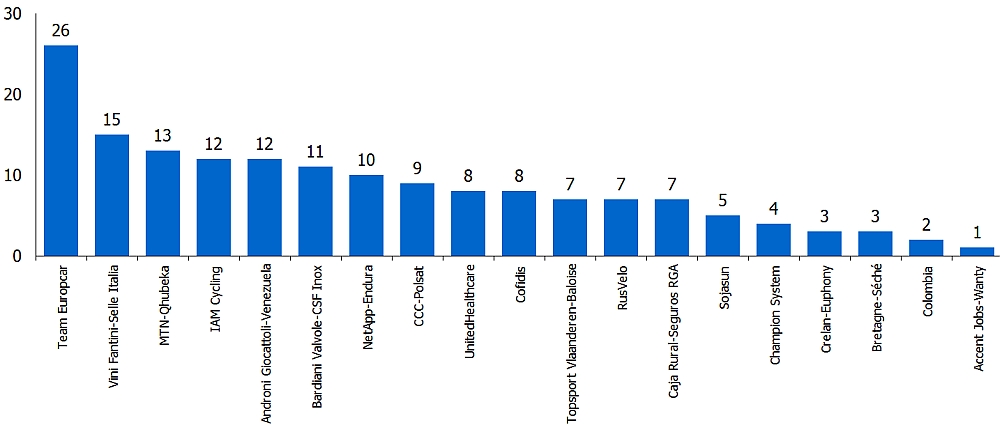 As we can see Europcar are on another level in the Pro Conti ranks. Vini Fantini have yet to lose Mauro Santambrogio's two wins this year and if this happens then MTN-Qhubeka would be on equal terms.
There's a mix of budgets and ambitions here, several teams seek wildcards for grand tours, we've seen NetApp-Endura have a good Vuelta and Caja Rural were very aggressive. IAM are strengthening for 2014. Meanwhile Colombia have just two wins and their best riders are being signed by others. The squad has been an exciting presence in some races but they'll struggle for invitations next year without riders capable of winning big.
A word on Sojasun. Team manager Stéphane Heulot has set a deadline of 1 October to find a new sponsor but things are looking tough. Already the best riders are leaving with Julien Simon – he of the late breakaway to Lyon in the Tour de France – going to Cofidis whilst Europcar have signed Jimmy Engoulvent. Movistar are said to be interested in a couple of others. If you've been watching the Tour of Britain you'll have seen Anthony Delaplace on the attack, he's a big rouleur who'd suit many a sprint train whilst Alexis Vuillermoz is in his first year on the road, did the Tour de France and has looked strong in other races.
Conclusion
These rankings are simplistic but if you want to know which teams are folding or struggling for sponsors, look at the number of wins. Yet if budget and wins can be correlated, it's not always the case.
This year teams are building rosters for 2014 without the pressure of the World Tour points system as there are only 18 teams chasing 18 places thanks to Vacansoleil-DCM's retreat. But all those rankings and scores are for spreadsheets and fans who want to geek out. What most people want to know is who is victorious.