Today is the start of the transfer season for pro cycling, at least in official terms. It's the time when deals to change teams can be signed but also the start of a nervous two months for lesser riders whose contract is up at the end of the year.
The more you look at it, the more 1 August is an arbitrary date rather than the start of anything new. More so right now because almost every top rider looks to be staying put for 2014.
Unlike many normal jobs, you can't just change from one employer to another at any time in the year. Sports involve seasons and teams and the movement of riders is regulated. See the case of Alessandro Petacchi who has officially joined Omega Pharma-Quickstep today after the team had tried to sign him in the spring but got blocked by the rules.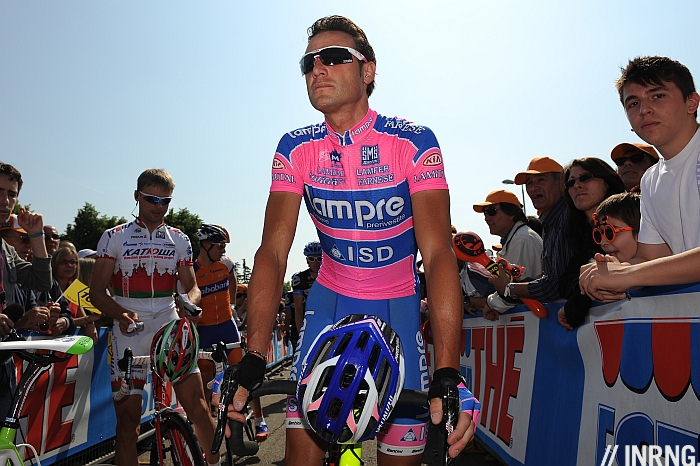 But even moves to join a pro team for 2014 are regulated. A pro with an existing World Tour or Pro Continental team cannot ink a deal to change teams until today.
2.15.120 A transfer period exists and applies to all changes of team, whether between two UCI ProTeams or a between a UCI ProTeam and a professional continental team. The transfer period for any change of team during the season extends from 1-15 August. For any change of team between two seasons, the transfer period extends from 1 August to 31 December.

2.15.120b A UCI ProTeam or licence applicant may only recruit riders during the transfer period. For the purposes of this article «recruit» shall be deemed to mean concluding a contract with a rider to ride for the UCI ProTeam or licence applicant's team.
Read the rule and you'll soon see "'recruit' shall be deemed to mean concluding a contract" and that the obvious conclusion to a contract is signing it. In other words a rider and a team can talk any time they like, they can discuss pay, the recruitment of other riders and more. All so long as they don't "conclude" the contract, in other words they can settle all the terms of the deal and wait for 1 August to ink it.
Because hiring a top rider is literally a big deal, a lot of work can go into the contract celebrations. So instead of inking a deal before today, other agreements can be made, for example a deal to pay a signing bonus if the contract is signed in August or perhaps a bonus scheme where a rider is rewarded for every UCI point they earn this year, in effect meaning they're riding for their current team but also incentivised to ride for their future team.
The reality is the transfer season is open all year round, it is only from today that deals can be signed in full and these moves made public. In other words the transfer season is almost meaningless, a window reserved for press releases and photo opportunities.
2013 > 2014
This year's transfer season looks very quiet. In recent years moves by Alberto Contador and Mark Cavendish have defined the jobs market and given fans a way to project themselves into 2014. But looking at the UCI rankings, none of the top-10 are moving teams. It's only Rui Costa in 13th place who is reported to be looking at some offers to move and maybe the same for Michele Scarponi in 14th.
It seems the big spending teams are all content with their roster and are only making small additions here and there. The exception and possibly the biggest transfer of the year could be Rigoberto Uran from Sky to OPQS, a grand tour contender but he's often played a support role so it's not a headline-grabber. Meanwhile Astana shower some petrodollars on Lieuwe Westra and Franco Pellizotti, a combo whose combined age is 65 but a deal that could be thwarted by the MPCC Rules which insist a banned rider like Pellizotti cannot be signed for two years following his ban, and the Italian was caught with a suspicious passport and given a ban that ended in May 2012 meaning he can't be signed until May 2014. An interesting test for the MPCC and Astana.
Instead renewals seem to be the norm this year, with Chris Froome looking to bump up his contract to a level more commensurate with his status as a peer of Vincenzo Nibali, Joaquim Rodriguez and Alberto Contador. Garmin-Sharp have been renewing several contracts with Hesjedal, Talansky staying and T-J Slagter from Belkin coming, it's almost as if they've got extra funding for 2014.
Lower down the rankings there can be plenty of movement. For example Europcar have a sponsorship renewal but with the same cash sum available meaning if Thomas Voeckler and Pierre Rolland get new contracts then there's not enough cash to retain classics riders like Damien Gaudin and Séb Turgot. It's not an easy time with many Euskaltel-Euskadi and Vacansoleil-DCM riders looking for a new job. This is particularly awkward for the market as it means a surplus of both climbers and classics riders hitting the market, putting the squeeze on a range of riders.
Conclusion
Today marks the start of the transfer season but it looks like a quiet time without any big stars changing teams. The 1 August deadline doesn't seem to have much purpose beyond delaying official announcements and providing some post-Tour headlines because if contracts can be officially signed and dated from today, the handshakes have been done weeks or even months before.