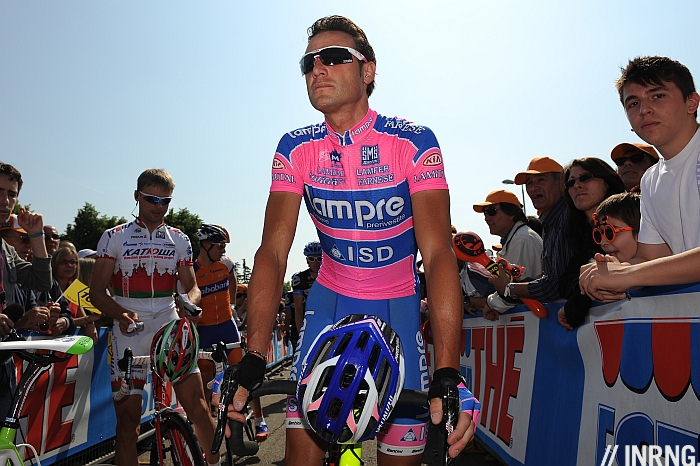 Sprinters and lawyers have more in common than you think. They're often well-paid and they spend their time trying to squeeze through gaps and loopholes.
In recent days we've had news that the Omega Pharma – Quickstep team had been looking to hire Alessandro Petacchi. The Italian would make a useful addition to the team as a leadout man for Mark Cavendish. He is fast and experienced and if he's not the victor he once was, there's a career for a year or two spent in the service of Cavendish.
But cycling doesn't normally allow mid-season transfers and if some reports said OPQS mechanics had even built a Specialized for Petacchi, he's not moved yet. Indeed it looks like a potential loophole has been closed by the UCI, fearing the precedent could set by a mid-season transfer. But what if we allowed teams to trade riders during the season and created a transfer market?
The UCI has a set transfer period. Rule 2.15.120a says "The transfer period for any change of team during the season extends from 1-15 August" which means if a pro team wants to recruit any rider mid-year it has to wait until 1 August before the move happens.
But Rule 2.15.121a say "Only a rider with no contractual links to a team may be recruited outside the applicable transfer period" which means a team can recruit an out-of-contract rider at any point during the year. For example last year New Zealand's Sam Bewley was picked up by Orica-Greenedge in May last year to fill the spot left by Robbie McEwen's retirement.
The loophole in the UCI rules is that a team, let's call them Sigma Farmer-Quakerstop, could quietly approach a rider currently under contract with an existing team and whisper details of a new contract to them. Our rider then informs his existing team that he's giving up the sport. Maybe he's injured, maybe he's just bored but he stops. Then being out of contract our rider gets an official contract offer from the Sigma Farmer-Quakerstop team who tell the media he could be a good addition. The team checks with the UCI and everyone agrees he's out of work. Therefore he can be signed, unemployment is reduced by one, and in no time at all our rider is wearing the Sigma Farmer-Quakerstop jersey.
The trouble with this loophole is that the rider can only be hired if he's out of work and a recruiting team therefore has to engineer the situation and approach the rider by stealth so they can end their contract. This practice is called "tapping up" or "tampering" and it can be highly destabilising. By using these stealthy means a rider can effectively break their existing contract to move to another team. It's why cycling has a fixed transfer period, otherwise big teams could raid small teams.
Indeed speaking to La Gazzetta Dello Sport yesterday, legendary Italian rider and UCI official Vittorio Adorni said Petacchi's early season switch "would set a dangerous precedent".
Transfer Market
But instead of seeing teams trying sneaky moves or simply being frustrated by the inability to adjust the team roster in the season, what if we allowed transfers during the year? Many other sports do this and of course it's normal in any line of work, I suspect you're free to change your job when you see fit although subject to some rules, laws and customs.
In support of the idea is that everyone can gain. A rider can move to a new team where they might be happier, one squad can fill a gap caused by injury or even suspension and the squad can unload a rider because it feels the rider is not needed. In simple terms a deal is done where everyone gains.
Against the idea is the destabilising effect of big teams being able to buy the best riders during the year. A small team could sign a neo-pro on a two year contract only to see them bought away after six months. It's also short-termist, at the margin it turns recruitment into a quick-fix policy where teams can buy in talent for the Tour de France or Giro rather than developing riders over time.
But the transfer market could take a variety of forms. In the simplest terms a rider moves teams but keeps their existing contract. The identical terms and conditions, especially salary, are carried over as well. But it's possible to explore much more complicated versions, for example to imagine compensation and transfer fees. We've seen this already in cycling because when Team Sky were created they bought Bradley Wiggins out of his contract with Slipstream and they also did the same with Ben Swift to get him out of Katusha. In these cases Slipsteam and Katusha management got a considerable cash fee as an inducement to let their riders go.
Conclusion
The UCI appear to have shut the door on Petacchi's instant switch to OPQS. It's likely the rulebook gets tweaked to make things clearer too. The Italian still looks set to join the team but just not in a hurry. The rules say 1 August so hiring the Italian in time for the Tour de France looks difficult.
Currently the system is firm, partly to stop big teams flush with cash raiding small teams. But longer term what if pro cycling allowed team transfers? This is an open-ended question because it could just go from creating a formal framework for exceptional cases all the way to a full transfer market.