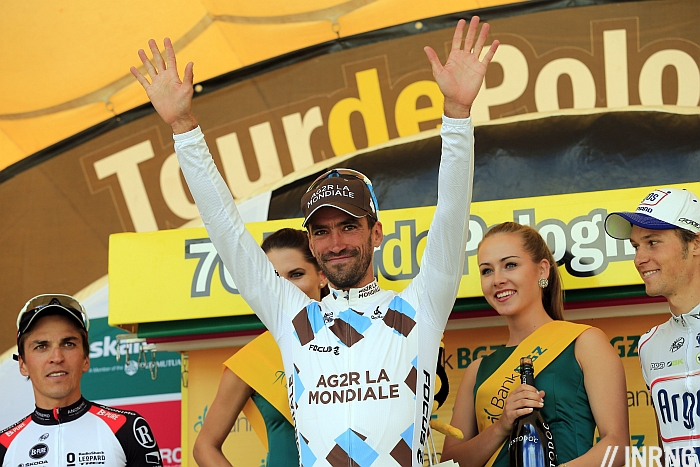 Christophe Riblon wasn't supposed to win yesterday's stage of the Tour of Poland. Having won on Alpe d'Huez 10 days ago he was set to cash in on his status as France's best rider in the Tour de France – stage win and the Supercombativity prize – by riding a series of post-Tour criteriums.
But Jean-Christophe Péraud's crash during the Embrun-Chorges time trial meant the team finished the race without many UCI points and so Riblon was sent to Poland with the aim of picking up some points. A stage win is one way to do this but a high overall position matters more, for example Riblon took six points for his stage win but he'll get 10 points if he can finish ninth overall.
The team is improving and Carlos Betancur raked up the points in the Giro and could well win many more in the Vuelta. There's now talk of signing Rui Costa and Sylvain Chavanel although it's one thing to offer a contract, another to make it worth signing. It's a far cry from the days when the team was hunting for Iranian riders with UCI points to stay in the top flight.
UCI Rankings
As it happens all the top teams should not have to worry about their rankings too much. With both Vacansoleil-DCM and Eusktaltel-Eusakdi likely to stop at the end of the year it means relegation for other squads should be less of a worry, more so since there are no squads looking for promotion into the top-18 teams either. With 19 teams currently thanks to the Katusha case, the number is fixed at 18 for next year but could actually be 17 given the likes of Europcar and IAM are content with wildcard invitations.
Bad jobs market
What's good news for team owners is less encouraging for riders and their agents. With teams folding there's an excess supply of riders on the market and with no new teams – beyond Oleg Tinkov's twitter dreams- it means rider agents are finding it one of the quietest transfer markets for some time and wages are not going up for riders with a haul of points.
Movistar De Lux?
If Euskaltel-Euskadi vanishes then Spain is left with only one top team in Movistar. The good news is that Movistar look set to stay and could get a budget increase to secure the services of Nairo Quintana and more for years to come. I also understand that Movistar is considering a move to Luxembourg; the team will remain Spanish in all other senses but could register in Luxembourg for tax purposes which might allow its budget to reach further. Astana is already registered in the Duchy rather than Kazakhstan or Italy where it has its service course.
Erik Fabel
I wish Denis,that he'll find Rest&that his Family&good Friends are Strong enough to help him Out in the next Months!good Luck&dont Comeback!

— Erik Zabel (@EteZabel) April 17, 2012
That's Erik Zabel commenting on Dennis Galimzyanov's positive EPO test 15 months ago. The German's losing several jobs in the wake of his forced confession but has yet to quit his role at Katusha.
Crash
Apologies for the downtime with the website during the past 24 hours. There were mutant levels of readership in July – 1.2 million page loads if it means anything – and the monthly bandwidth allowance got eaten up. This after May when the bandwidth subscription was already increased following a busy Giro.
On a related point, note a few spam messages are getting through the filter from time to time. There are roughly 20 spam comments for every real one and the software filter is 99% good at separating the real from the phoney so you don't get to see the junk messages for counterfeit goods. But a few have been getting through of late and have to get manually deleted. If you see a weird comment with links to sunglasses or handbags think twice before clicking on any links in the message. It's annoying but also strangely fascinating, the underworld of fake handbags and sunglasses, scams and more. It looks so bogus and futile even but obviously someone's making money from it otherwise it wouldn't happen.