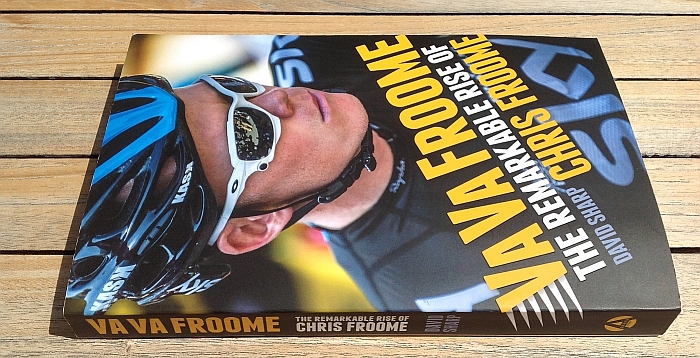 With his win in the Tour de France Chris Froome is the man of the moment but how much do you know about him?
Put the Tour win aside for a moment because Froome is one of the more unique characters in the bunch thanks to his start in Kenya and the long path to a pro contract via South Africa and Italy. All this provides rich material and this biography sets out explain the route Froome has taken. But can it describe what the journey was like?

Va Va Froome by David Sharp
The book takes a chronological approach through Froome's life from childhood to the 2013 Tour de Romandie when presumably it went to print in time for the Tour de France. Nobody floats to the top of a tough sport by accident but this is a different story as it begins in Kenya.
Along the way there are interviews with those who have encountered Chris Froome and it's via these encounters that we learn the most. For example Kenyan David Kinjah explains Froome's early rides in the bush and how he had a bike that was too small, apparently this explains his strange position on the bike today. An old school teacher in South Africa explains Froome was given time to ride his bike despite the cult of rugby and cricket: Froome is portrayed as the outsider but not the loner as he's sociable and perhaps an early leader too with prefect status in school. Later Michael Barry, a room mate on some races, gives his view on Froome's chaotic style and lack of racecraft.
Long list
But often the personal touch is lacking and gets replaced but a long list of race results. At times it's like reading an extended version of Froome's page on Cycling Quotient with each race accompanied by text. For example Froome rides Paris-Roubaix in 2008 and three of the race's nicknames are cited but he doesn't finish the race. When Froome finishes 121st in the Tour of Flanders you are told of the Kemmelberg, the day's winner and so on. Knowing Froome finished "a solid 23rd" in the Trofeo Laigueglia doesn't add much either. So it goes on and the middle section has the feel of a surveillance log with a dry list of events recorded as Froome is observed from a distance.
"It made me realise that nothing comes easy; nothing is given to you. In Africa I realised you have to make things happen for yourself."
Some anecdotes that stand out. Amusingly we learn how Froome and Kinjah used a fake hotmail account to fake an email from the Kenyan cycling federation so he can ride the 2006 world U-23 championships in Salzburg. When he gets to Austria he rides in a downpour to attend the team manager's meeting and walks into the room dripping in his cycling gear to be told it's not for riders, only to reply he is the Kenyan rider, manager, mechanic and more. All this before his infamous crash in the time trial.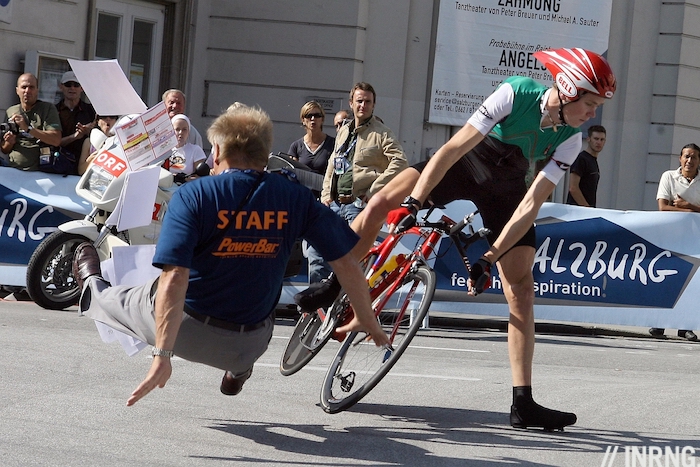 But be patient and you get the picture of a rider struggling to find their place in the sport. It's when context is added that we learn more. For example Claudio Corti, the Barloworld manager who today runs Team Colombia, is painted as old school with retro ideas about diet, as if he's unable to uncover Froome's apparent buried talent. Froome himself gets lost on training rides and if his geography is imprecise, the implication is his training methods are just as haphazard.
Sky Fail
Even with Team Sky things don't work out. He joins the squad on the launch of 2010 but by the time his contract is up for the end of 2011 he's being managed out of the squad thanks to a relatively low value contract offer (it's not in the book but he was close to signing with Slipstream). But as the bilharzia parasite is diagnosed Sky coach Bobby Julich has noticed his power output was so good he has to double-check Froome's SRM unit to make sure it's calibrated right. Then, in part because Stephen Cummings has signed with BMC and so gets dropped from the Vuelta team, he gets a spot on the team for the Vuelta. Again it's a lucky break. From here the career chrysalis ends and Froome flies up the climbs. Soon contracts with phone-number salaries start coming in and Froome signed his three year deal with Sky. The book continues in the same way with Froome's racing catalogued all the way until the Tour de Romandie when the book went to print and the rest is history.
Private Life
Froome's lack of cooperation with the book need not be a problem, see Richard Moore's "In Search of Robert Millar" or Daniel Friebe's "The Cannibal" for examples of biographies that paint very colourful pictures with little if zero input from the subject themselves. Va Va Froome has contributions from others but it's often brief and you're left with little idea about the personality of Chris Froome, just a determination to succeed that's often thwarted by inexperience but you don't get too much more. Apparently he dated a model called Andrea whilst living in Italy and would sometimes train listening to DJ Tiësto but apparently doesn't listen to that at home. Now he rides a bike for a living and this doesn't give anyone the right to know about what music he likes, his preferred meal or other private trivia but still, this book makes you feel like an employer reading a CV of a talented candidate. It's impressive but you really need to interview him; or really go for a spin or a beer with Froome to chat more.


Summary
Va Va Froome collates results and interviews over the years to map out Chris Froome's cycling career, binding it all into one book. It's handy if you're hungry to learn more about the Tour de France winner, for example if Barloworld means nothing. But it's not a great piece of storytelling, there are anecdotes and insight but too often it reads like a CV when you really want to interview Froome instead.
Disclaimer: this book was sent free for review.
A list of other book reviews can be found here.