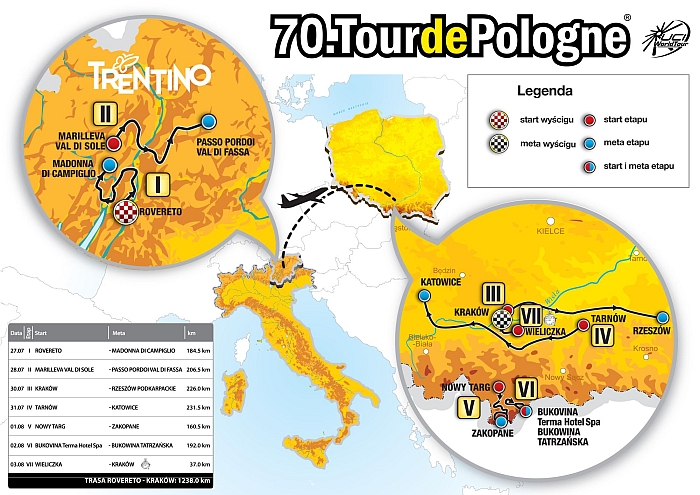 The Tour of Poland starts tomorrow. It starts in Italy for two mountain stages before flying to Poland. But if that's new for 2013, there are changes to the rules and format which are being used as an experiment and could be applied to other races.
To pre-empt those "what is the Tour of Poland doing in Italy" calls, I agree… but note it's always been a race in the south of Poland. It doesn't go near the capital Warsaw or the other big cities in the north, so it's never really a been a Tour of Poland, just as the Tour Down Under is not a Tour of Australia. It's all good for the viewer because much of the country is flat, the race sticks to the best parts.
Now in new plans to make the race more interesting. For starters teams are limited to six riders only in a bid to make it harder to control the race. In addition there are special time bonuses available. As well as standard bonuses at the finish (10-6-4 seconds) and the intermediate sprints (3-2-1 seconds) there are 30-20-10 seconds available each day for the awkwardly named "attractivity contest" where points from the intermediate sprints and mountains classifications are added up each day and the rider with the most points on each day gets 30 seconds, the second rider 20 seconds and the third rider gets 10 points. But riders are on equal points each get time bonuses, meaning if three riders lead the day's score then they each get 30 seconds. Or imagine if a rider wins three points in an intermediate sprint and seven on a hill they have ten points and if another rider has five points from one hill and five from another hill both are tied on points but they'll each receive the time bonus. Here it is in a table grabbed from the race manual: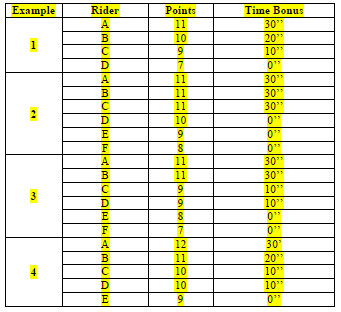 The idea is to incentive attacks and create excitement during the race. But are you scratching your head? If so then imagine what the public will make of it, a rider could complete the course faster than everyone else but still lose the race because they didn't get placed in an intermediate sprint or hill points. It's hard for riders to compute during a race too and good luck to TV commentators trying to explain it.
This engineered overall classification will be interesting to monitor and note it should be copied in the Eneco Tour later this month. The experiment is a taste of what's to come as the UCI looks for ways to make the racing more attractive to TV audiences.
BMC – Big Management Changes
BMC had a stinker of a Tour de France. The twin pronged attack of Cadel Evans and Tejay van Garderen ended up twin-wronged. During the race L'Equipe reported "a clash, quite violent" between managers John Lelangue and Yvon Ledanois and internal frustrations with Philippe Gilbert frustrated that he couldn't go on breakaways because he had to back his leaders. Evans is meeting management to see if they'll back him. A consistent theme with Evans is knowing and feeling that he's got the whole team behind him, he's not one who thrives when his back's against the wall.
Lelangue has now gone but his departure "for personal reasons" is wooden corporate-speak, as if the squad can't bring itself to admit he's been ejected after internal feuding and poor results. Management are holding a meeting with Andy Rihs determined to improve the results, he's spending close to €25 million a year on his team but not getting commensurate results although Greg Van Avermaet's just delivered the modest Tour de Wallonie.
The News Cycle
Doping stories these days seem so familiar. Take Stuart O'Grady's confession. A rider only confesses when caught and then we get the minimum admission possible, along with the "I acted alone" story. One of O'Grady's team mates was Frédéric Moncassin who was also on the suspicious list from the French senate, presumably acting alone too? Once the story comes out the UCI issues a self-congratulatory press release saying it is leading the way with testing. It's all so familiar. To complete the cycle O'Grady's got a book coming out at the end of the year.
Women's Tour de France
One a more cheerful note, have you signed the petition for a women's Tour de France? The more racing the better and the idea of lobbying Tour boss Christian Prudhomme. Getting the likes of ASO on board could really make a difference, the company brings a heavyweight organisational presence and has access to corporate sponsors, a far cry from the modest attempts of the Tour de Languedoc-Rousillon or the upcoming Route de France.
But it's still not as easy as some suggest for ASO. Some say putting on a women's race ahead of the men is fine because the roads are closed already but they're closed for the publicity caravan and closing them for even longer poses traffic and access problems. The same with "just" filming the women's race because if the finish line cams are in place, if we add at least two motorbikes two film the action then we need a helicopter too and an aeroplane circling above for the transmission link. But these are merely issues to work out.
I note senior British politicians are lobbying for ASO to launch a women's race in time for the Tour de France but would they not do better to look at home? Whilst the UCI women's calendar has many events in France, not to mention Indonesia, Mexico and Thailand there is not one in the United Kingdom.
Oleg Tinkov's new team?
One person less supportive of women's sport is Russian businessman Oleg Tinkov. He's been backing the Saxo team for a year with his Tinkoff brand. Now he wants to launch a new team after disagreement with Bjarne Riis. It's a big ask because suddenly creating a structure and signing new riders in time for 2014 means he's got to rush. He's made a career out of publicity stunts and self-promotion but seems to have gone into Twitter meltdown in the last month.
Di Luca Count
The Giro feels like a long time ago. All that cold weather and those fluo jerseys of Vini Fantini. It's 63 days and counting since Danilo Di Luca's A-sample announcement from the Giro. What's up with the B-sample?
Tour de France Fines
On the subject of counting, here's the total of fines levied during the Tour de France ranked by team. I've added up the amounts from the daily bulletin plus added the 1000 Swiss Franc fine for Tony Martin's use of rainbow stripes on his bike which does not appear on the daily notes but was reported. Make of it what you will, note Sky's one Alpe d'Huez incident was their only incident compared to some regular mistakes by Movistar who, in skipping the morning award of the team prize one day, saw each of their eight riders slapped with a 200 franc fine meaning 1600 for this moment alone.
"attractivity contest