…but is Your Bike UCI-approved?
A follow up to Monday's piece about "forbidden races" where the UCI was instructing all national federations to insist on a rule that bans licence holders from unsanctioned events.
The UCI has now issued a press release saying it will not enforce the rule this year but it's coming 2014. But this doesn't solve the issue, it probably makes things worse.
The idea of having rules that people are told to ignore by press release is a novel one. But this isn't the only rule that was meant to apply to everyone but gets ignored. For example a recent rule requires all UCI licence holders to use approved bikes… only it's another example of a rule that nearly everyone ignores.
Quick recap
For years riders had been able to ignore a UCI rule that stipulated licence holders could only ride events approved by the UCI or its national federations. The rule had been largely ignored around the world. But last March the UCI emailed all national federations telling them to stop the indulgence and to enforce the rule, by implication anyone discovered riding an unsanctioned event would be liable to a cash fine and one month suspension.
Today
The UCI put out a press release:
The UCI listened to the feedback from the various groups involved and who feel affected by a strict and immediate enforcement of rule 1.2.019 and its associated sanctions. The UCI has decided to postpone strict enforcement of rule 1.2.019 in 2013 with the expectation that all stakeholders (National Federations, race directors, teams and riders) will discuss and do what is necessary to prepare for the rule's full enforcement in 2014.
We end up back where we started, everyone can ignore the rule. Only like any long journey, it can be tiresome and expensive.
First it's great that the UCI listened to feedback and backed down. But a month ago the UCI was instructing national federations to suddenly enforce this rule but appeared to be ignorant of what happens on the ground. Whether it was American MTB events, British time trials or French road races the email requesting the rule be enforced suddenly threatened hundreds of thousands of licence holders and numerous events around the world. No hindsight is needed to spot the problems this email caused.
Second we now have the farce of a governing body having to issue a press release to tell the world it has a rule but it won't be enforced. A governing body is only as good as its rulebook, the rules are to the UCI what the scriptures are to a religion. This is like a Monty Python sketch where a fictional Moses descends Mount Sinai with nine commandments and spare one that will have full enforcement next year. If the rule is going to be waived, why not delete it from the rulebook?
Third the press release says there will be "full enforcement in 2014" which means the same problems are going to come back very quickly. We can note some people have been warned but eight months' notice is not a lot for teams and race organisation committees. Rather than a pledge for "full enforcement in 2014" what would be better is a bit more dialogue so that exemptions can be granted.
USA Confusion
One thing is still not clear. USA Cycling has said the enforcement would only apply to those with an international licence. But the UCI rules make no distinction. When rule 1.2.019 says a "licence holder" it doesn't refer to special category, just licence holder. To borrow from rule 1.1.010 it applies to "man or woman, all disciplines, all categories." In other words "full enforcement" will apply to everyone.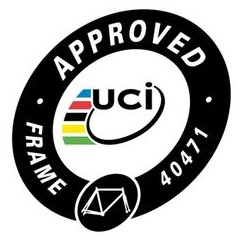 Approved Bike?
Talking of ignored rules, another UCI rule says you must use a UCI-approved bike.
1.3.001 bis Each licence holder shall ensure that the equipment he uses on the occasion of road, track or cyclo cross events shall be approved by the UCI
A reminder that this applies to "each licence holder" and if you've bought a new bike that doesn't have a UCI-approved label in the last year then you cannot ride it in an event.
Loyal readers will remember the topic from 2011. But it's another example of the UCI's mission creep where as well setting boundaries to the kind of event you can ride, it's ruling what label of bike you can ride. It's also another rule that everyone ignores.
Rulebook audit
These aren't the only rules that get ignored or flouted. There's often a problem when a rule exists but is not enforced because sudden action can cause trouble. In the 2011 Tour de France several teams kicked up a fuss after a rule about a level saddle position was strictly enforced but it had been widely ignored until then.
The British track cycling team appeared to use "tripwires" on their clothing at the Olympics last year although the UCI didn't notice. We can expect competitors to push the rules but a governing body always needs to stand firm. Given there are more examples of ghost rules that exist but are often ignored it could the chance to audit the rulebook with a view to working out which rules are working and which ones meed adjusting. Of course the UCI does review things and the rulebook is updated throughout the year but these adjustments often reflect current events rather than updating the parts that get ignored.
Summary
Hopefully the space created this year can be used constructively so that the rule on unapproved can be reworked to allow more flexibility. Rather than just delaying things, it's a good opportunity to review the topic to find a rule than can be upheld without frustrating active cycling.
But there's a wider problem with the rulebook and by extension the UCI. Whether it's races or bikes, parts of the rulebook have as many holes Swiss cheese and key rules on participation and equipment are ignored by many on the ground. For all the boasts of globalisation this distance between the high officialdom of Aigle and local racing around the world explains the confusion over rule because nobody at the UCI foresaw the problem of enforcement of this rule in the middle of the season would bring.