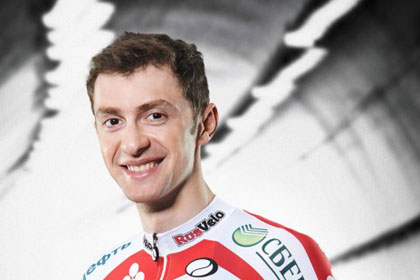 When the news came out about Valery Kaykov this morning I couldn't be bothered to mention it in a tweet. Doping news can crowd out other stories to the point where if one rider tests positive then it can be the only mention they get. Kaykov's had some success as a track racer but I'd not covered his success in the velodrome nor his wins on the road either so why mentioned he'd tested positive?
Only this has changed because the substance he's been caught with is GW501516, a drug so dangerous that WADA issued an unprecedented alert last month.
Many drugs get brand names, for example Epogen, Procrit, Eprex, Recormon, Dynepo, Epomax are all names for EPO,  recombinant erythropoietin. The drugs for sale in pharmacies and used in hospitals have to be approved by medical regulators and go through a series of clinical tests in order to be approved. GW501516 never got much beyond the first phase of its clinical trials, in fact it never got a name.
It was destined to be an anti-obesity drug. Like many, British pharmaceutical company Glaxo is hunting for an anti-obesity "wonder drug" to help cure the epidemic. The trials had a positive start as early tests on rats fed with a high fat diet showed little weight gain as, in simple terms, it helped control fat levels in the blood.
Separately from the trials, the Salk Institute, a research body, began to test the molecule on mice. It had another effect of helping endurance as rodents dosed with GW501516 seemed to acquire improved endurance, as if they'd undergone an exercise programme but without moving. The story got coverage as the "exercise in a pill" idea grabbed plenty of media attention. It's this that caught the eye of athletes looking for an illegal edge. Apparently when used with another banned substance Aicar there is a "synergistic effect."
But as with many clinical trials, the drug didn't get far. Sometimes the molecules don't work, sometimes only a few people respond and sometimes the product can have side effects. GW501516 was stopped because it was in the latter category and drastically so:
the drug rapidly causes cancers in a multitude of organs, including the liver, bladder, stomach, skin, thyroid, tongue, testes, ovaries and womb (New Scientist)
The full details are in the cheerfully-named The Toxicologist (page 189). Unsurprisingly the trials came to an end.
However GW501516 does have a name on the black market where some call it Endurobol. Yes, the drug might have been canned by Glaxo but it is being made by clandestine laboratories for sale on the black market where athletes and body builders seem to be buying it. A few keystrokes is enough to find bodybuilding forums where worries about members posting photos of themselves in their underpants are nothing compared to the chatter about the claimed benefits of Endurobol. If this isn't disturbing enough other websites are openly selling it although obviously without reference to the product's potent carcinogenic properties, nor that it is not licensed for human or veterinary consumption. In fact some work by testing labs suggests black market sales offer varied dosage quantities that don't match the labelled amount.
The other day WADA issued a press release to say it knew it was being used but warning of the dangers, a way to inform athletes who were not getting the message from those selling the product. It also said "there are a number of positive cases."
This brings us back to Cosmonaut Kaykov and his journey to the dark side of the internet. He was listed at the Brabantse Pijl yesterday but I can't found out if he started. He didn't finish and he'd probably prefer such anonymity given his name is now synonymous as the first GW501516 case.
Russian rush
Strictly-speaking he is not guilty yet because only his A-sample has shown the presence of the prohibited substance. But this has been enough for his team to sack him. Now he gets the right to his B-sample and a hearing with the Russian authorities. His team are obviously embarrassed but it seems drastic to fire him instantly like this. The team belongs to the MPCC grouping and in accordance with their rules has to suspend a rider in the event of the A-sample suspicion but firing is another thing.
The team put out the news that his contract was ended before the UCI could announce the anti-doping process had started and like some Soviet regime photo he's already been deleted from the team website. He might well be guilty but there is due process and what if the B-sample is fine?
But however much some might try to portray Kaykov as some desperate lone wolf acting alone, this can't be so. The drug in question seems so toxic he could need regular check-ups. But where did he get the substance from? The product seems so dangerous that the police might well be interested.
The Aicar Test
Kaykov has been caught by the WADA Accredited Cologne laboratory, a place with equipment so finely calibrated it caught Alberto Contador in 2010. This matters because the German lab has been testing for Aicar. This substance first appeared in cycling circles when police found traces in waste dumped during the 2009 Tour de France. It has now perfected an Aicar test in that it can detect levels in anti-doping controls. But the substance occurs in the body and there is debate over what constitutes a natural amount and where to draw the threshold but the science is established and anyone using it risks becoming a test case like Kaykov.
Conclusion
Unknown until today Valery Kaykov is now Mr Endurobol, the world's first athlete to get linked to this worrying substance. It's no joke either, the substance is very risky. Some might say it shows the idiotic lengths some will go to for an edge but this assumes people like Kaykov know the risks. It is much more likely they don't understand the dangers.
These dangers are rarely spelled out. I don't want to link to the websites selling these products but trust me some have gushing text to explain the endurance benefits but fail to mention the dangers. Some say you can buy it for "research purposes" although personal abuse is the aim of the game whilst some go as far as promoting the drug but warning it is not fit for human consumption… then again in a world of cigarette packet warnings perhaps many aren't deterred?
Whilst a cheat has no place in the sport there's something worrying about the haste shown by Rusvelo to eject him. What if there was a mix up by the lab and the B-sample is fine? Or has the rider put his hands up and admitted it? Rusvelo is a well-resourced team and when any rider resorts to doping it is a signal that they're not finding the answers from coaching and performance within their team.
Is there any good news here? Yes, we've caught someone and this could deter others because they know they risk detection. It just be luck that Kaykov's sample went to Cologne but it's also a victory for this lab that's currently leading a lot of anti-doping research. All that remains is to hope no other cyclists are linked.