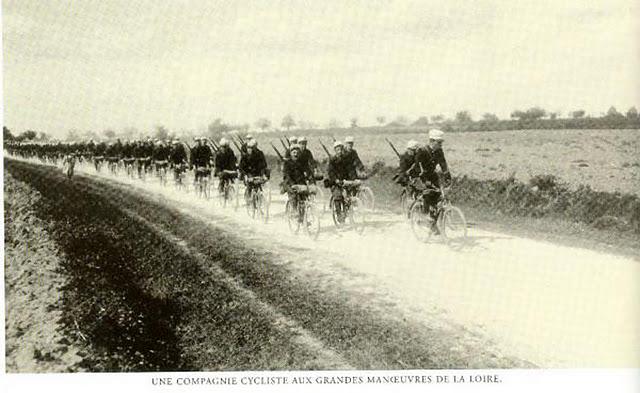 Fallen cyclists might make you think of a crash but this is the story those who fell in the ugly battle of warfare, of those that are remembered on Sunday in Europe and beyond. Almost every village in France and Italy has its memorial to the fallen.
Here's the brief tale of four riders Lucien Petit-Breton, Octave Lapize, Ludwig Opel and Roland Garros. All their names live on for different reasons but they were all cyclists who never made it home from the 1914-1918 war.
Lucien Petit-Breton
Petit-Breton was arguably the first champion of cycle sport as we know it today. The sport developed from exhibition races in Parisian parks into full classics like Liège-Bastogne-Liège and Paris-Roubaix and then the grand tours like the Tour de France and the Giro. Specialisms didn't quite exist in those days, the effort to win Paris-Roubaix was almost the same for the Tour de France, a pure test of stamina although obviously some lighter riders fared better over the mountains than others.
Petit-Breton spent his childhood in Argentina where he won a bike in a lottery but his parents frowned on his racing so he changed his name from Mazan to Breton so that his father would not notice. I'm not sure how much disguise this cover provided for him in South America and in fact it caused confusion as there was another rider called Lucien Breton so the name was changed to Petit-Breton. Despite early Argentinian nationality he was recalled to France for his national service and stayed in Europe where he began to rack up impressive wins, first with Paris-Tours in 1906, then the inaugural Milan-Sanremo in 1907 and the Tour de France in the same year. He won the Tour again in 1908 and more.
Over 1.3 million died in the 1914-1918 war and not all on the front line. Petit-Breton was a champion on the bike but had an unremarkable military career and died in a car crash as he travelled behind the front, he was taken to hospital but passed away.
Octave Lapize
By contrast Lapize had a more glorious military career as a fighter pilot that was briefly as glorious as his cycling career. A Parisian by birth he went on to win the 1910 Tour de France and then consistently won races in France until war broke out.
Lapize is probably most famous today as the man who cried "assassin" at the Tour de France's Henri Desgrange as the race crossed the Aubisque for the first time in 1910. The Col remains very tough today but back then the road was not surfaced and the bikes were rudimentary. But the story of Lapize and Desgrange is a myth.
Desgrange was back in Paris, overseeing the chronicle of the race via the publication of L'Auto newspaper. Instead when Lapize reached the top, he saw Victor Breyer who had the dual role of sports reporter and race official. Lapize was unhappy and Breyer asked "well Lapize, what's up" to which Lapize replied "You are like criminals. Tell Desgrange from me that you don't ask men to make an effort like this. I'm fed up." Criminals, yes but the tale of "assassins" seems to be an exaggeration added in time.
Lapize died in an air crash after a high altitude combat where his plane was sent into a tailspin by the draft of his opponent. Like Petit-Breton (and others like François Faber) there are some good arguments to say war prevented them from being even greater names in the sport, whether the lost years of war or if they had survived and were able to resume their old career.
Ludwig Opel

The youngest of the five Opel brothers, Ludwig (pictured on the right) was a keen cyclist and was runner up in the 1898 world championships  for the sprint. If the Opel name rings a bell, it is because it is one of the world's largest auto manufacturers as part of General Motors.
The German firm started selling sewing machines but moved into bicycles and the five sons were soon riding and racing to promote the brand. Like many cycle manufacturers at the time the metal works and spotting demand for the motor car meant they moved into the auto sector and by 1899 Opel had its first car and by 1914 it was Germany's largest car constructor. Ludwig rose to the rank of Oberleutnant in the German army but died on the front in 1916.
Roland Garros
Talking of names that live on today this name might remind you of a major tennis tournament but Roland Garros was a French aviator and fighter pilot who died a month before the end of the war in October 1918.
He came from the French island of Réunion in the Indian Ocean and enjoyed his sports. As a student in Paris he played tennis regularly and today the French Open takes place in the Roland Garros stadium. He tried many sports and was a cyclist too and in 1906 he was the French school and university champion. Like Petit-Breton, rode against the wishes of his father and exploited a false name, this time under an anagram of Roland, "Danlor."