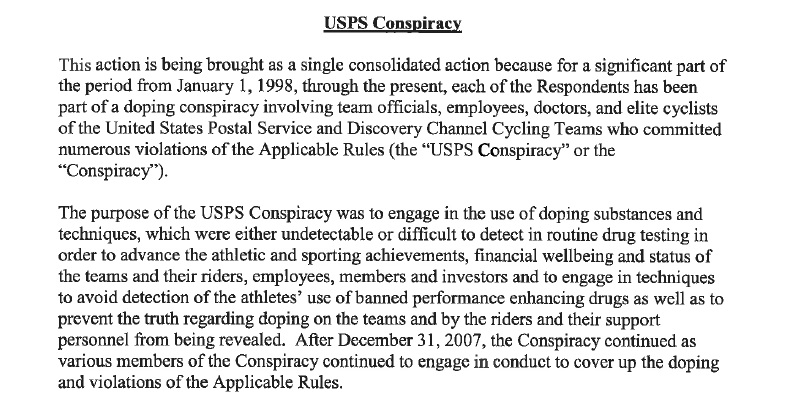 The US Anti-Doping Agency (USADA) intends to charge several people with a range of doping-related offences going from the use of banned substances to trafficking and conspiracy. Whilst Lance Armstrong is amongst those facing charges, he is not the only one name involved. These charges relate to the various teams for which Armstrong rode for and involve the senior management and coaching staff. In short this is about the way the team was run.
Many times in the past a rider would be caught doping and the team would express shock or disappointment, usually in a press release printed with ink derived from the tear duct of a crocodile. Because the rules of The Game state once a rider is caught he is totally alone. But this time it's not about the rider, instead those tasked with running the team and coaching the riders. Those charged are:
Johan Bruyneel, a current "consultant" manager of the Radioshack-Nissan team and former manager at US Postal, Discovery and Astana
Dr Pedro Celaya, a team doctor at Radioshack-Nissan and formerly with US Postal, Discovery and ONCE
Dr Luis del Moral, a Spanish sports doctor and former US Postal team medic
Dr Michele Ferrari, an Italian sports doctor and "family friend" of Lance Armstrong
Joseph "Pepe" Marti, a Spanish coach who has been working with Alberto Contador and formerly of US Postal
Lance Armstrong
USADA says it has witness testimonies, here it becomes a tale of employees being granted some immunity for testifying against their employer. Reportedly Armstrong gets the immediate sanction of being suspended from competing in triathlon. But the focus is bound to turn to the Radioshack-Nissan team and Johan Bruyneel too.
Leak
The story started yesterday without anyone being named. A bizarre UCI press release even referred to a rider and his entourage without names but the unique nature of this press release only pointed to the obvious. The Washington Post was first to name Lance Armstrong and cycling team staff. Soon after the full charge letter was leaked given to the Wall Street Journal and it makes for explosive reading, detailing the charges of alleged abuse of banned substances and more. It cites testimony from ten cyclists as well as others. But the same letter confirms that USADA will hold a review and that the recipients of the letter will find their names redacted – edited out – when it goes to the review panel. However now that this has all become highly public the anonymity is blown. USADA's rules say the documents used must be anonymous but go no further, so the public disclosure won't halt things. But it shows how this is a media event instead of a mere issue of arbitration.
Single case
The charges are combined into single consolidated action, labelled the "USPS Conspiracy". It's a different approach to the usual doping case where a rider tests positive. Rather than go for a single specific case or even an individual, this is about a series of apparent incidents that form a pattern of behaviour and a collective set of charges applying to several people. It's hard to know what to make of this. On the one hand USADA appears to be taking all the evidence it has and dumping it into arbitration. On the other the idea is not to make it about a single moment but a continued practice over the years.
Note the absence of positive test. But in recent cases we have seen athlete Marion Jones banned. Closer to cycling, cases like Alejandro Valverde, Ivan Basso and Jan Ullrich ended in bans despite no positive test. Also if you wonder why Armstrong is named when other riders are not, we can only speculate. First because he was a part manager in the team. Second because of all the other riders and ex-riders invited to testify, only Armstrong declined to appear meaning this is the only way to put questions to him.
What next?
Let's split this into protocol and possibilities:
First the protocol means those named have until 22 June to make any written submissions. A panel of USADA staff will then review the charges and any submissions received. It will then decide whether to proceed with a hearing. If it does go ahead USADA say there will be a hearing this side of November, with time needed by both sides to review the evidence and prepare their cases.
The hearing will be done by a panel comprised of representatives from the American Arbitration Association (AAA). Like the Court of Arbitration for Sport the AAA is not a court but an arbitrage panel and used to settle arguments. In this case where the rules of US Cycling , the UCI, USADA and WADA followed or broken. Crucially the AAA is independent and not part of USADA.
If the people are cleared, that's it, end of story. If the charges stick then those involved may likely face lengthy bans from the sport, longer than the simple two year ban for a first offence.
If Lance Armstrong is already suspended from competing in triathlon then it could well be that Johan Bruyneel is blocked from bike races. The UCI's own rules allow for Rider Support Personnel to be suspended. But this could involve the UCI swinging into action and possibly Bruyneel's local federation, whether his native Belgium or his new residency in Britain.
On the possibilities, it could be that Radioshack-Nissan end up in even more trouble. They thought it was a bad week with press over Chris Horner's exclusion and Andy Schleck quitting the Dauphiné; it turned into a horror once Andy Schleck got an MRI scan. This goes well beyond any sporting lows.
Like a storm cloud appearing just as you light a BBQ, some say this story arrives just in time to rain down on the Tour de France. I don't see the timing as conspiratorial, just procedural. There's time for things to calm down ahead of the race and USADA started its action within a reasonable period of time after receiving the information from the US authorities and then following up on the info it received.
The PR skirmish has started with both sides digging in for trench warfare. Armstrong's camp have fired a salvo at USADA and the agency quickly got their rebuttal in yesterday. This is for public consumption but meaningless as the case centres on arbitration rather than public statements.
Like loyal footsoldiers, fans will take their cues and soon start tearing strips off each other. I can understand both sides. But go for a ride to let off steam as there's little new evidence here for now.
Finally there is a good chance this all drags on and on, ending up in the Court of Arbitration for Sport in 2013 or beyond.
Summary
It's tempting to see this as yet another attempt to pin doping charges on Lance Armstrong, his celebrity name stands out. Instead this is a wider alleged conspiracy by the management as opposed to employees. All the names mentioned are being charged together in a single action.
After the burst of headlines things will soon settle down. The dull process of arbitration will start with both sides making their representations in private. Perhaps documents will leak, perhaps media games will be played but in reality this is about sifting through many documents and weighing them against USADA's rulebook.
Finally if you want to comment on this piece below, please try to spare the divisive issues. The mere mention of Armstrong seems to split fans in two, everyone has a view and people quickly get angry. I've tried to cover the procedural and public-relations issues involved and would welcome comments on this topic.