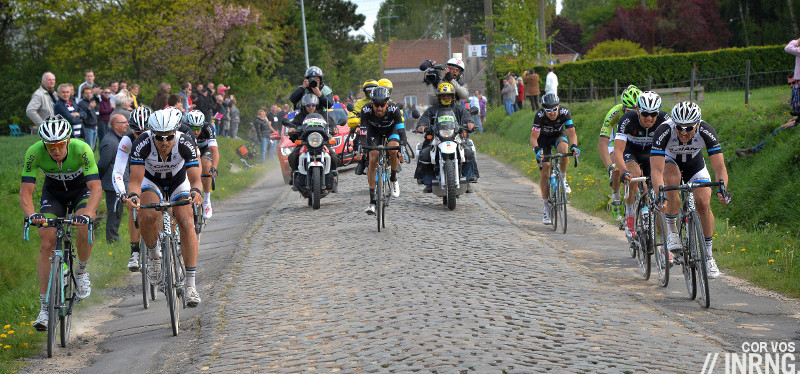 Who can take on Alexander Kristoff? The Norwegian has been invincible and his biggest opponent could be misfortune, his chances were ruined last year by punctures and mechanicals. This is a race of last chances, the final cobbled classic of the season and just like last year time's running out for Etixx-Quickstep to get that big win, the same for Sep Vanmarcke. Meanwhile Bradley Wiggins longs to end his road career in the Roubaix velodrome.
Amid the cobbled chaos there are many more names to contend with and it's all live on TV for four hours.
The Route: it's not flat, after the start in Compiègne a series of roller-coaster hills are taken in the big ring and just enough to help a breakaway get going as other riders feel the need to shut it down in case they tire too soon. The opening 100km are typically covered fast as riders fight to get in the early breakaway. Then the cobbles start…
| | | | | |
| --- | --- | --- | --- | --- |
| Sector | Distance | Location | Length | Difficulty rating |
| 27 | 98.5km | Troisvilles | 2200m | +++ |
| 26 | 105km | Viesly | 1800m | +++ |
| 25 | 108km | Quiévy | 3700m | ++++ |
| 24 | 112.5km | Saint-Python | 1500m | ++ |
| 23 | 120.5km | Vertain | 2300m | +++ |
| 22 | 130km | Verchain-Maugré | 1600m | +++ |
| 21 | 133.5km | Quérénaing – Maing | 2500m | +++ |
| 20 | 136.5km | Monchaux-sur-Ecaillon | 1600m | +++ |
| 19 | 149.5km | Haveluy | 2500m | ++++ |
| 18 | 158km | Trouée d'Arenberg | 2400m | +++++ |
| 17 | 164km | Wallers – Hélesmes, "Pont Gibus" | 1600m | +++ |
| 16 | 170.5km | Hornaing | 3700m | ++++ |
| 15 | 178km | Warlaing – Brillon | 2400m | +++ |
| 14 | 181.5km | Tilloy – Sars-et-Rosières | 2400m | ++++ |
| 13 | 188km | Beuvry-la-Forêt – Orchies | 1400m | +++ |
| 12 | 193km | Orchies | 1700m | +++ |
| 11 | 199km | Auchy-lez-Orchies – Bersée | 2700m | ++++ |
| 10 | 204.5km | Mons-en-Pévèle | 3000m | +++++ |
| 9 | 210.5km | Mérignies – Avelin | 700m | ++ |
| 8 | 217.5km | Pont-Thibaut | 1400m | +++ |
| 7 | 220km | Templeuve – Moulin de Vertain | 500m | ++ |
| 6 | 226.5km | Cysoing – Bourghelles | 1300m | ++++ |
| 6b | 229km | Bourghelles – Wannehain | 1100m | +++ |
| 5 | 233.5km | Camphin-en-Pévèle | 1800m | ++++ |
| 4 | 236.5km | Le Carrefour de l'Arbre | 2100m | +++++ |
| 3 | 238.5km | Gruson | 1100m | ++ |
| 2 | 245.5km | Hem | 1400m | ++ |
| 1 | 252km | Roubaix | 300m | + |
| | | | | |
The four and five star sections really are unlike anything else. The Flemish classics use plenty of cobbled roads but look closely and you'll spot houses lining the route with ordinary family cars parked in the driveways, the cobbles are drivable. Here only off-road vehicles venture, whether tractors or or motocross bikes. The higher the rating, the more nervous the approach too, the race has a rhythm where the pace accelerates to wild levels before the key sectors and then backs off once the sector is done as riders survey the damage.
Cobble-mania should not run wild. As much as we focus on the pavé, they account for only 53km of the course or 20% and the four and five cross sections account for precisely 10% of the course therefore 90% of the race is conducted on perfectly ridable terrain. A move can go any time.
The Finish: Held in the old velodrome, riders enter the 499.75m concrete track for one and half laps. The banking can play a part, riders exploiting the slope to the line to launch their finishing sprint.
The Scenario: thanks to the mythology of the race we expect a process of attrition from which the toughest rider will emerge. But reality is less poetic. Watch the early breakaway because for once going up the road early can be a fruitful tactic, see Stuart O'Grady's 2007 win. If the move is infiltrated by strong outsiders they can get an option on the final result and as a consequence there's one of the biggest fights of the year to get in the early move. Also the spectre of a bunch sprint has been looming for some time. Maybe not this year but one day a sprint from a sizeable group could happen.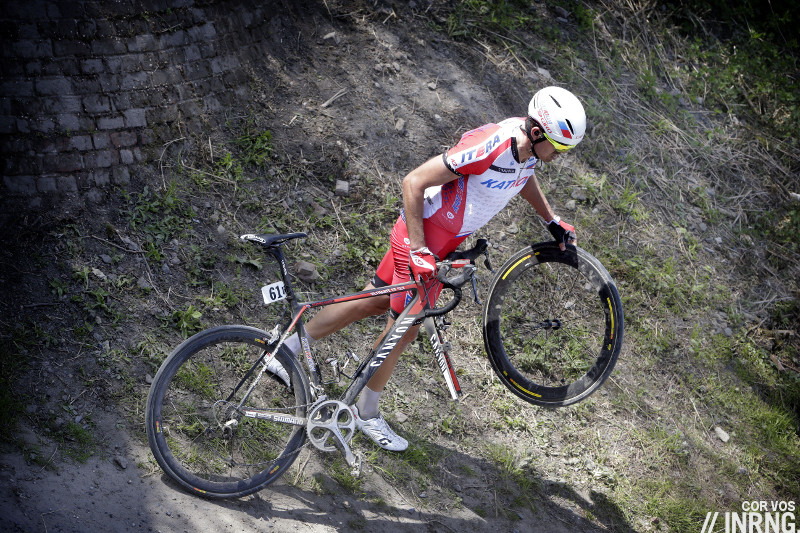 The Contenders: Alexander Kristoff is the prime pick because of his form, he's almost invincible and lucky too. He might have joined Niki Terpstra last week in a move but was the engine that kept it going and he took Wednesday's Schedleprijs to add to his invincible image, fortunately avoiding a big crash. If he's the best pick, a win is far from certain given this race has yet to smile on him, he's quit more times than he's finished and his best result is a ninth place in 2013; he was undone by punctures and mechanicals last year. Now I wonder if his confidence gets the better of him, he went clear with 30km to go last week and could gamble even bigger again here when his best chances lie in marking others and pouncing in the velodrome.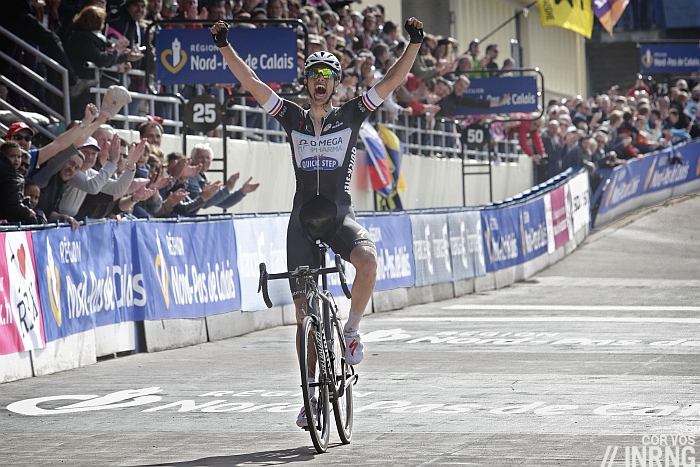 Niki Terpsta and Zdeněk Štybar are Etixx-Quickstep's two best options. Terpstra won last year with a crafty late attack and he can do the same again. It might be obvious that he'll try to jump at some point but knowing it now is one thing, remembering it after 240km is another, yet alone being able to react to it. Štybar meanwhile is proving to be the best cyclo-cross crossover and has come close in this race, notably crashing out right near the end in 2013. The team's also got Stijn Vandenbergh who might seem an unlikely winner in other races but if he can barge clear he'll be hard to pull back especially because other teams won't want to do all the work.
Team Sky have Geraint Thomas and Ian Stannard. Thomas has been in exceptional form and might rue the lack of hills here where his lean frame can get a slight advantage on others but he's been good in this race before. He was just off the pace last Sunday, was he exposed too soon after Sky's premature appearance? Stannard's recovering after a mild illness, nothing serious in ordinary life but enough to ruin much of his spring campaign and now he's got one chance left.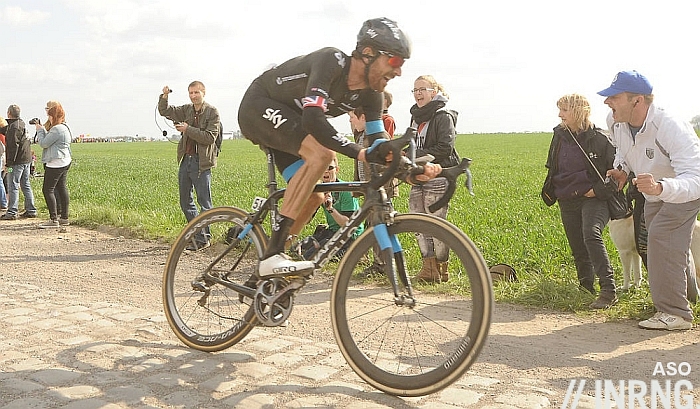 What of Bradley Wiggins? We have little to go on, he's been on the front in races when he's wanted to be but at other times he's been switched off. This is his final major race, the amusing irony of a track specialist who moved to the road and now longs to end his career with glory in the Roubaix velodrome. He's said he'll try to get to Roubaix even if he breaks his collarbone. It's amusing to imagine the post-race story like one of those fantasy books where you roll dice to decide which page to turn to:
if he wins then he's the first Tour de France winner since Hinault in 1981 to win in Roubaix and it was so predictable and another box ticked for the rider with the track record of cruise missile when it comes to locking on to targets who's benefited from the support of a very strong team and put is TT power to obvious use
if he doesn't triumph then Sky's rationalism is undone by the cobbled empiricism in this most random of races and for all the talk and interest he's not been anything like a contender after 200km in recent weeks. Besides in a 15 year pro career he's only won thee road races, one stage of the Tour de Romandie in 2012, a stage in the 2005 Tour de l'Avenir and the 2011 British national championships
I think the latter narrative is more likely but a top-10 is firmly in grasp if all goes well. There's hype around him but Wiggins himself has been talking about the goal reaching Roubaix rather than anything bolder. Either way he brings more to Team Sky's tactical options.
Greg Van Avermaet was the best of the rest last Sunday and should be prominent again. The worry is that he'll be nervous and try a move from too far out. This long range role should be assumed by BMC Racing's Daniel Oss, the Italian has been a force this spring and the pavé are perfect for him. If he can get away then GVA need only sit tight. The giant Stefan Küng is worth watching, he won the Volta Limburg last weekend and could be a force in the future.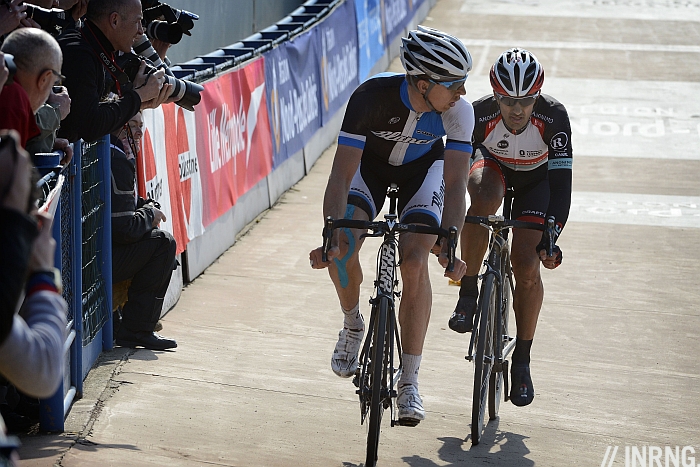 It's not Sep Vanmarcke's last chance, he's still 26, but he desperately needs that big win otherwise he'll go from contender to pretender. He's notionally got time on his side but the critical Belgian media probably don't share this opinion. He made a big mistake in positioning in last week's De Ronde and missed the move. However he needs to take care not to over-compensate on Sunday, at times he's too visible too early in a race when he needs to save that power for late.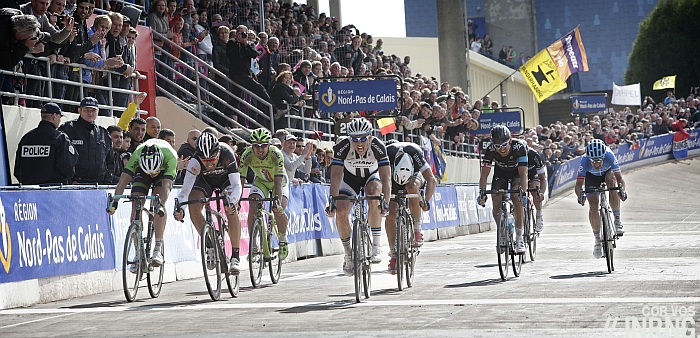 The stealth pick is John Degenkolb who was strong last year and has only got better. In a head to head sprint against Kristoff in Roubaix who would win? On paper Kristoff but this excludes all the potential for trouble on the way to the velodrome and if Degenkolb is there he'll pounce.
Peter Sagan is a strong pick because he's being overlooked. Like last Sunday he wasn't central to the race but still salvaged fourth place and if he can to Roubaix with a few other riders then his sprint can do the rest. Again he can bide his time.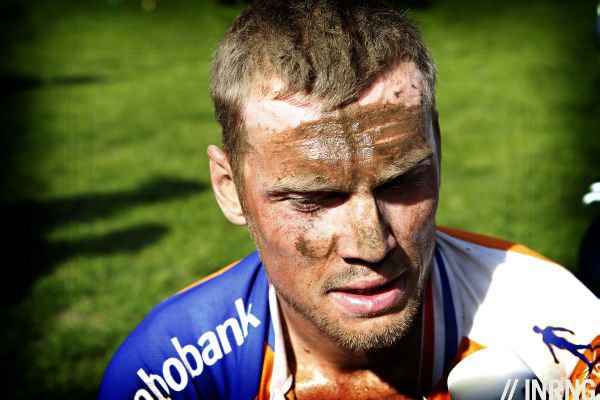 Lars Boom might have spent the week doing a rain dance in the hope of replicating the muddy conditions of his Tour de France stage win. He's been absent in longer distance races, as if his huge explosive power would run out after 200km but he was a force Flanders last Sunday.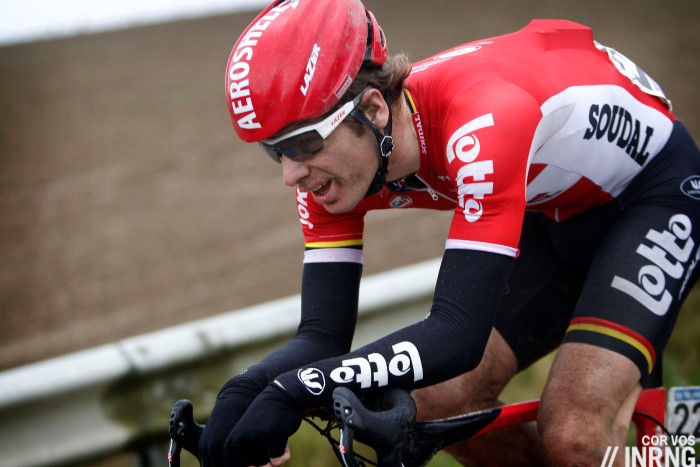 Lotto-Soudal have Jurgen Roelandts and surprise neo-pro Tiesj Benoot. You can't fluke a ride like Benoot did in the Ronde and he'll bring options to the team but should really be on a learning mission. Roelandts is the stronger pick and he'll have to gamble to win while André Greipel should be visible again.
Lampre-Merida's Filippo Pozzato reappeared with 12th place in Flanders and could feature while one place behind him was Stijn Devolder of Trek Factory Racing. Both are struggling to match past results and will have to gamble and can take risks knowing they have team mates for cover for example Davide Cimolai and Gert Steegmans respectively.
French hopes are on Arnaud Démare and this might look meagre but he and his team have had a run of bad luck which if it stops could bring a surprise. He had a decent race last year but 12th place plus being French means he's been prematurely projected as a winner with Marc Madiot almost the pushy parent promoting his "son" Arnaud.
IAM's leader is Sylvain Chavanel but he could be eclipsed by Martin Elmiger who was with the front group in De Ronde and even more suited to this Sunday's course, he'll need luck but is a strong rider with a good finish after 250km.
As for others there's a long list of names who can surprise. Cofidis's Florian Sénéchal is the local who dreams of this race and he does have the talent to impress. Johan Vansummeren hasn't shown any form to suggest a repeat win of 2011 but his win then came after equally anonymous results, Ag2r team mate Damien Gaudin loves this race and was fifth in 2013. Topsport Vlaanderen bring Edward Theuns and Jelle Wallays, the former looks classier but Wallays has the brute force needed. Gerald Ciolek has been MTN-Qhubeka's strongest rider this spring and Reinardt Janse van Rensburg could surprise. Finally Movistar have to ride as a UCI obligation Adriano Malori's power comes in handy as does the sprint finish of Fran Ventoso and J-J Rojas.
| | |
| --- | --- |
| | Alexander Kristoff |
| | Greg Van Avermaet, Zdeněk Štybar, Niki Terpstra |
| | Peter Sagan, Geraint Thomas, Sep Vanmarcke, John Degenkolb |
| | Lars Boom, Ian Stannard, Stijn Vandenbergh, Jurgen Roelandts |
| | Wiggins, Elmiger, Ciolek, Démare, Wallays, Theuns |
Five chainrings for Kristoff but discount everything by the random ways of the race where punctures, crashes and even level-crossings can ruin someone's chances.
Weather: mild, sunny and 15°C with a light breeze that will offer a tailwind from the start and a slight crosswind later on. Benign conditions for the tactics.
TV: the live footage will begin at 12.55pm CET with the finish forecast for 4.50pm. Watch as much as you can but be sure to tune by 2.20pm, the predicted time for the Arenberg Forest section when the race will take shape.