One day to go and a flatter stage but with just two seconds between Chris Froome and Alberto Contador the stage is set for regicide rather than coronation. Contador can try but it's hard to imagine him surprising Team Sky. Don't miss the earlier finish time if you're planning to watch on TV.
Stage 4 Wrap: Was it deliberate? Peter Kennaugh of Sky went clear instead of riding tempo. As soon as he was reeled in, team mate Mikel Nieve went away solo. Then Froome attacked, passing Nieve. Certainly this wasn't the timetable we expected from the Sky train but the new schedule worked a treat and caught Alberto Contador. There were other differences too, perhaps it was the slope but this wasn't the "washing machine" Froome of Mont Ventoux in 2013, legs whirring on a spin cycle. There was a forcefulness to the pedal stroke.
Meanwhile Contador was visibly slower and losing time. We've got used to him being in command in the mountains but this time he was chasing alone. His pedal style became choppy and at times his head tilted to one side. Ahead Froome kept going, the familiar flurry of limbs and he crossed the line resembling a cyclo-cross rider, the dirt road underneath leaving its mark on his kit and bike.
As much as the race has been reduced to a duel between to protagonists, consider the agony of the others. Two seconds separate Froome and Contador… then 2m32 later comes Benats Inxausti, the best of the rest and with the kind of delay possible by the final stage of a grand tour rather than after two mountain stages. Meanwhile breakaway survivor Mirko Selvaggi was caught with 900m to go… and finished 4.56 down on Froome.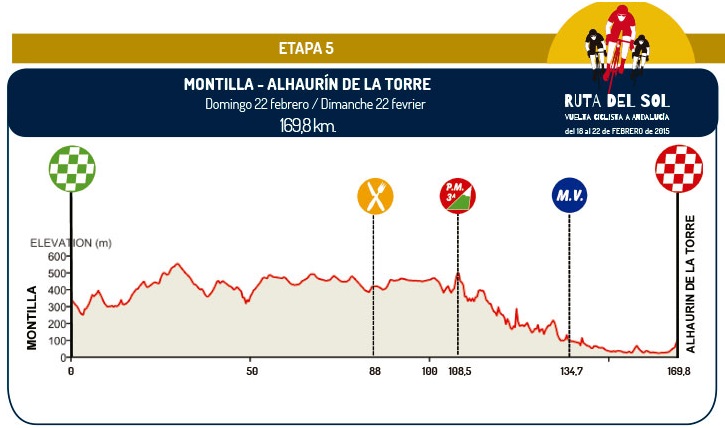 Stage 5 Preview: no major climbs give this the feel of a sprint finish. If a breakaway goes and there's nobody from Movistar or Giant-Alpecin then these two teams will toil to chase the move down in the hope of setting up J-J Lobato and John Degenkolb respectively. CCC might join in too although they're likely to send someone up the road.
That little rise at the end of the stage? It doesn't seem to be there. The road rises into Alhaurin ("the Garden of Allah", as named by the Moors) with what looks like a 4-5% rise, then levels off, then another similar rise again. This slight climb again suits Lobato and Degenkolb. I've put Lobato first for the ease with which he won the other day but given yesterday's reversal on the GC perhaps "Dege" sticks it to Lobato?
Will Contador try something? You'd expect it but it's so obvious and hard to see him sprinting away for the stage win and distancing Chris Froome. But this short race has been long on drama already.
| | |
| --- | --- |
| | J-J Lobato, John Degenkolb |
| | Grega Bole |
| | Silvestre, Jungels, Theuns, Farrar, Hofland |
Weather: sunny and 17°C with a 20-25km/h tailwind to the finish.
TV: live on Eurosport with the finish forecast for around 3.00pm but it could be earlier with that tailwind. For more viewing options, as ever cyclingfans.com and steephill.tv have links to live feeds.