The UCI issued a statement on Saturday announcing the provisional suspension of Roman Kreuziger.
It's a big test for the athlete passport system. So far the UCI has won every case it's launched or asked others to prosecute, including winning appeals at the Court of Arbitration for Sport (CAS). We might want the instant verdict of a toxicological test with a positive A and B test in the lab but the passport just doesn't work like this. It works on statistics and takes time to build up patterns and then riders are given plenty of time to respond. But so far it's won against small fry riders or those, like Dennis Menchov, who have simply retired with a shrug rather than a legal fight. Kreuziger's case is different, he's an active rider, a millionaire and already employing high-profile lawyers to defend him.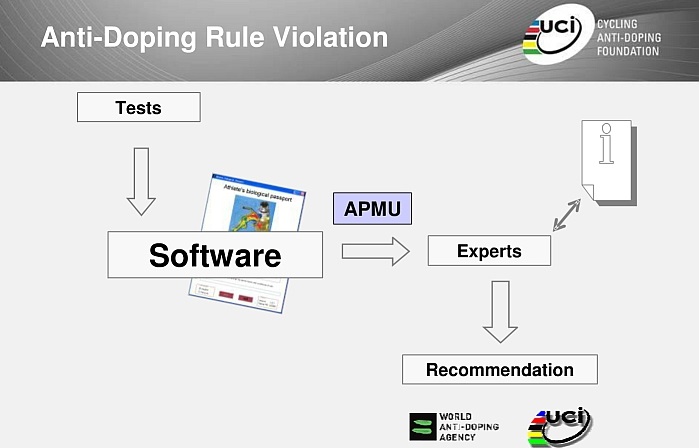 If you want a longer explanation of the procedural process to explain what's happened so far, see Roman Kreuziger's Passport Delays from June. In summary an athlete's blood values are checked and software rings an alarm bell if an athlete's numbers deviate from an established patten so a medical expert can review the data. In the event there's no obvious explainer beyond doping, two more experts are asked to evaluate the anonymous data. All three must review the same data set and only if each concludes that, in the words of WADA's procedural manuals, "it is highly likely that a prohibited substance or prohibited method had been used and unlikely that it is the result of any other cause" will the case proceed.
Then the UCI builds a file with details of the anomalies plus other information, for example the custody chain of of the samples, tests taken at altitude and more and this is sent to the athlete asking them to explain themselves.
"According to the UCI's Cycling Anti-Doping Foundation (CAFD) its Experts Panel has concluded that Roman Kreuziger's blood passport profile shows abnormalities established from March 2011 until August 2011 as well as from April 2012 until the end of the 2012 Giro d'Italia, periods prior to the rider signing with TCS"
– Tinkoff-Saxo team statement, June 2014
Why does it take so long?
We might want the instant verdict of a toxicological test with a positive A and B test in the lab but the passport just doesn't work like this. It works on statistics and takes time to build up patterns and then riders are given plenty of time to respond.
We don't know the Kreuziger case details but it seems that comparisons between recent and past data could have allowed some past data to stand out. The more data is logged, the more patterns can be established. For illustration, imagine someone cheating in school maths exams, they get very high scores in a series of exams. Then the school tightens its exam protocols and in test after test the star pupil now gets average grades, even failing questions on subjects they'd aced before. Let's not go too far with this example but it shows how high or odd numbers might not be suspicious by themselves, it's only with more targeted testing that a profile can be built-up and exceptions looked for. With this in mind it's possible Kreuziger's numbers looked curious at the time but with more data logged, and perhaps zealous target testing, the numbers from certain periods stand out sufficiently to launch a prosecution.
A further delay is comes when the UCI contacted Kreuziger and asked him to explain the anomalies and rightly he was given time to prepare his dossier. This takes time but it's reasonable.
It's different this time
The UCI started its bio passport prosecutions with some small names, think Franco de Bonis or Pietro Caucchioli. This seemed deliberate, to prosecute the most obvious cases and against riders who couldn't lay siege to the UCI with lawyers. Precedents were established before the prosecution of Franco Pellizotti, a case which went to the CAS and the UCI won and got Pellizotti banned for two years. A more recent case saw Leif Hoste try an appeal but again he lost. More cases have since been established and other sports have adopted the athlete passport too, eg the IAAF.
This time the stakes are higher. Roman Kreuziger's been fighting the case from the start and already on record saying "my biological passport does not have anomalies"… while UCI President Brian Cookson seems happy to brief the media, telling cyclingnews that "there are very serious anomalies".
In a recent interview with supercycling.cz says Kreuziger has engaged Czech lawyer Jan Stovicek and others. Curiously Stovicek sits on the FIA's Court of Appeal along with Antonio Rigozzi… the UCI's new lawyer. Sports arbitration is a small world. In addition team owner Oleg Tinkov tweeted he wanted to sue the UCI but he's on holiday this week and tweeting like a drunken sailor on a  luxury yacht so don't mistake one tweet for a policy.
Provisional suspension
The UCI has suspended Roman Kreuziger. He's innocent for now although it's clear the UCI want to prosecute him and have rejected his explanations. There's been a fuss over the suspension and rightly so because the provisional suspension is unprecedented and it's not in the rulebook: Chapter VIII of the UCI's anti-doping rules say provisional suspension only relates to "analysis of an A Sample", it does not mention the passport procedure.
When Carlos Barredo was being investigated he got "suspended" by his Rabobank team but this was a team policy, the squad was beleaguered by doping revelations and had to take a cautious stance. Similarly Jonathan Tiernan-Locke was first suspended by Team Sky and not by the UCI (although a small paragraph in the UCI rulebook means a rider under investigation can't race the world championships – funny how the UCI deploys special protections for its own races). This time Tinkoff-Saxo "suspended" Kreuziger from the Tour de France but decided to enter him for the Tour de Pologne. I'm in two minds about this:
Kreuziger is innocent because we've yet to have a hearing and his case deserves to be reviewed, so in this sense he should be riding
Many professional bodies use suspension for protection, for example a teacher, surgeon or accountant accused of wrongdoing may be suspended pending an investigation, it's a precautionary protection
There are pros and cons to the provisional suspension but they apply asymmetrically. What may protect the sport's image is damaging for the rider, especially when the UCI President wades in. There's also Tinkoff-Saxo's side, the team meets Kreuziger's monthly salary but cannot use him in races and all because of something related to the rider's time at Astana.
Summary
The provisional suspension of Roman Kreuziger sees the UCI acting where teams had acted before, formalising a process that previously was murky, was a rider being rested from races because they were tired, off to another team… or under investigation?
It's harsh to suspend an innocent rider but the sport already does this with A-sample "adverse analytical findings", for example Diego Ulissi was pulled from the moment his Giro A-sample came back. The difference with passport cases is the process of data gathering can take years and presenting the evidence to the athlete and their entourage takes months. It cannot be rushed either.
Kreuziger's case has the potential to be different because he's wealthier than all the others who have faced prosecution before and is set firm against the UCI. If this is UCI vs Roman Kreuziger, we've had several rounds of discussion already, now there could be sustained challenge to the passport. Given the apparent certainty on both sides, an eventual appeal to the CAS seems inevitable.
Technical Update: there's been a problem with all the comments on the site, a tech issue relating to the server that hosts the site and some comments were deleted. Sorry Most have been retrieved and copy/posted below.