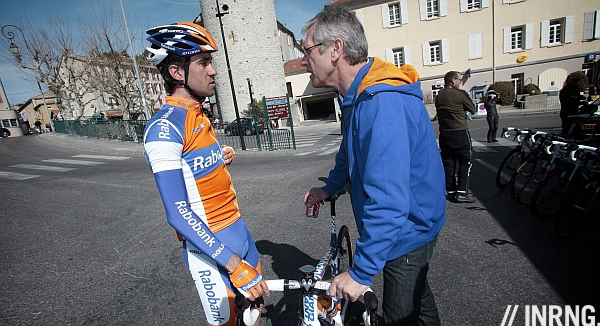 Carlos Barredo has done nothing wrong and he not allowed to race by his team.
If this sounds odd, you are not alone. Today brings the story of Rabobank's Carlos Barredo who has had some curious values in his blood passport during a five year period spanning 2007-2011  and earlier this year the UCI asked him to explain the data.  Odder still.
It might seem odd that the UCI is only now asking questions after collecting data for years. But to speculate it is possible that the numbers shifted substantially this year, giving a different denomination to things… but again this is just a suggestion for why questions are being asked.
What we do know is that Barredo and his Rabobank team have responded back in July and are awaiting a reply, probably due in September. In a statement Rabobank said:
Carlos Barredo denies in a statement to Rabobank Cycling Team that he is involved in any doping-related cases or the use of banned substances
Let's hope so but note the statement above, "he is" is not the same as "he has been" and the "use of banned substances" is distinct from the use of prohibited methods, such as blood doping which can trigger suspect passport data. But let's be generous, after all English isn't Rabobank's first language.
Anyway if this is just innocent questioning, we must ask why this has leaked out? Presumably if Barredo and Rabobank worked to answer the questions back in July then he was made inactive by his team since then? Right now Barredo's name is linked to further suspicion and it's no good for him or his team. Were Rabobank just being cautious with the suspension and open in saying "we are working with the UCI and Barredo"… or did something else prompt the admission today?
Either way suspension is a big deal. It's Rabobank's decision to stop the rider from racing. We can see this two ways:
it's a sensible and professional decision to protect the team. Rabobank is a Dutch bank and let's imagine a banker was accused of fraud. It's normal that they'd be suspended from work pending the investigation, many professions adopt this kind of precaution. This is a similar level of protection and concern, only applied to the often less professional world of pro cycling.
on the other hand since this appears unprecedented it makes Barredo look bad. If he's innocent – and the UCI is only asking questions – then the guy is blocked from doing his job. What if he was on another team, say, Katusha, would they block him?
The Rulebook
Here's the WADA guidebook on the bio-passport (Annex D, 3(a) and 4 – note the document is from the UCI.ch website)
In the panel's unanimous opinion, absent a satisfactory explanation from the Athlete, it is highly likely that the Athlete has used a Prohibited Substance or Prohibited Method…

…the Anti-Doping Organization will:
a. Advise the Athlete that the Anti-Doping Organization is considering bringing an anti-doping rule violation against the Athlete;
b. Give the Athlete a copy of any document provided to the Expert Panel;
c. Invite the Athlete to provide his/her own explanation for the data provided.
It seems Barredo's case mirrors this procedure but we do not know for sure if the UCI's "Expert Panel" has reached an opinion on Barredo, only that he has been instructed to explain himself. Hopefully all can be explained and there's nothing for anyone to worry about.
Forget Barredo
I don't think we're going to get much more from Barredo, the team or the UCI on this matter for now. When Velonation's Shane Stokes called the UCI today he got a "no comment". Instead the real issue is systematic. Just what is the UCI doing?
If a rider has suspicious numbers then asking him to explain them is a novel approach. It could be sensible, a way to get the facts instead of launching a prosecution. It underlines the way the bio-passport is a subjective tool. Unlike the binary positive or negative of toxicology where a lab tests for banned substances, the passport looks at changes in levels, using logic and mathematics, for example Bayesian statistics, to look for anomalies. However, if things are suspicious then inviting answers from a rider does give a bad rider plenty of room to get off the hook.
Also what if another rider on another team was involved? Rabobank have taken the unilateral action here but have other riders and other teams stopped riders, or have some riders replied to the UCI but continued to race?
Suspended, inactive, banned?
This raises the murky world of bans and inactivity. In summary after a positive A-sample a rider is provisionally suspended. If there's a B-sample and then a hearing, then the rider is given a ban.
But there appear to be implicit suspensions tooo. There are cases when a rider has claimed injury when in fact they have been caught a in doping case. For the record Barredo did have a big crash in the spring classics but he came back and raced the Tour of Belgium in May and on to the Dauphiné. But others have appeared to cited injury as a means to deflect people from asking why they are not racing. There are some public examples like Alberto Contador who told everyone he slipped on an oil patch and could not race again for the season. But there are other hidden examples.
Sometimes even getting a rider to stop is hard. In 2005 the UCI had suspicions about Levi Leipheimer and asked his Gerolsteiner team boss Hans-Michael Holczer to stop him from racing. But Holczer, today manager at Katusha, declined because he was trying to find a new sponsor and feared the scandal would kill his chances. If Holczer refused, are other teams also doing something similar?
It leads us to question whether there is a shadow system where riders and teams are told to rest some riders, bio-passport backchannels where some riders might not get prosecuted but are asked to explain themselves.
But there are still questions here:
Barredo had to reply to the UCI by late July so presumably he was given notice some time before this?
How come it takes until September to review this?
Have other riders or teams been in a similar situation?
If so did they suspend their riders from competition?
Does the UCI support Rabobank's suspension of a rider who is not charged with anything?
Conclusion
It's nice to see Barredo co-operating with the UCI but it's odd that he's suspended from racing if he hasn't done anything wrong. Then again perhaps it's just shocking to see this level of precaution applied in pro cycling?
Nevertheless we're still left with a lot of questions over this case. The biopassport is a subjective tool that requires careful interpretation but this example seems to take this to a new level that we haven't see. We can only wonder whether there's more to this than we've learned today. I wish we knew more but for now the topic – like yesterday's subject of team transfers and tactics – is one to be aware of.