Having looked the other jerseys, finally the climbers' competition. It's a very visible jersey but the competition itself seems to be struggling, it's either something decided by luck and speciality or an accidental win collected by someone high on the GC.
Here's a look at the competition and a few contenders and pretenders for the polka dotted prize.
The classement général du meilleur grimpeur is the strict title. It is a points competition:
Hors Catégorie climbs: 25,20,16,14,12,10,8,6,4,2 points respectively for first 10 riders to finish
Category 1 climbs: 10,8,6,4,2,1 points
Category 2: 5,3,2,1 points respectively
Category 3: 2, 1 points
Category 4: 1 point
Points are doubled for the final climb on a stage with a summit finish (Stages 10, 13, 14, 17 and 18)
Here's the breakdown of climbs in the race:
| | | | | | | | |
| --- | --- | --- | --- | --- | --- | --- | --- |
| | HC Finish | 1 Finish | HC | First | Second | Third | Fourth |
| No. of climbs |  3 |  2 |  3 |  9 |  8 |  21 |  17 |
| Total Points |  150 |  40 |  75 |  90 |  40 |  42 |  17 |
The total points score is for the maximum points scorer on the climb. As you can see the points scale is heavily weighted towards the stage winners of the big summit finishes. All those efforts sprinting for third and fourth category climbs might bring the jersey early but they're unlikely to help a rider keep it. To be ridiculous if a rider bagged every single third and fourth category climb they'd earn 42+17=59 points, nine more than the stage winner atop one of the three HC stage finishes.
This year's five summit finishes tilt the competition even more towards the overall contenders as these stages often see the big names dispute the stage wins. So take your pick from Chris Froome, Alberto Contador, Alejandro Valverde and Vincenzo Nibali. We go back to yesterday's GC dilemma but in brief remember Chris Froome does like to attack, if he's on form he'll use it to put time into rivals. Contador can't sit still either while Valverde's still got some speed in his legs although he doesn't sprint so fast these days.
To return to the opening sentence I wrote the mountains competition is "something decided by luck and speciality" to suggest it's possible for breakaway specialists in the mountains to get the jersey by going on a points raid and repeating. The luck is being able to infiltrate the day's breakaway and the speciality is being the strong climber in good form to repeat the effort, for example going clear for two stages in the Pyrenees during the third week is something only a few can do.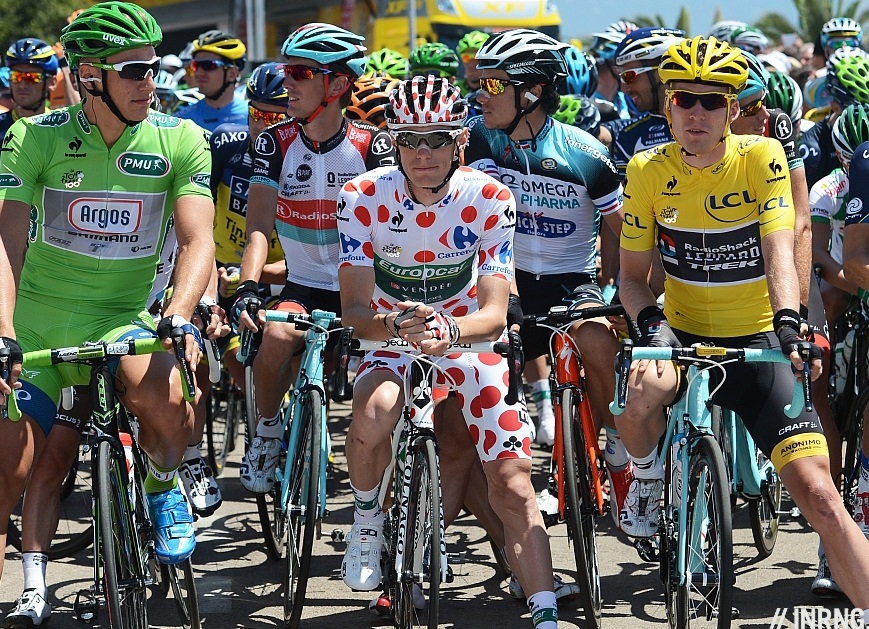 What about Pierre Rolland? Here we see the opposite of his GC bid, instead of sitting tight he might get frisky and try a long range effort. This happened last year, he got carried away in Corsica and never looked back until the Semnoz mountain on the penultimate day when he realised he'd Nairo Quintana had taken the jersey for good. If not Thomas Voeckler could go for it, he's won it before although in 2012 he took two stages but he's not won a World Tour race since the Dauphiné in 2013.
If not then some more French riders like Romain Bardet or Thibaut Pinot and why not Christophe Riblon who's quietly confident this year. Katusha have options with Joaquim Rodriguez, Egor Silin, Simon Špilak and Yuri Trofimov. Chris Horner, Alessandro de Marchi or Jan Bakelants could do it too but by now we're casting around possible names, you can add your own.
The jersey is valuable, it brings daily publicity with podium trips and a prime position at the start of the peloton every day as well as obvious attractions for the television cameras. There's also the podium ceremony in Paris. All this dwarfs the modest €300 a day and €25,000.
History
The term "best climber" began in 1905 when the L'Auto newspaper started to label a ride in the race but it was merely a label in the newspaper associated with the race, a subjective term. It wasn't until 1933 that the first classification began and then 1975 the competition got a dedicated jersey. The polka dots came about because the sponsor of the competition was Poulain, a chocolate company that used red and white packaging at the time. It's stuck ever since despite the change of sponsors and several other races use a dotted jersey for the competition.
Future
The competition is confusing. Remember it's called the classement général du meilleur grimpeur, the "general classification of the best climber". It's great to go on a mountain raid and collect points but, and it's mean to cite on name, can we really say Thomas Voeckler was "the best climber" of 2012, ditto Anthony Charteau in 2010? No.
"What does the leader Charteau do? Get in the early escape, grab as many points as possible and give up in the finale. It's dead easy to do"
– Lucien Van Impe,
No wonder Lucien Van Impe got annoyed although the Belgian climber's handy with the odd put-down too. He refused to attend the ceremony for the 100th Tour de France saying if Lance Armstrong wasn't allowed they shouldn't have Richard Virenque either given his familiarity with a syringe. Quite right in some ways but of course Virenque has seen titles and Van Impe has six, so the Belgian's obviously especially irked. However he was voicing something many others thought. ASO have tweaked the competition by doubling the points available on summit finishes. But this only means the jersey's likely to reach someone trying for the yellow jersey and the risk is it's held by the yellow jersey but worn by the second placed rider on the rankings, always an awkward compromise but necessary given the sponsor wants visibility.
Strava?
There's still something unsatisfying about the competition. Some have talked about a Strava-style competition where climbs become timed segments. The peloton doesn't use GPS devices and even if they did they'd have to use models with agreed accuracy. But they do all use timing chips it it possible to time every climb from start to finish. However if this sounds novel it also sounds rather boring. The way to win points would be to lurk in the peloton or even conduct a mini-team time trial to the top of a climb, it would turn into a paced effort, a hidden time trial where we would not be able to see the results on screen. Worse it would favour the cautious rider over the mountain adventure.
Summary
It's a magic prize but often won accidentally. Despite what Van Impe says it's never easy to ride up the road in the Tour de France and collect points especially because a rider has to repeat this in order to build a lead. This year's route lends means more summit finishes with their doubled points so it's more likely to go to a GC candidate than ever.
Who Will Win The Tour de France
Who Will Win The Green Jersey
Who Will Win The White Jersey