The closer the race gets the more uncertain the outcome. The year began with Chris Froome as the nailed on certainty but gradually Alberto Contador's results made people take notice and his ride in the Dauphiné means we could have a three week duel. But now Vincenzo Nibali and Alejandro Valverde are on the up too and the more names we throw into the mix, the closer the contest.
First let's review the route. Five summit finishes and one 54km time trial, a route for the climbers, where the winner has to be capable of following the best uphill again and again, forget riding tempo to limit your losses. The three weeks are full of traps, a tough opening weekend, a feared pavé stage and three mountain ranges instead of the usual two with the awkard Vosges mountains coming before the Alps and Pyrenees. This means more opportunity for teams to shape the race and for fate to intervene. Don't expect ambushes everywhere, the Tour is the most controlled race in the world, it's just there's the chance for mischief and adventure.

Chris Froome is the prime pick. Some bookmakers have him at evens or less which still astonishing given that's the same odds for a coin toss and this is a three week bike race where crashes, punctures, illness and injuries can happen at any time. Why is this so? In short Froome's proved the best in the mountains and and he can beat his rivals in the time trial. In theory he only has to match his rivals in the mountains then overhaul them in the final time trial. Remember the Mont St Michel time trial last year?
In 2013 Stage 11 was 33km and Froome put two minutes into some of his GC rivals, three or more to others. The Stage 20 time trial this year is 54km, even more to his advantage. The Briton comes with a team in full service, no sprinters nor sulkers. Vasil Kiryienka, Geraint Thomas, David Lopez will all be there in the mountains with Thomas doubling up with Bernhard Eisel as a bodyguard for the flatter stages where cult rider Danny Pate and Xavier Zandio will do a lot of work for little TV airtime. In the high mountains Mikel Nieve and Richie Porte should be there too, Nieve won a stage at the Dauphiné, a valuable hire.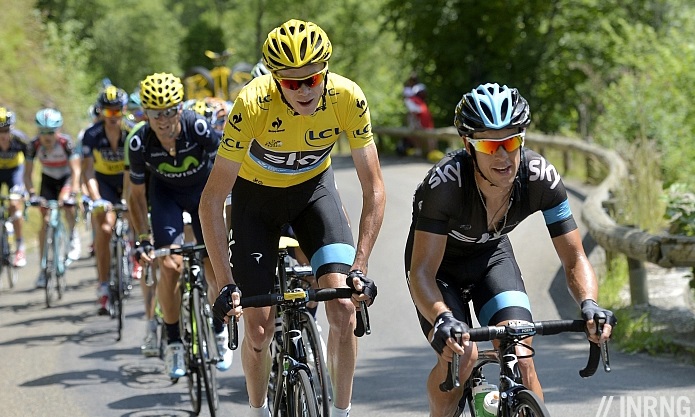 What of Richie Porte? After the first mountain stage of 2013 it seemed he could join Froome on the final podium but duty the very next day saw Sky on the ropes and Porte sacrificed himself. 2014 started with a great Tour Down Under but he was supposed to lead in the Giro and didn't ride, now he's quit more races than he's finished. Today his condition is unknown: if he's back to his best the podium's possible; if he's still playing catch-up then duty calls.
Back to Froome because if he cruised to the win last year – dropping Nairo Quintana on Mont Ventoux, challenging Tony Martin in his  time trial – this year nothing's quite gone to plan. He won the Tour of Oman but Arabian nights have turned to nightmares: illness, a back injury and when he did race he was beaten in the Volta Catalunya, crashed in the Dauphiné and even his win in the Tour de Romandie saw a media storm over his use of a TUE. There's bad luck in all of this but the sum total means he's not had the linear path he'd like. Added to this is the sense that he's still not the finished element, whether the gangly position, the old "Crash Froome" nickname or some tactical choices, there's a sense of fragility here.
Alberto Contador is the second selection. Anything Froome could do in the Dauphiné, the Spaniard could match. He's having an excellent season. He's ridden five stage races:won three, second in two. He's experienced with two wins in the Tour de France and the experience of being stripped of a third, even in his anti-doping hearing he displayed a persistence to the end. Here's a rider who races as if he's got a dagger between his teeth, an attacker who will jump out of the saddle in the mountains. He's a risk taker. Tinkoff-Saxo have a strong team in support with Nicolas Roche, Michael Rogers and a late call-up for Rafał Majka. Their tenth man is Bjarne Riis, the Danish manager is an experienced tactician although his cool head will but against new boss Oleg Tinkov's frenetic ways. Contador's Dauphiné time trial was identical to Froome but the short course won't compare to Stage 20's effort, he could lose time so he'll have to attack. Often his attacks look great but if the initial surge gaps his rivals but he doesn't keep pulling out a lead. But snaffle 20 seconds per summit finish and he's got the better of everyone, especially if the attacks crack Froome.
Vincenzo Nibali is the equal third choice. The Sicilian is reaching the end of a two year cycle. Back in 2012 he stood on the podium in Paris with Bradley Wiggins and Froome and then went on to win the Giro in 2013 with extravagant ease before second place in the Vuelta that year too, all while announcing a return to the Tour for 2014. He's got two weaknesses. First there are questions over his form, he's come up short all year and even found his team manager writing letters telling him to get results; but plot his results and we see a gradual rise all season long.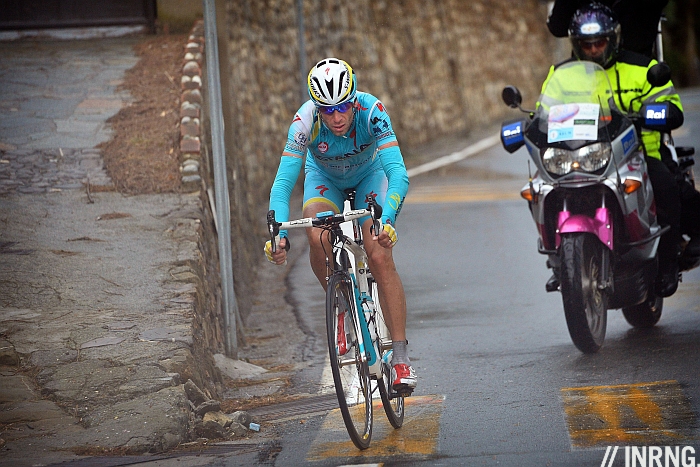 The second is his tactical tendency to take a flyer too early. If Hennie Kuiper once said "racing is licking your opponent's plate clean before starting on your own" then Nibali is like a diner in an all-you-can eat restaurant who overloads his plate at the first visit to the buffet. Time after time he's attacked too early, biting off more than he can chew. It's a criticism but it's wonderful too, he animates a race. His confidence this time will be high because his performance in last Sunday's Italian championships was very impressive, La Gazzetta Dello Sport witnessed "the Nibali of 2013". The win was helped by Michele Scarponi who'd been invisble for most of the year until then but is also said to be in strong form and Astana come with a top-heavy team with Jacob Fuglsang and Lieuwe Westra there for mountain support, possibly Tanel Kangert too. It's hard to see Nibali in yellow but the podium there for him.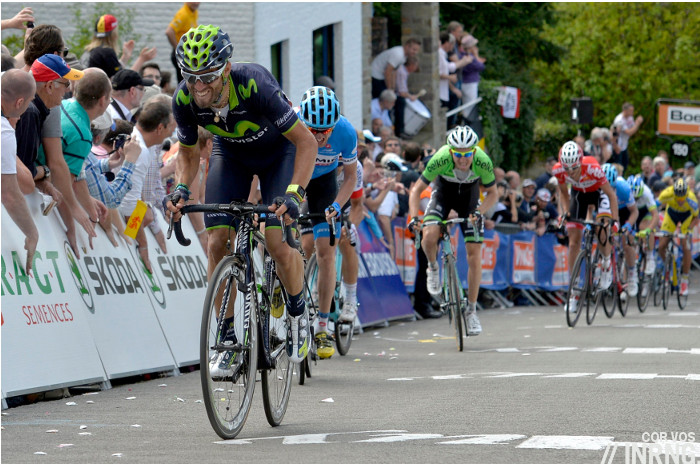 Alejandro Valverde is next, where it not for a problem with his back wheel on an ordinary flat stage he could have finished the race on the podium… but that's racing and there are questions about how he'll cope with the opening week, especially the cobbles of Stage 5. Survive this intact and Movistar's leader could win stages à gogo later on as he can climb well and packs a fast kick. He's 34 but having one of his best ever seasons with nine wins so far and all a spring campaign that ended in April. But his best results have been where he didn't win, for example second in Liège-Bastogne-Liège and the same in the more recent Route du Sud. He took a long break after the classics to prepare for the Tour, the race is his big goal and he knows there's no second chance given his age and that Nairo Quintana wants to ride next year. Time trials have long been his weakness but his form is so good that he's the newly crowned Spanish champion. Yes Contador wasn't there but he beat a series of specialist and had never stood on the podium before. He help team mate Ion Izagirre to the Spanish title, a display of generosity that only came about because it was all so easy. Movistar bring a strong team to support him.
Andrew Talansky is next and not because he won the Dauphiné. That was a great ride but the Courchevel Coup that saw him reverse Contador and Froome was a rarity and unlikely in the Tour de France which is just that bit more controlled. No, Talansky's best riding was during the Dauphiné but on the stage to the Emosson dam, the steep climb saw Contador attack and Talansky was the rider who came in after him. In reductive terms we've seen his got the W/kg ratio to match the best.
Bauke Mollema is Belkin's leader. He's 27 and able to improve on last year's sixth place in Paris. The 2013 result was helped by the crosswinds on the road to Saint-Amand-Montrond, he would lose time to his rivals later on. But he was one of the best in the time trial and now finished third in the Tour de Suisse. A gifted climber, he should feature in the race with able support from Steven Kruijswijk, Laurens Ten Dam and Stef Clement. If you can't tell one Belkin from another Ten Dam has the beard, Kruijswijk the calves and Mollema has his head cocked to the side when suffering.
Tejay van Garderen had been tipped as a podium outsider but there's been reset on expectations following the Dauphiné. Things might not have gone to plan but it could all be for the better. Off the pace on the Dauphiné following a hip fracture in the Tour de Romandie the passage of time can only mean he's improved since. His ability and potential are known, the question today is how close he is to peak form. Often seen as a bit of a diesel, he demonstrated the turbo to beat Alberto Contador in the Volta a Catalunya's Queen Stage.

Next comes the fascinating Jurgen van den Broeck. He likes even years with fourth overall in 2010 and 2012 so what about 2014? Twice fourth in the biggest race in the world but we know nothing about him, proof that the lowest step of the podium is still a vast height above everything else. With broad shoulders and a frame to house capacious lungs and it's by riding steady that he climbs up the overall classification but he'll have to do it alone in a team largely built around André Greipel. A pro since 2004 he's had only one win so don't expect stage wins galore.
Rui Costa had a great Tour de Suisse, strong in the time trials and stronger in the mountains. The world champion's made a name for sniping wins, whether his world championship title or the recent Tour de Suisse where he didn't seem to hit the front until the last kilometres of the last stage. But that's how you win races and the antithesis to Nibali is aiming for the GC. Switzerland was impressive but the Tour is something else and it's hard to see him sticking it to Froome and Contador but the battle with Nibali and Valverde could be fascinating.
Talking of Rui Costa, next up's Joaquim Rodriguez. "Purito" might still be sore from losing the world championships last year but he will have recovered from his Giro injuries where he started with a broken rib and left the race with more injuries. He says he wants stage wins but that's what they all say. He'll have to lose time in the first week so as not to be seen as a GC threat, third overall last year he will relish the mountains in this year's race especially the Pyrenees. Any bid for yellow could be awkward, he's the only Spaniard on a team loaded with Slavic riders and Simon Špilak has quiet ambitions for the Tour too: he was the only one able to match Froome in the Tour de Romandie's Queen Stage but results so far suggest he's more a stage hunter.
In cycling the words "French" and "hope" go together so often that one day they'll spawn a new noun. Frenchope? This time the GC burden falls on Thibaut Pinot and Romain Bardet. The former's a gifted climber who has been making gains in the time trials although a 54km test is a big ask. Pinot almost has an appearance of a cartoon character from Belleville Rendezvous, a large thorax on top of stick-like legs but that's perfect for climbing and he'll animate the race. Ditto for Ag2r's Romain Bardet, mentally more resilient and the author of a very good Dauphiné, fifth overall. Both can crack the top-10 with Pinot perhaps more likely to grab a stage win. The two might be duelling for the white jersey.
Talking of the French some bookmakers quote 300-1 for Pierre Rolland. Don't rush as even each way bet for the podium is surely a donation to the bookies but all the same he can hang with Nairo Quintana when others cannot. Rolland's dreadful in the timetrial but the mountains are his playground and he did seem a different rider in the Giro, still gambling with attacks but no longer afraid to hang with his rivals and pedalling in a smoother style. The worry has to be he's distracted by mountain points.
Finally some more names. Chris Horner? Never say never after the Vuelta but he's never been consistent so the Spanish highlight might stay, part of the story behind his win last year was that he started the race fresh against relatively stale opposition; none of the main GC riders are stale physically or mentally. Jean-Christophe Péraud is a pedalling limpet, able to hang on to the leaders for a long time and such resilience is a compliment and crashed out of last year's Tour during the final week while in the top-10 but his form's seemed down of late. Pédaleur de charme Michał Kwiatkowski was so far off the pace in the Dauphiné it's hard to imagine a turn around but if he does a Lazarus the race will be all the better for it. IAM Cycling's Mathias Frank is climbing well and the goal is a top-10, if it happens it'll be the 8th-10th spot but a remarkable result for a wildcard team that's only just got going. Similar for NetApp-Endura's Leopold König, the Czech climber can soar up the GC with good performances in the mountains. Of the Schleck Brothers Franck's the stronger right now but both brothers aren't what they used to be, instead Trek's Haimar Zubeldia is the team's more consistent pick, he flies under the radar like a Basque version of Jurgen Van Den Broeck.
| | |
| --- | --- |
| | Chris Froome, Alberto Contador |
| | Alejandro Valverde, Vincenzo Nibali |
| | Andrew Talansky, Bauke Mollema |
| | Jurgen van den Broeck, Tejay van Garderen, Rui Costa, Joaquim Rodriguez |
| | Romain Bardet, Richie Porte |
Summary
A duel between Chris Froome and Alberto Contador would be great but Alejandro Valverde and Vincenzo Nibali are coming into form right now and could add plenty of crossfire.
There's a pleasure to be had in being right after the event but for next three weeks I'd love it if every prediction and call above flew out of the window in a race that's full of surprises. It's what made the Dauphiné so great. This year's route does lend itself to surprises but it's up to the riders to roll the dice.