A quick preview of this five day race starting today in France. It's a event that offers something for everyone with stages over 200km in length, a time trial as well as a steep summit finish on Mont Faron to settle things on Sunday.
It's not on TV but worth scanning the results over the next few days because this is a hard event that should reveal who is in form.
Stage 1: the race runs parallel to the Mediterranean coast but stays inland cutting by the numerous vineyards. The area is often blasted by the wind but today looks relatively calm. The route has some climbs including the scary-sounding Col d'Extrême… a mere 6km at 2%. Then it's onto Pézanas – home of Bobby Lapointe – before a finishing loop around Montagnac with a climb but this should be for the sprinters even if the climb disrupts their trains.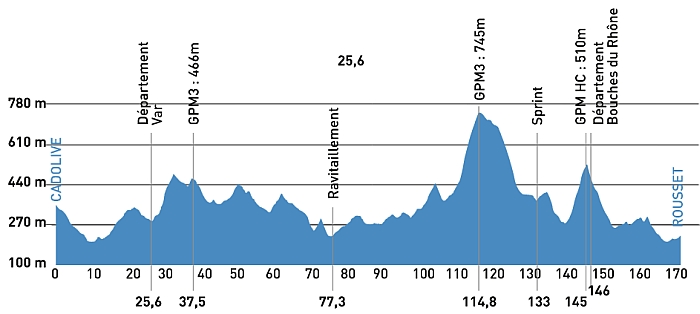 Stage 2: is a large loop run clockwise, this is a scenic day with steep river gorges and some elevation. A sense of déjà vu with the Col du Petit Galibier, used for the recent GP La Marseillaise but the race turns away from the coast. Another day for the sprinters but only if they're in form and the teams play their tactical cards right.
Stage 3: a  morning stage that's just 63km long, the route is flat and uses medium to large roads for much of the way.
Stage 4: an 18.5km time trial on Saturday afternoon and a complete test of form, pacing and bike-handling skills around St Rémy de Provence. The course starts with a climb and features some twisty descending making more than a test of power and aerodynamics.
Stage 5: Sunday's summit finish show down could be reduced to the final climb of Mont Faron but there's the small matter of 188km before the climb begins as the race heads through the hilly Massif des Maures. Mont Faron awaits, 5km at 10% with sections at 12% and many people visit the mountain above the military port of Toulon by cable car.
The Contenders
With the course in mind, it's possible the bunch splits if the wind gets up plus there are not many sprinters in the race, nor do they have TGV-style trains at their service. For example Ag2r come with climbers rather than wagons for Yauhueni Hutarovich, FDJ don't bring a sprinter at all and Giant-Shimano's team isn't made up of rouleurs to roll for John Degenkolb. The overall winner will have to stay out of trouble on the first three stages. The time trial is short and hilly but enough to open up sizeable time gaps. But the final climb up Mont Faron is a big deal, there was a minute between the first rider and 20th place last year. With all this in mind…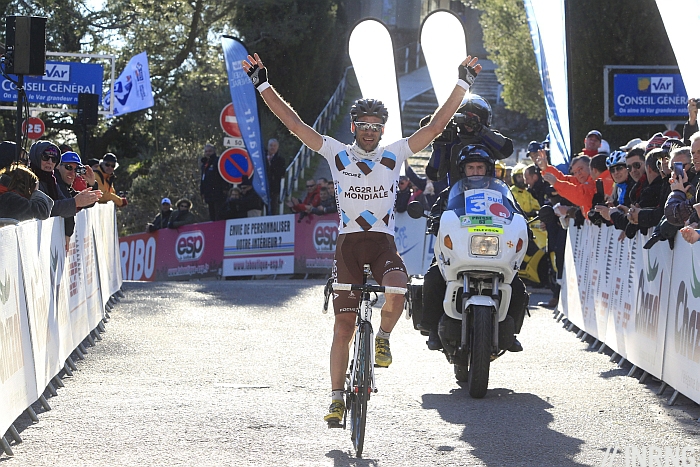 Ag2r's Jean-Christophe Péraud won on Mont Faron last year and has taken the race twice before, the time trial suits him. A dark horse is BMC Racing's Stephen Cummings. Second in the Dubai time trial, the Briton is useful uphill especially on shorter climbs and has a fast finish too. Sylvain Chavanel might find Mont Faron is too much but he could climb steady and count on the time trial. If not the likes of L-L Sanchez (Caja Rural), Rinaldo Nocentini (Ag2r) should be around.
Others to watch: less than a month after cracking his collarbone Thomas Voeckler is back, if he's making strange faces this time it could be the injury; team mate Pierre Rolland starts racing but says he's starting the season slowly compared to previous years when he's won in the Etoile des Bessèges. Taylor Phinney is in fine form but the Stage 4 time trial is a very different matter to Dubai, he can get the 55T chainring churning in places but needs finesse elsewhere. Riccardo Zoidl proved a climbing surprise in 2013 and has moved up a league to join Trek, watch for him on Mont Faron. What can Warren Barguil do? He's been working on his time trialling and is a useful climber. It's too early to gauge form but he's already a name that can't be ignored; team mate Tobias Ludvigsson should be good for the time trial. Finally watch Morgan Kneisky in the sprints, a big French track talent – two world champion titles – he's now joined the modest Team Raleigh.
Random notes:
the race is a constant struggle, it's been threatened with cancellation and prize money can take a long time to get paid out but it lives on
it's long been run by Lucien Aimar, winner of the 1966 Tour de France winner as a second-year pro. This was in part thanks to help from team leader Jacques Anquetil who neutralised arch-rival Raymond Poulidor
Poulidor doesn't appear to hold a grudge as he's on hand for the podium ceremony in this race
Several other ex-pros are involved including Luc Leblanc, Frédéric Moncassin and Laurent Roux
Moncassin was a daredevil sprinter in the 1990s and spent his spare time doing motocross, he's now a motorbike outrider for the race
Laurent Roux was a journeyman climber going from team to team before being engulfed in doping scandal. Today he's a farmer in Southwestern France but son Correntin is making a name for himself as a rider
the race has a website at letourmed.fr and it's decent effort
You can follow the race by text updates over on directvelo.com