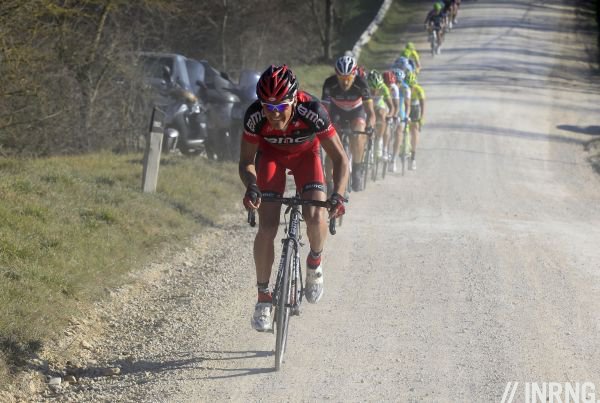 As the tenth part of a series to explore the famous roads of cycling, here is one of the sections of the Strade Bianche or "white roads" in Italy's central Tuscany region. The idea is to discover the road and its place in the world, whether as part of cycling's history or to look at the route on a day without racing and it is open to all.
The white roads are unsealed roads that can be found in many parts of Italy but local geology in this region provides a greyish rock which, when ground, produces a white dust. These roads are old but have been seized in modern times for cycling, whether the retro L'Eroica ride or the Strade Bianche race.
Here is both a look at the roads with a preview and analysis of Saturday's race added with TV schedules, weather and more.
The Route
There are many roads to take but let's use a scenic one above Gaiole in Chianti, the start town of the Strade Bianche race. The road is the SS429 and climbs out of Gaiole to a ridge north of the town. It could be any but it's in the heart of the Chianti region and because it offers a climb – or a descent – it gives a better feel for the land. But this could easily be another road.
The road is wide enough for two cars to pass and perfectly normal. This is not a road for 4x4s or agricultural traffic, signs point tourists to restaurants and brown panels indicate the route of the L'Eroica ride all year round. Start and you quickly leave town, passing orderly rows of olive trees and fields of wheat with soil the colour of wholemeal pasta.
The Feel
There's a moment's hesitation before taking one these roads. The rough surface might deter some but for others there's the dust and dirt, a ride means you will have to clean your bike after the ride and will get a layer of dust on the skin like a new tanline.
Otherwise the road is not technical when done uphill. You can pick your line to avoid holes, puddles or protruding rocks but generally these roads are well maintained and the passage of vehicles grinds the gravel into a fine layer. But generally the roads are quiet, one of the attractions here is that you can escape the traffic, these roads are quiet with light local traffic and some agricultural vehicles and the occasional Ape and wild boar. Note these roads are so normal that if you pick a route on a map you might find the roads in print turn out to be dusty.
Do not think of this as an Italian Paris-Roubaix or even a moderate section of Flemish cobbles, no, this is much faster. The difficulty here is more the climbing, the roads rise and fall across the landscapes and double-digit gradients are normal.
All changes though if it is wet or you are descending. Rain is like dripping water onto flour, at first the white dust turns to a beige paste that sticks and with more water it liquefies into a real mess. Fine for pros with mechanics but if you're visiting, wait for a dry day. And take care on the descents as even in the dry the dust means less grip. But generally throw caution to the wind and enjoy the feeling of losing control. It's off road action for a road bike, you can get up plenty of speed but still feel the loose material under the bike.
The Eroica
Eroica means heroic and this is an amateur gran fondo with a difference. Participants must ride bikes that are at least 25 years old so it is retro fest of cycling. It's also close to Italy's "slow food" movement as the race takes time to appreciate the scenery and the rifornimento food stops supply chianti wine, bread and ham. I don't think there's an energy gel in sight.
The ride has soared in popularity and entries are now hard to come by even if you have a retro bike at the ready. Many dress up in retro kit and if bikes have to be at last 25 years old, some come with machines much older.
Say It
Strada is road in Italian but it's strade "stra-day" in the plural. The term strade bianche is a poetic licence and locals call the roads sterrati.
Access
There are many places to stay in the region and a tip is to stay in the countryside. Gaiole itself offers hotels and homestays alike and the whole region has fine cycling. Florence/Firenze is easily reached with a high speed rail link whilst Pisa is a busy regional airport with links to many European capitals.
Tuscany is a big area for cycling but many riders live in the more densely populated areas near the coast which the visiting tourist might want to avoid. Talking of avoiding places, think twice before visiting the region in July or August as every road gets packed with tourists, at times every third car seems to have German plates. May and September are good months to visit and like many parts of Italy, towns often have a ride starting from a central point at 9.00am or try riding on a Sunday morning where you can find many locals on the road.

The Strade Bianche Race Preview


The race has only been going since 2007 but it has all the characteristics of a great race with challenging roads, great scenery that exploits the local terrain, whether rural tracks or the knockout finish that climbs into Siena to finish in the Piazza del Campo. Note this was known as the Montepaschi Eroica. Montepaschi is a local bank in difficulty and has dropped its sponsorship. RCS just calls the race The White Roads but note the gravel roads are grey on the profile above.
It's a great race and plays on the retro vibe. Lacquered carbon frames and bright corporate logos are dulled by chalky dust and if the conditions are really bad then our modern riders resemble their predecessors from a century ago even more. Although it's a cautionary tale too as it suggests new races need to look like something that's a century old in order to work.
The Route
The profile for the 188km race doesn't look like much but it is selective as many of the slopes on the way are 15% or more. It's a race where a rider needs to be at the front all day, get over each climb with the first few riders and you have option to repeat this again on the next climb and towards the end of the race the contenders are down to no more than 20 riders.
The Finish
If the dust roads force a selection there's no fluking the finale. The climb into Siena is up a straight road that passes under the arched entrance through the old city walls to take a final steep climb paved with flagstones. It tops at 16% and the flattens before a sharp corner where whoever goes through first normally wins the race as there's little time – nor energy – to get past before the race emerges into Siena's famous square.
Contenders: Peter Sagan is the obvious pick. He's got the technical skills, he's got the power and he can sprint so he's the rider to beat, especially as his Cannondale team has valuable support with Moreno Moser. Fabian Cancellara (Radioshack) is another obvious candidate but his odds chances are lower as he'll need to escape solo because he's often outsprinted.
Greg van Avermaet was a strong rider last year but that's the story of his career so far, often in the mix but rarely a winner,  this could all change though and he gets a supportive BMC Racing team including Cadel Evans who's at ease on these roads, having won a stage of the brilliant 2010 Giro. Lars Boom is another pick but he might find the final climb into Sienna too much if he's got company, his team mate T-J Slagter is perhaps more suited and the Dutch team has Sep Vanmarcke too. By contrast Alejandro Valverde (Movistar) can climb and sprint and he's got a point to prove as he returns for his first race in Italy after the Italians managed to get him banned for working with Dr Fuentes when the Spanish could/would not.
Then comes a long list of others. The course is selective but plenty can cope with the climbing. Ag2r's Rinaldo Nocentini is a punchy rider and there's Androni pair Franco Pellizotti and Francesco Reda and Enrico Gasparotto (Astana) too. Pippo Pozzatto is an infrequent winner but he's already taken the Trofeo Laigueglia and comes with Damiano Cunego. There are many more Italians to watch like Luca Paolini, Oscar Gatto and Marco Bandiera. Meanwhile foreign outsiders are J-A Flecha with his big diesel routine, local resident Stephen Cummings and Astana's Frederik Kessiakoff.
Scenario: with each climb and perhaps each descent we'll see the lead group get smaller and smaller. In the final 20km things become very tactical with riders running on empty and having to watch their rivals. Having listed many names above the race is quite open but there's no point concocting too many scenarios with Peter Sagan. It's hard to see past him but in cycling the bookmaker's pick often lose out because of the sheer number of contenders and it only takes one puncture to ruin everything. Does he has team support to chase down attackers or will go on the rampage with his own moves in order to form a small enough group for him to be sure of winning the sprint? His only problem is his reputation, rivals know coming to the finish with him means they'll come second. The big rival to Sagan must be Fabian Cancellara.
Weather: light rain today (Friday) means the dust should be fixed in place for Saturday when sunshine is promised with a top temperature of 12° (54°F) forecast. The wind will below at 20km/h from the north-east, gusting to 30km/h. This matters as it means a crosswind for a lot of the race, not enough to blow the race apart but it will make life harder for anyone leaving a gap on the tricky sections.
TV: the race will be broadcast live in Italy and beyond and as ever cyclingfans.com and steephill.tv will have the video links. The finish is expected for 3.30-3.50pm Euro time but tune in early to watch the front group shrink and shrink or just to soak up the scenery.
Next week, to coincide with Paris-Nice's final time trial, the Col d'Eze and its sister road, the Moyenne Corniche.
Part I – Alpe d'Huez
Part II – The Ghisallo
Part III – Mont Ventoux
Part IV – Col de la Madone
Part V – Col du Soulor
Part VI – Passo Dello Stelvio
Part VII – Mont Aigoual
Part VIII – Col de la République
Part IX – Croce d'Aune
Part X – Strade Bianche
Part XI – Col d'Eze
Part XII – The Poggio
Part XIII – Arenberg Cobbles
Part XIV – Col du Tourmalet
Part XV – Côte de La Redoute
Part XVI – Col du Pin Bouchain
Part XVII – Puy de Dôme
Part XVIII – La Planche des Belles Filles
Part XIX – Col du Lautaret
Part XX – Col du Palaquit
Part XXI – Champs Elysées
Part XXII: The Col du Galibier
Part XXIII: The Lacets de Montvernier
Part XXIV: Hautacam
Thanks to Kelly Servinksi for the close-up image of the gravel surface