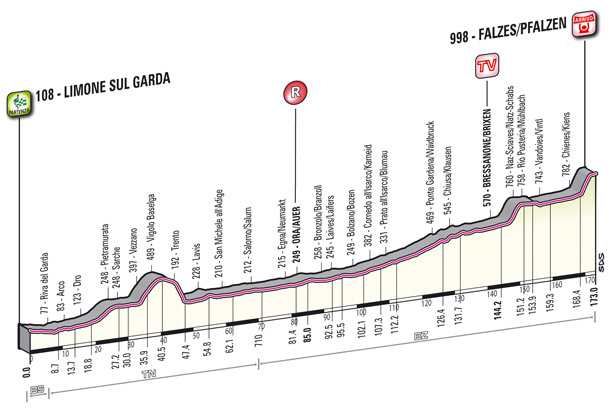 Look at the profile and you'll see 173km with three bumps along the way including one to the finish and given the upcoming mountain stages it might be tempting to view today's route as a mere transition stage.
But the diagram doesn't do the the final of the race justice because this is a tricky finish with hairpins, cobbles and double-digit gradient ramps. It could be a very exciting finish.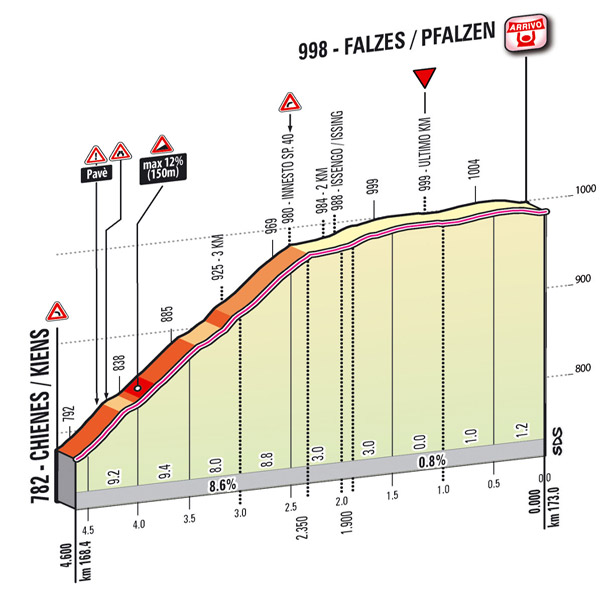 Even the diagram above doesn't give the full picture because there are hairpin bends. Instead for the full picture go to Igor Tavella's posterous blog. You'll see a series of videos of all the key points; even if you don't watch them all, the on-screen images display each segment well, with good clues about the cobbles, the corners and Tavella has even added a Strava segment too. As Tavella shows the cobbles are more of the urban paving variety than your Flemish berg but they will still rattle, they will still steal away some speed.
Today could see a chance for the climbers, notably Joaquim Rodriguez, to take more time on riders like Ivan Basso and Ryder Hesjedal. I say could because the action is compressed into only a few kilometres, this is more like the finish in Assisi than last Sunday's Piani dei Resinelli. But it still suits the punchy riders capable of searing accelerations.
Even if the GC riders might try a late move, an early move is more likely option; whilst the GC contenders try to conserve energy others will aim to use up their last reserves in order to land a stage win. The usual mix of adventurers comes to mind: Visconti, Pirazzi, Felline, Gatto, Gołaś to name but a few. There are some locals in the area and not far away is Austria, home of Vacansoleil's Stefan Denifl.
Weather: cold and wet. Today will be cloudy with rain showers and the temperature will struggle to break 10 celsius (50F). Almost no wind.
Language: this is still Italy but note the three languages used in the area. There's Italian but also German since until the battles of the First World War today's region was part of the Austro-Hungarian empire and Tyrol but was annexed by Italy after the war. That's why today's stage finish is in Falzes and Pfalzen, two names for the same town. The third language is Ladin, an Alpine language.
Food: the start town might translate as "Lemon on Garda" but there's little to do with citrus fruits today. Instead northern, germanic influences live on. You'll find cured pork called Speck is a local speciality, smoked and flavoured with juniper. There are wines too, a bit like the reds of northern Burgundy in France because of the cooler climate. The same weather is suited towards apple orchards and apple strudel, apfelstrudel,  is a decent source of energy for the hungry cyclist.