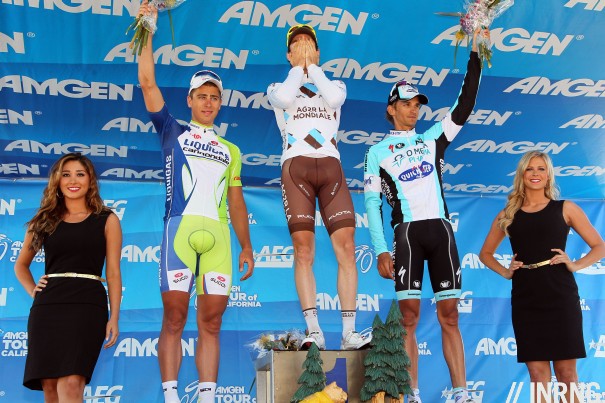 A double win yesterday for French squad Ag2r La Mondiale. First they won in the Circuit de Lorraine Professionel, a 2.1 stage race on France's eastern borders thanks to Sébastien Hinault. Then Sylvain Georges doubled-up with a fine solo stage win in the Tour of California.
Until now they had yet to win a race this year and were a day away from "beating" the longest losing streak set by Saunier Duval who didn't win a race until 19 May back in 2005. This time Ag2r won their two stages on 18 May, a day ahead. But 2012 is a leap year meaning the French squad might have won earlier in May but we've had an extra day in the year.
@inrng 2005 wasn't a leap year. 2012 is… 😉 … better check the stage finish times!

— Cillian Kelly (@irishpeloton) May 18, 2012
This clever point was pointed out by Twitter's IrishPeloton, a master of statistical analysis and co-presenter of the excellent Velocast This Week in Cycling History podcast. But in reply Edward Pickering, the editor of Cycle Sport Magazine, had other ideas:
@irishpeloton @inrng TDU started on Jan 18 in 2005, Jan 15 in 2012, so Ag2r's streak was 123 days, against Saunier's 119.

— EdwardPickering (@EdwardPickering) May 18, 2012
This is difficult. What if we go back even further?
@EdwardPickering @inrng If you spill back to the previous season. Saunier's winless streak was 238 days. AG2R's was 224

— Cillian Kelly (@irishpeloton) May 18, 2012
Comparing the worst record since the UCI formed the Pro Tour for 2005 is a bit of a thankless task. In some sports winning and losing streaks can matter to measure in form teams but in cycling the individual aspect of the sport is different. This is a such a quirky record that nobody really keeps tab of it. In other words whether Ag2r did or didn't break this record doesn't matter much but I'd been keeping tabs on which teams have been winning… and yet to win.
For the record the UCI Pro Team with the most wins is Omega Pharma – Quickstep with 28 wins, ahead of Team Sky (21) and Liquigas-Cannondale (19). So bravo to Ag2r for their double win. The challenge now is to catch up and if they land a win in the Tour de France the team's sponsors and supporters will be overjoyed.