Here are the answers to the recent quiz.
Christmas theme
1. Dressed in red and white, he makes his way in the wintery wonderland. Who is it in the picture above? Wilco Kelderman in the Giro but while he's trying his best the Giro is slipping away from him and the festive cheers are on Jai Hindley and Tao Geoghegan Hart.
2. Who won the last Tour of Turkey? There were no leftovers from 2020, the last winner was Felix Großschartner (Bora-Hansgrohe) in 2019.
3. Who was gifted with a race win this year? Michał Kwiatkowski in the Tour de France. It was a rare sight, sometimes riders can collude to fix a race. It's not necessarily outrageous, think plain mutual interest as in "if we work together we'll stay away" or deal-making ("if we stay away I'll give you the stage win as I stand to take the overall lead") and gifting is part of this, but there can be allegations of race-fixing with money changing hands. It makes cycling different to other sports as conspiracy with rivals can be central to the sport.
That Was The Year That Was
4. Which of the three grand tours had the narrowest winning margin? The Vuelta, just 24 seconds between Roglič and Carapaz but the Giro was 39 seconds and the Tour de France was 59 seconds making it a very close year overall and the question was a means to highlight this. It's partly down to course design, organisers increasingly want this kind of outcome.
5. Which rider raced the greatest number of kilometres? Sam Bennett with 11,432km according to Cycling Quotient. It's a lot but in a normal year the numbers can reach 15,000km.
6. Away from worlds, national and continental championships, what was the longest time trial on the 2020 pro calendar? The Tour de France's penultimate stage, 36.2km to the Planche des Belles Filles. Short but 55 minutes for the winner so a long-ish effort, especially at the end of three weeks which helps explain why the standings were upended.
7. Who is the third highest-rated Slovenian rider on the UCI rankings? Luka Mezgec. Pogačar and Roglič steal the thunder and might create a boom in the country. But Slovenia is a growing cycling nation with more riders, good roads and should establish itself further
Viral content
8. Which race did Romain Bardet drop out from at the last minute and had to be replaced by Ag2r teammate Mathias Frank? The Digital Swiss 5, does anyone remember it? Bardet was DNS, this time because of connection issues. Frank then had problems too.
9. How high is Mount Everest? "Everesting" as in riding the vertical gain of Mount Everest in one day briefly became a thing during the pandemic lockdowns. It's a nice idea because anyone can do it, you can use a mountain pass or a railway bridge… although there's probably only so much you can read about other people's efforts. As for the height it's actually a matter of debate, even dispute. A Chinese survey had said 8,844m, the Nepal version 8,848m which many adopted. But this year a new Chinese survey has just put it at 8,849m… so if you're planning an Everesting attempt make sure you account for this.
10. Which rider posted a video clip of them taking an axe to their home trainer? Mikel Landa speaking for many yearning to feel the simple pleasures of a bike ride outdoors.
Geography class
11. What was the highest altitude summit finish in pro racing this year? A leading question below the image of the Col de la Loze and the Stelvio used above too. Only the early season feels like two seasons ago but the Tour Colombia's finish at 3,274m in Verjón knocks anything Europe can offer, or at least that was the answer in mind but readers are often sharper and Sonja Neteu was first to point to the Tour of Guatemala.
12. Name three current professional cyclists born on small islands in the Pacific Ocean? Mainland Australia and Japan don't count, sorry. Some went for New Zealanders but this was supposed to be off limits too. Instead I was thinking of places you could ride around in a day, say Richie Porte from Tasmania, Donovan Grondin from Reunion Island and Yukiya Arashiro from tiny Ishigaki island. All have come a long way, literally so.
13. Name a race that was held across international borders this year. Normally several races criss-cross borders but the pandemic saw national rules and borders apply more than usual in Europe, making Gent-Wevelgem or the BinckBank Tour strictly national matters, the same for the Scheldeprijs which was due to start in the Netherlands but just stuck to the finishing circuit around Schoten. The Giro went a bidon's through away from San Marino, the Vuelta rerouted to avoid Andorra. Maybe the UAE Tour counts as it visits different emirates like Dubai or Abu Dhabi but they're emirates rather than nation states.
History Round
14. Four riders have each won the Tour de France five times. Name another race won by all four of these riders. The Critérium du Dauphiné… and the Giro. There's obviously an overlap as if you can win one summer stage race you can win another… but being great enough to win five Tour wins doesn't bring glory in Liège or Lombardy.
15. Name another season when many races were cancelled outright for months but not because of war. Hint: it was in one country. In 1968 in France a wave of social protests saw races cancelled throughout May and June and so when thinking of a precedent for this year's suspension of races this was the only one that came to mind.
16. What was the only major race that Eddy Merckx didn't win? Paris-Tours. There's the great quote from Noel Vantyghem who won Paris-Tours in 1972: "Between Eddy Merckx and myself we won all the major one day races, I won Paris-Tours and he won everything else."
Financial times
17. Which World Tour teams publish their accounts making their budgets a matter of public record? Ineos, Ag2r La Mondiale, Groupama-FDJ have been covered on this blog. Movistar do too and, apparently if you visit the right regional office in the Netherlands in person you can read a copy of the Sunweb/DSM team accounts. That's it and take estimates for all the teams that float around online with a pinch of salt because often the numbers are wrong for the squads that do publish their numbers meaning if they can't get this right, the others are guesses too.
18. Which company has the higher stockmarket valuation, Shimano or Nissan? Shimano because at the time of asking Shimano was worth 2.25 trillion yen, Nissan 2.17 trillion yen. It's tempting to see this as a nice story of bicycles being worth more than cars and why not? But there's more to it but the pandemic has made bicycles a growth story and Shimano corners a lot of the components market.
19. Does Velon make money for its member teams? This is a harder one to answer but the latest set of accounts filed by the consortium of teams showed big negative equity which is usually a sign of losses… and that was for 2019 before they had to bin the Hammer Series races because of lockdowns. If it was profitable presumably Mitchelton-Scott wouldn't have walked out?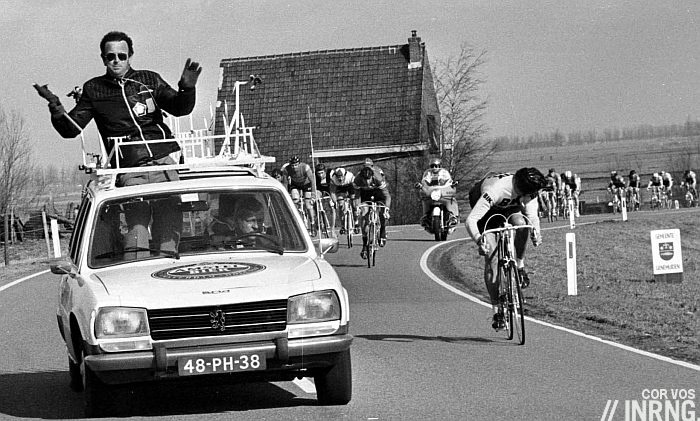 Chief Commissaire
20. You're riding a 200km grand tour stage, when can you get food from the team car or roadside during a race? After 30km and before 20km, unless the commissaires inform otherwise. It's humdrum rule that suddenly became big when it cost Julian Alaphilippe the maillot jaune this summer.
21. Outside of the three grand tours, what was the longest stage race when measured by race days this year? The Vuelta a Guatemala just beat the Volta a Portugal, being a day longer and with a few more kilometres on top too.
22. How many sponsors can a team cite in their official name? There used to be a rule saying two, then three but now you can have as many as you like. Don't tell Gianni Savio.
Language lessons
23. Many bike races have French names like the Tour de Pologne or the Tour de Yorkshire. In English technical terms like rouleur, soigneur, commissaire, echelon and bidon are imported from French too but which one of these five isn't actually used by French cyclists? Echelon, because when a race splits in crosswinds either bordure or éventail is used rather than échelon even if it as French word.
24. Campagnolo, SRAM and Shimano all make bike components. What do their names mean? SRAM is an acronym comprising the names of its founders, Scott, Ray, and Sam. Campagnolo is Italian for someone from the countryside but it's a bit of a loaded term, not quite "peasant" or "bumpkin" but almost, so it's not always a sophisticated label. Shimano also has an agrarian angle as gets its name from its founder, Shozaburo Shimano, and his surname in Japanese kanji is 島野, island and field.
25. What do Marianne Vos, Guillaume Martin and Pascal Eenkhoorn have in common? Names featuring animals with fox, martin and squirrel respectively.
Pet habits
26. Which grand tour winner issued a public appeal to help in the search for his missing dog this year? Nairo Quintana and soon after Rocky was returned to a relieved Quintana family.
27. Name a pro with a pet rabbit. Romain Sicard keeps one in his apartment apparently, this had been filed under ultra niche content but popped up as a story in Japan this summer, more recently Pauline Ferrand-Prévôt acquired "Maurice" during the year who has become more famous on Instagram.
28. Which pro has a pet with its own Instagram account and thousands of followers? Thibaut Pinot has a goat called Kim with 16,000 followers.
Nicknames
29. Name the riders nicknamed the Emperor of Herentals, the Eagle of Toledo and the The Trumpeter of Cittiglio. Rik van Looy, Fernando Bahamontes and Alberto Binda. These old names sound majestic and give a sense of place to the riders, but not everyone in the past had such glorious names, see Poupou.
30. Who is Wawa, Top Gun and The Coathanger? Warren Barguil, Filippo Ganna and Steven Kruijswijk. Ganna is sometimes Top Ganna in the English media or from team mates but Top Gun is used equally in the Italian press. As for The Coathanger, it's on account of his big shoulders and a line in this blog. Nicknames today are more suited to the race radio or team bus than the old versions.
31. Which active professional rider changed their surname as an adult in order to avoid mockery before becoming famous? Domenico Pozzovivo was born "Puzzovivo" and puzzo translates as "I stink" and vivo means lively or strong. Pozzo is a water well, evoking something much fresher and cleaner.
32. Who are Brigitte and Bernadette? Pierre Latour have names for each leg, Brigitte is his left leg and Bernadette the right leg. He's a character with a personality much like he rides on the bike but it hasn't really broken out of the French media.
When They Were Young
33. Who is this person seemingly at ease in the saddle from a young age? Egan Bernal.
34. Which future Tour de France stage winner is among these club mates? Julian Alaphilippe bang in the middle holding onto the larger bike. Many a French local club has kit based on a pro jersey from a few years ago like this Panaria-style outfit.
35. Which future pro is among these club mates? Kevin Reza on the left of the picture, he got into cycling to copy his big brother Jimmy (on the right) and that's 1990s Tour de France stage winner Cyril Saugrain at the top. There was a good podcast story about Reza and other Parisian cyclists over the summer, but a hard listen as it's difficult to ride in the capital and the club struggles with headwinds others don't for example facilities are vanishing. Ironically the bit of land used by Réza's old club to hold small criteriums for beginners to the west of the capital… is now off limits so they can build accommodation for the 2024 Olympics.
36. Who in this photo is going to give up sea swimming and start racing bikes? That's Tao Geoghegan Hart in the middle, part of a team swimming across the English channel.
Picture round

Nil-Sun-Pow-Minus = Neilson Powless… who had a very good Tour de France debut.
Dylan-van-Baarle = Dylan van Baarle. Dylan was a character from 1990s US TV show Beverly Hills 90210 and it was widely syndicated across Europe and this explains a large cohort of boys called Dylan today across Europe, just as there are many Jennifers following the TV series Friends. Baarle is a town on the Belgo-Dutch border where the border crosses back and forth through town, even bisecting supermarkets and cafe terraces.
Jimmy Casper and a green donkey or ass = Kasper Asgreen, this season's Kuurne-Brussels-Kuurne winner. Jimmy Casper was a hardman of sprinting from the 2000s who must have been on familiar tu terms with his dentist after a series of horror crashes, but off the bike was more shy. You can spot him at the Tour de France these days working as a moto rider and the story goes that he's still racing from time to time, taking part in local 2-3-junior category races for the fun of it.
Filling a hole and Bauhaus art = Phil Bauhaus. The German sprinter conforms to the rule that all German cyclists must non-Germanic names (think André, John, Marcel, Pascal, Emanuel und so weiter) and has a surname that is also an art movement… but literally means "Housebuild".